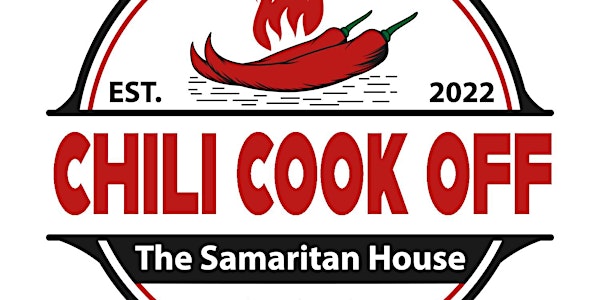 The Samaritan House Chili Cook Off
This fun event will be an opportunity to sample some of the best chilis around town while helping raise funds for The Samaritan House.
When and where
Location
The Downtown Market Pavilion 1326 Russell Street Orangeburg, SC 29115
About this event
Saturday, November 12, 2022
12:00 noon-4:00 pm
The Downtown Market Pavilion
1326 Russell Street, Orangeburg, SC 29115
Deadline to enter: Friday, October 28, 2022
DAY OF THE EVENT-November 12, 2022
Table Set Up: 10:00 am
Check-In: 10:00-11:00 am
A volunteer will come to your table during this time to finalize any details and distribute supplies (cups, spoons, napkins, and judging container).
Gates Open and Serving Chili: 12:00 noon
Judging Samples Due 2:00 pm
Awards Ceremony 3:30 pm
Clean Up 4:00 pm
Chili Cook Off Competition Rules
GENERAL
1. Teams are responsible for supplying all ingredients, cooking devices, cooking utensils (please bring a small ladle to fill tasting cups with chili), coolers, and all other related items. We will supply 1 table (6 foot) and 2 chairs. The Cook Off Volunteers will supply sample cups, spoons, and napkins.
2. While teams are encouraged to market their company or organization, you may not offer any items or services for sale. Promotional items may be given away.
3. Please make a sign with your Team's name.
4. Each team is required to have an 8 x 11 ingredient sheet. This sheet should also include heat level.
SET UP/TEAR DOWN
1. Each team will be allocated a space 10 foot wide. Teams will be provided a 6-foot table and 2 chairs.
2. Electricity will be available. You need to bring your own 10–25-foot extension cord and heat source- crock pot, chafing dishes or propane (propane is not allowed under the Pavilion but may be used near your spot)- A source of cold running water will be provided. Hand sanitation areas will be set up.
3. Stands can begin set up at 10:00 am.
4. Vehicles may be parked near the set-up area during unloading. All vehicles must be parked in designated area after unloading and before 11:30 am.
5. Teams are expected to tear down their stands and remove all debris from their area within a reasonable amount of time following the awards ceremony.
6. Each team will have a trash box or trash bag for their space. Please help us in keeping your space and the event clean by cleaning up after your team throughout the day.
CHILI PREPARATION
1. The Chili Cook Off will recognize chili recipes as any soup like or stew like food. Chili may or may not contain meat. Chili may or may not contain beans. Chili may be red, white, or any other color. This year we will be judging two chili classifications: Best Traditional-tomato based, spices, beef, etc.... and Best Non-Traditional-anything goes! Chili ingredients must be listed on an 8 X 11 sheet to the public.
2. Only one recipe will be judged per team.
3. Each team needs to bring their chili prepared to the event "ready-to-eat." Each team is responsible for making sure that no ingredient is under cooked and/or that there is no risk of foodborne illness.
4. Teams are asked to prepare at least 5-10 gallons of chili. One quart must be reserved for judging. Leftover chili can be put in large containers (we will provide) and saved for The Samaritan House residents.
5. Every stand will be health inspected to meet the requirements to participate and serve their chili.
6. The preparation period will begin immediately following set up the morning of the Chili Cook Off (10:00 am). All teams must have a representative check in with a volunteer to find your exact space. Spectator sampling will begin at 12:00 noon. 16 oz samples will be collected at 12:30 pm for judging at 2:00 pm.
JUDGING/AWARDS
1. Chili will be judged by the following criteria: Aroma, Appearance, Consistency, Taste and Aftertaste. The winning Chili must rate well in each of these criteria. All criteria will be weighed in equally and the team with highest overall score will win top honors. To ensure confidentiality and impartiality during the judging process, each team will be assigned a team number and will be given an official sample judging cup with their number on it. The Chili Cook Off Committee will control cup numbers and sample collections. It is a violation of these rules for a team member to tell anyone other than their teammates the number they have been assigned.
2. The People's Choice Award will be awarded by a count of how many People's Choice tickets are received by each team.
3. Team theme, visual display, and showmanship will be evaluated in determining the STAND prize winner. Teams will be judged on presentation of their space. One team will be awarded for Best Overall Set Up Display
4. The decisions of the judges are final. All entrants participate at their own risk. The City of Orangeburg, The Samaritan House of Orangeburg County Inc., The Downtown Market Pavilion, and the Chili Cook Off Committee are not liable for losses or damages resulting from team participation in this event. The Chili Cookoff Committee reserve the right to change or modify these rules at any time. Any changes will be communicated to all entrants. The Chili Cook Off Committee also reserves the right to disqualify any team for violation of these rules.
Awards and Prizes for: Best Traditional, Best Non-Traditional, People's Choice (most tickets) and Best Overall Set Up Display
REGISTRATION DETAILS
Registration Deposit: $50.00
Make check to: The Samaritan House
*Note: Your deposit will hold a space for you at our event. This money will be forwarded to The Samaritan House (TSH) of Orangeburg County, Incorporated as part of their fundraising income (as well as all ticket sales). Any teams that register and fails to attend the event will lose their deposits, which will go to TSH.
The TSH Chili Cook Off Committee is very excited about our First Annual Chili Cook Off!!!
We are looking forward to a HOT and Spicy day with delicious chili sampling, family fun and even greater -financial contributions to our local homeless shelter-The Samaritan House.
TICKETS
There is no admission fee.
Each ticket will cost $1.00. Chili samples will cost 1 ticket per sample cup.
Beer and Wine tickets will be 5 tickets.
Sodas and Water will be 1 ticket.
Cornbread will be 1 ticket.
Hotdogs will be 3 tickets.
QUESTIONS
Karen Hay is your contact for all cookoff related questions. Please feel free to contact her at karenltourville@gmail.com or call at (803)378-4778.
THE SAMARITAN HOUSE OF ORANGEBURG COUNTY, INCORPORATED
CHILI COOK OFF-November 12, 2022
The Downtown Market Pavilion
APPLICATION:
Mail or drop off this application with $50 payment to: The Samaritan House, 1580 Middleton Street, Orangeburg, SC 29118 or PO Box 2392, Orangeburg, SC 29116 by Friday, October 28. 2022.
TEAM NAME: ________________________________________________________________________
SPONSORING ORGANIZATION (If Applicable) _______________________________________________
CONTACT PERSON ___________________________________________________________________
CONTACT'S EMAIL____________________________________________________________________
CONTACT'S MAILING ADDRESS_________________________________________________________
CONTACT'S PHONE NUMBER___________________________________________________________
HEAT SOURCE (if known) ______________________________________________________________
WAIVER OF LIABILITY: In consideration of your acceptance of this entry form, I , the undersigned intending to be legally bound, do hereby for myself, my team mates, my heirs, executors, and administrators, waive and release any and all rights and claims for damages I may have against The Samaritan House of Orangeburg County, Inc., the Cook Off Committee, DORA, their agents, successors, and assigns for any and all injuries suffered to me or my team mates in this event. I further grant The Samaritan House of Orangeburg County, Inc., the Cook Off Committee and/or agents authorized by them to use any photographs, videotapes, or record of this event for legitimate marketing purposes.
Team Captain Signature: _______________________________________________Date____________
PLEASE MAKE CHECKS PAYABLE TO: The Samaritan House Amount Enclosed: $______________