The Sacred Heart of Jesus, a creative painting workshop led by Jerrel Susta...
Description
"Don't be afraid of adding color." This workshop, Jerrel Sustaita will bring out the poster sized stencil of the Sacred Heart of Jesus, which he hand made. Join art guide, Jerrel Sustaita in making an exciting new and modern art piece of the Sacred Heart. You'll be able to use a variety of mediums including, but not limited to: spray paint, acrylic, glitter. This is sure to be an extremely fun and totally hands on experience while pushing the boundaries of your creativity and allowing yourself to be, well, yourself.

Theocentric Guild presents artist Jerrel Sustaita as your guide through this painting and creative experience on paper in the relaxed atmosphere of his studio. (Some parts of this experience will take place outside as well.)

This creative workshop is a great way to stimulate your imagination and inspire you while making new friends from the community. You can share in a fun experience while learning more about the painting process through one of histories inspiring an talented artists. Have a great time connecting with other creatives who share in the same passion for great art as you!

This painting experience will be fun and challenging for creatives of all levels.

Location: Jerrel Sustaita's Art Studio, 3155 Whitehall Drive, Dallas, Texas 75229
Date: Saturday, May 11, 2019
Time: 10:30pm - 12:30pm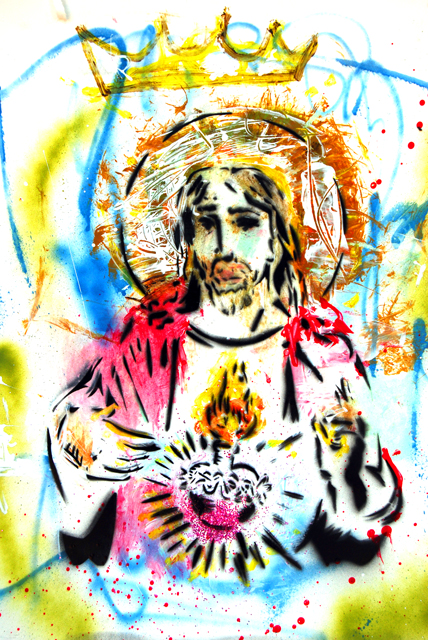 For More information on this painting event, contact Jerrel Sustaita at 817-714-0199 or jerrelsustaitastudio@gmail.com

About the Artist Guide...
Jerrel Sustaita, is a reputable artist in the DFW Metroplex and has been voted best outsider artist of Fort Worth Weekly. Jerrel has been guiding art classes, lessons and individuals for over 16 years. He has participated in numerous art events all over the metroplex and is often seen painting in public places in Downtown Dallas and Fort Worth. Jerrel currently has works on display at Mecca Design & Production and Nerv Gallery, and The Grackle Art Gallery. Jerrel manages the childrens art booths for several festivals and private events including the Bedford Arts Fest. Check out his website at www.sustaitastudio.com. Facebook, instagram, youtube.

About The presenter...
Theocentric Guild & Outreach use the arts & sciences to promote health, wellness, and healing through reorienting and restoring creation back to the Creator. For more information about the Theocentric Guild, visit www.theocentricguild.com or contact Andrew Gill at (817) 360-5364; theocentricguild@gmail.com.