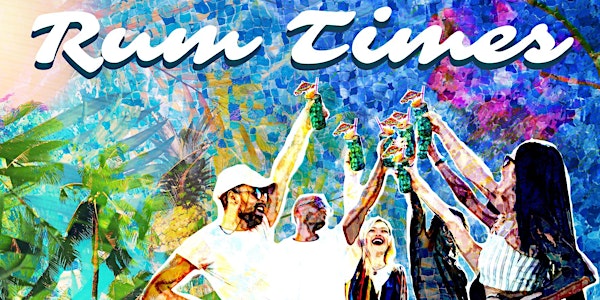 THE RUM TIMES VR EXPERIENCE Starring SEAN MILLEA!!!
First-of-its-kind performance exhibition with a VR film & cocktail-making & dancing & trivia & a Grand Prize hosted by comedian Sean Millea!
By Museum of Distilled Spirits
Date and time
Wednesday, April 19 · 5 - 6:30pm PDT
About this event
1 hour 30 minutes

Mobile eTicket
TONIGHT is the first time the world has the opportunity to experience the Museum of Distilled Spirits in a version of the way we intend it to exist in our future bricks & mortar building.
TONIGHT you can immerse yourself in this multi-sensory experience all from the comfort of your home. (We are going to ship you an EXPERIENCE BOX to elevate the experience.)
TONIGHT is all about how much fun you can have imbibing distilled spirits.
How THE RUM TIMES EXPERIENCE works in 3 steps:
1. BUY a ticket (NOTE: The EXPERIENCE ticket is $59.99 UNLESS you're a Museum Member-Shipping & Handling is $19.99), the total ($79.98) of which includes the cost of your very own EXPERIENCE BOX shipped to directly to your door. A pic of the sample contents follows.
Included in your EXPERIENCE BOX:
VR Headset (collapsible)
Museum of Distilled Spirits Logo Backpack
Plastic Coupe glass
Tall Plastic Tiki glass (colors vary)
Plastic Shot Cup
Embossed Napkin
Museum of Distilled Spirits Logo Cocktail Shaker (top is also a shot glass)
Chalkboard placemat
Chalk to take notes for trivia on chalkboard placemat
Beverage Umbrella
Lime & Lemon packets to make cocktails
Syrups to make cocktails
Thank you buttermint candy
Plantation Rum Terroir 2-sided Card
Straw
NOTE: You will need to add your own water and ice (instructions will come in the box). Also, rum is not included. Please use any white rum you have on hand. We suggest Plantation Rum.
2. PREPARE for THE RUM TIMES EXPERIENCE according to the instructions included in your shipment box. (NOTE: Dancing and garnish-making will be optional but will add to your total trivia score.)
3. JOIN us on Wednesday, April 19th and get ready to have a GREAT RUM TIME as Sean Millea hosts 90 minutes of FUN and a VR MOVIE (titled It's the Rum Talking) and MAKING COCKTAILS and DRINKING and DANCING and COMEDY and GAMES awarded with a GRAND PRIZE!
Sean Millea is a professional comedian, writer, director, musician, and graduate of New York University's Tisch School of the Arts. With millions of people liking and following his content, you can find him on all social media platforms including Instagram, TikTok, and YouTube. The Museum of Distilled Spirits is extremely honored that Sean agreed to host tonight's THE RUM TIMES EXPERIENCE.
VERY IMPORTANT! SAVE YOUR CONFIRMATION EMAIL FROM EVENTBRITE! Your ZOOM link is provided in your first Eventbrite Order Summary email. Please SCROLL TO THE END of your Eventbrite Order Summary and you will find your Zoom link and everything you need from us. BE SURE WE HAVE YOUR CORRECT ADDRESS to send your EXPERIENCE BOX to you. There will be no separate email coming from the Museum-only from EVENTBRITE. We are an over 21 event requiring your Zoom video camera be turned on.
The 2020's have seen a rise in the Food & Beverage museum category. The Museum of Distilled Spirits is elated to be included in this trend. PLEASE feel free to eat and drink throughout all your experiences with us.
Museum of Distilled Spirits mission: To welcome the community that has an appreciation for brandy, gin, rum, tequila, vodka, and whiskey to share their stories while inspiring awareness of the significance of distilled spirits to America's cultural heritage in a celebratory, innovative, multisensory experience.
AN EXPRESSION OF GRATITUDE GOES OUT TO TONIGHT'S SPECIAL SPONSOR