The Ruck March of Lake County
Event Information
Refund Policy
Refunds up to 1 day before event
Description
The minimum donation is $10.00 or $20.00 the day of the March.
Nearly every hour of every day, a veteran completes suicide.

On September 23, Vets, active duty, and supporters will leave from North Chicago and head to Grayslake. A nice, 22 kilometer walk through the sub/urban jungle to raise awareness of this epidemic. Please see below for FAQ's and the Wavier of Liability.

Lake County is home to the third largest population of veterans in Illinois, it is only right that we raise awareness and pay homage to the fallen warriors.
Participate with Friends!!! Can I register with a Team?
Funds will be donated to Lake County Veterans and Family Services Foundation , a local nonprofit dedicated to reducing the amount of time it takes for warriors to ask for help, mitigating many of the issues that arise.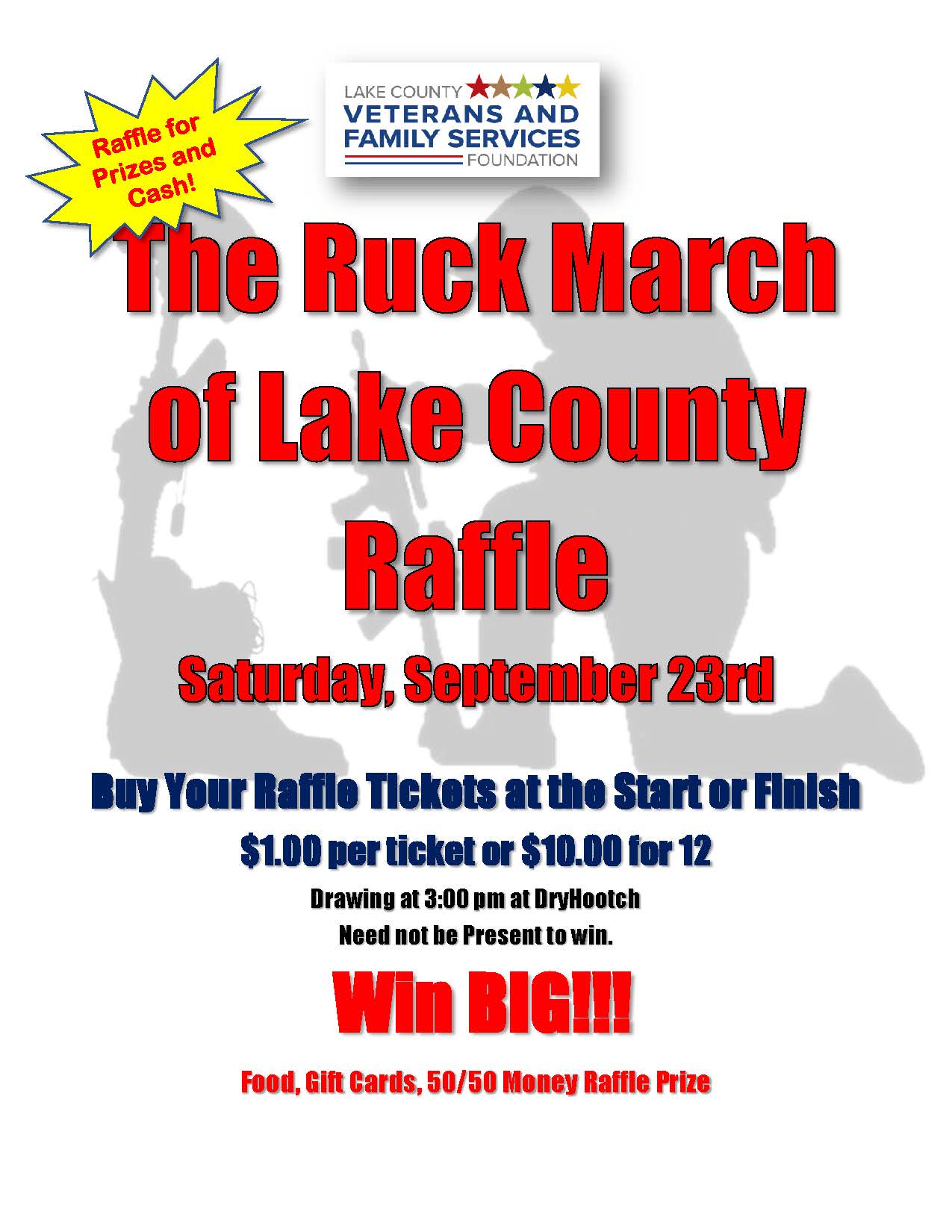 FAQ's for Potential Participants
When is it?
September 23, 2017

Rain or shine

Registration at 6:30am. Registration donation is $20, the day of the March.

March step-off at 8:00am
What is a "Ruck March"?
Walking with a rucksack, or back pack.

A Ruck Sack is a military issued pack.
Where is it?
Starts in North Chicago and ends in Grayslake, in front of Dryhootch, 100 South Akinson.
How far is it?
22 kilometers, or about 14 miles.
What is it for?
To bring awareness to the Veteran Suicide Epidemic that claims the lives of 20 veterans every day.

Raise funds for Lake County Veterans and Family Services Foundation.
Where do I register?
Is it free to register?
No. A minimum donation of $10 to participate.
Can I register with a Team?
Yes, but you must first register individually through: http://bit.ly/2sk7dkd

Team registration through: https://www.classy.org/campaign/Ruck-March-of-Lake-County/c134798

Teams can be no larger than 5 participants.
What are the benefits for creating a Team?
To collectively help raise funds.

Compete for Best Costume/Outfit Team, First Team to Finish, and Team Who Raised the Most Funds.

Winners will receive a Ruck March T-shirt, Certificate of Special Recognition, and a Gift Certificate.
Where does the donations go?
93% of every dollar goes to help Veterans and their families.
Would there be transportation from the end route to the beginning?
No. We will NOT provide transportation from the end to the start. However, Chase vehicles will give rides to those who are unable to finish.

Options: local buses, Uber, taxi, family or friend.

Recommend parking at the Lake County Veterans and Family Services Foundation and carpooling to North Chicago location.
Will emergency personnel be available?
Yes, Patriot Medical Transport
Do I have to carry a Ruck sack or back pack?
No, it is symbolic of the weight carried by those who have fallen due to suicide and those who suffer from their loss.
Do I have to be a Veteran to participate?
No. Everyone is welcome and encouraged to participate in the event.
What should I bring?
Moleskin, Band-Aids, Neosporin, first-aid scissors and tweezers, a poncho, extra pairs of socks, water, baby powder, Tylenol, Deodorant, hand sanitizer…
What should I wear?
Wear comfortable, appropriate clothing and shoes or boots.

Remember that best costume/outfit will receive awards.
Are pets allowed?
Yes, but be advised that pavement might be hot and not all businesses will allow animals inside.

Participants who bring pets must pick up after their pets.
Waiver of Liability
This agreement releases Lake County Veterans and Family Services Foundation, the employees and volunteers thereof, and partnering sponsors and municipalities from all liability relating to injuries that may occur during September 23rd's Ruck March.
By registering, I agree to hold the aforementioned persons and organizations entirely free from any liability, including financial responsibility for injuries incurred, regardless of whether injuries are caused by negligence. I also acknowledge the risks involved in this march. These include but are not limited to: dehydration, blisters, cramps, heat injuries, injuries from the cold, minor scrapes and cuts, broken bones, aches, and back pain. I understand I am participating voluntarily, and that risks have been made clear to me. Additionally, I do not have any conditions that will increase my likelihood of experiencing injuries while engaging in this activity, and if I do, I hold myself, and only myself, liable for further injury.
By signing below, I release Lake County Veterans and Family Services Foundation the employees, volunteers thereof, and partnering sponsors and municipalities from all claims for any reason. By participating, I will help raise awareness of the national Veteran Suicide Epidemic. I will also make every effort to obey safety precautions as listed in writing and as explained to me verbally. I will ask for clarification when needed. Lastly, we are all adults, or are with adults, clean up after yourselves!
By registering, I acknowledge that I fully understand and agree to the above terms.
Date and Time
Location
Refund Policy
Refunds up to 1 day before event