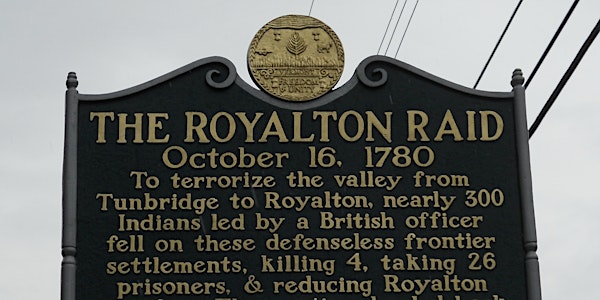 The Royalton Raid Revisited - BETHEL UNIVERSITY
Hear an overview of the Royalton Raid, then we'll talk about its historic marker on Route 14 – is its message still viable for 2021?
About this event
Just down Route 14, in Royalton, Vermont, a historical marker titled THE ROYALTON RAID stands on the side of the road, near the intersection with Bridge St. It reads:
THE ROYALTON RAID
October 16, 1780 To terrorize the valley from Tunbridge to Royalton, nearly 300 Indians led by a British officer fell on these defenseless frontier settlements, killing 4, taking 26 prisoners & reducing Royalton to ashes. The captives hauled back to Canada were sold for $8.00 a head. This was the most calamitous of Vermont's many Indian raids.
VERMONT HISTORIC SITES COMMISSION 1958
At a time when many historical monuments around the United States are coming under new scrutiny, it's worth thinking about what story this marker is telling us, and if it is still the story we want it to tell. I have been doing extensive research on the Royalton Raid, this monument, and the Handy monument in South Royalton as part of a larger research interest in the legacies of settler colonialism in New England. I would like to facilitate a conversation with community members about this sign, what it means to them, and if it is time to consider revising it.
I will provide an overview of the history of the raid and some examples of commemorations of memorials to settler-Native conflict that have been revised at locations like Historic Deerfield. Given the importance of oral histories of settlers and Indigenous people's accounts of this raid, I hope to learn as much as I share in this session.
Instructor(s): Jonathan Field, Associate Prof, Clemson University
Instructor Bio: Jonathan is an associate professor of early American literature at Clemson University, and a lifelong Barnard resident. His research focus is on the legacies of settler colonialism in New England.
Number of Sessions: This group meets one time.
Materials to Have Prepared: N/A
Restrictions or Requirements: N/A
Learn more about Bethel University and check out more free course listings at betheluniversityvt.org. BU is a free community pop-up university, created by the Bethel Revitalization Initiative.