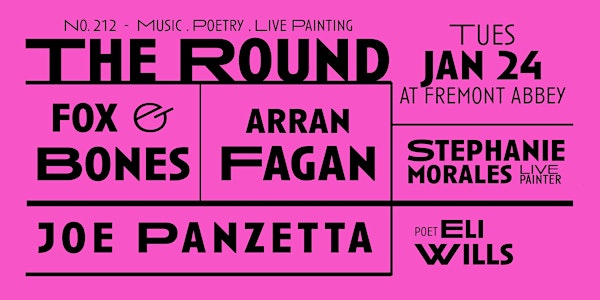 The ROUND: Fox and Bones, Joe Panzetta, Arran Fagan, Eli W, Stephanie M
The Round featuring musicians Fox and Bones, Joe Panzetta, Arran Fagan with spoken word poet Eli Wills and painter Stephanie Morales
When and where
Location
Fremont Abbey Arts Center 4272 Fremont Avenue North Seattle, WA 98103
Refund Policy
Refunds up to 30 days before event
About this event
1/24 The Round (212) featuring musicians
+ live painter Stephanie Morales
& spoken word poet Eli Wills
"Internationally touring folk duo Fox and Bones entertain and engage with their heartwarming, uplifting and "contagiously optimistic" brand of harmony-laden folk-pop, reminiscent of bands of the past with a modern flare. They've played over 700 shows all over the world in their 5 short years as a band, arming them with a fun and interactive live show that you don't want to miss!"
—Artist Bio
"While the band's colorfully outfitted songs sometimes sound more like smart catchy pop than handmade Americana, the duo from Portland live two merging voices, an acoustic guitar and either touching, thoughtful or simply amusing-abstruse stories about nocturnal Climbs to rashly booked mountain hotels or cars supposedly lost to motorway interchanges, to win the audience in no time."
— Carsten Wohlfeld, Westzeit
"Joe Panzetta is a songwriter and composer based on Vashon Island, Washington. He performs as a solo singer-songwriter and fronts the band, Saint Ophelia alongside Rebekah Kuzma. A multi-instrumentalist, Joe is a guitarist first, with an intricate flat-picking style that weaves through his chord progressions, over which he sings melodic lines about things we all care about: love, loss, division, forgiveness and healing."
—Artist Bio
"Praised for his introspective lyrics and vivid storytelling, Portland-based folk artist Arran Fagan has garnered a following in his native Oregon with his uncanny ability to weave the personal and universal. After getting his start in the grassroots music scene of Southern Oregon, Arran has spent the greater part of his life pursuing music, creating wistful and evocative songs that explore themes that connect us all—loss, addiction, change, and the endless passage of time."
—Artist Bio
ELI WILLS
"Words are spells and whilst weaving them together we can create worlds of wonder and whimsy. Writing is also free therapy. Normally singing their poetry, Eli is thrilled to share their feelings and thoughts with you in the form of spoken word."
—Artist Bio
@ Fremont Abbey Arts Center
7:30p doors, 8p show
All ages, PG-13 (some content may not be suitable for young audiences)
Some seating available, bar w/ID
No one turned away for lack of funds
--------------------------------------------------------------------------
THE ROUND
has been held live in Seattle, WA (USA) every month for 200+ months in a row and features local and touring artists
Music | Poetry | Visual | Collaboration
Songwriters/bands sharing their music, alternating with a poet,+ visual artists creating live.
All together to create a unique evening of high quality & collaborative arts.
www.abbeypresents.org and www.theround.org for more 
--------------------------------------------------------------------------
ABBEY ARTS EVENT INFO:
Check tickets for show time
Fremont Abbey is ADA accessible on either level.
Service animals as defined by the ADA are allowed. Service animals are defined as dogs that are individually trained to do work or perform tasks for people with disabilities.
We have a mix of normal chairs, some tall chairs, and standing room in back.
Seating is not reserved unless noted.
Please refrain from talking or texting during the show.
No video from the seating area please.
Please limit photos during the show so as to not distract other attendees from the experience.
We are an all ages venue. Kids 10 & under are free at Abbey Arts concerts & arts events unless noted.
Entering the venue indicates agreement to adhere to the Abbey Respect Policy. All are welcome.
No outside alcohol allowed. Quiet picnics ok.
--------------------------------------------------------------------------
ABOUT ABBEY ARTS, SEATTLE:
NONPROFIT 501C3, NON-RELIGIOUS, EST. 2005
Presenting welcoming music, arts & cultural experiences for people of all ages & incomes.
Home Venue: Fremont Abbey, 4272 Fremont Ave North, Seattle, WA 98103 / 206-414-8325 Ballard Homestead: 6541 Jones Ave NW, Seattle | + UHeights Auditorium, St Mark's Cathedral, & more
--------------------------------------------------
See Updated Public Health Safety Info at the bottom of this page under Abbey Arts Presents. All Abbey Arts venues adhere to WA State & King County health guidelines. Thanks for helping keep our community safe!
--------------------------------------------------