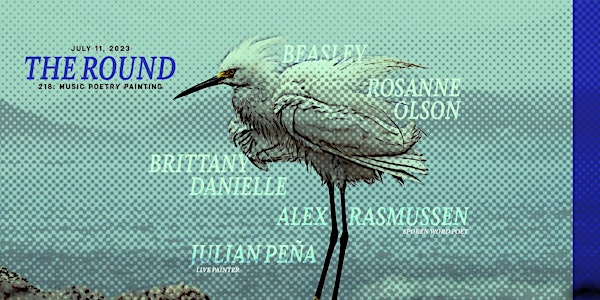 The Round 218 @ FREMONT ABBEY
The Round featuring musicians, spoken word poet, and live painter, live at Fremont Abbey
Date and time
Starts on Tuesday, July 11 · 7:30pm PDT
Location
Fremont Abbey Arts Center 4272 Fremont Avenue North Seattle, WA 98103
Refund Policy
Refunds up to 30 days before event
About this event
2 hours 30 minutes

Mobile eTicket
7/11 The Round (218) featuring musicians
Beasley,
Brittany Danielle,
Rosanne Olson,
+ spoken word poet Alex Rasmussen
& live painter Julian Peña
"Pointedly critical yet hopeful, Beasley writes #SelfHelpFolkMusic that offers a strong melody, a biting criticism, and a chorus you'll find yourself humming which calls the listener to live more honestly hopeful."
- Artist Bio
"What happens when you pull a thread? Those who've sought the answer know the glee of the seam ripping open, the stuffing falling out and then the surprise of that which is broken now resting at your feet. What if this moment had a soundtrack? A melody like that string, rhythms like cloth and cotton. And a demise as obvious as that of a broken relationship or belief system. This is the music Seattle-based songwriter and performer, Brittany Danielle brings to the world.
With songs that sound like Top 40 hits but read like tarot cards, Danielle, who has been playing piano since 8-years-old and boasts a graduate degree in music, creates compositions that touch opposite sides of the spectrum. On Danielle's debut LP, which she will unveil in 2022, many of the tracks were born from the pandemic and the song exercises that kept her sane throughout. Woven together with truths about her mental health (and its own unraveling), the songs represent growth, new connections."
-Artist Bio
"Rosanne Olson writes songs drawn from her life and inspired by the lives of others. Her songs speak of love, heartbreak, happiness and regret, all formed into beautiful stories that linger in the mind, providing just the right medicine for love, loss and everything in-between.
Steeped in the music of the Sixties, Olson draws her own musical conclusions from influences that span classical music (from childhood piano lessons) to folk ballads, a touch of country, a splash of jazz and a bit of gypsy."
- Artist Bio
"From the Pacific Northwest to New Orleans—Tennessee to the Texas hill country—singer-songwriter, novelist, and poet Alex Rasmussen has spent much of the last decade traveling the United States and sharing his art, inspired by the adventures and heartaches of a nomadic spirit.
His self-published novel, Coloring outside the Lines (2015), dives into the mind of an ambitious street musician as he travels between Seattle and San Francisco in pursuit of a dream…and enough cash to buy his next meal. Alex's poetry collection, Inside out, also self-published (2019), covers a wide range of topics from love to loneliness, eccentric painters to hollow consumers. Each work is a piece of a puzzle, which, once assembled, shows in vivid detail a life shaped by the journey from turbulent childhood to traveling artist.
After spending fall and winter of '20 / '21 playing music and selling his books around San Diego, the Seattle native has returned home for '22 and '23, where he is finishing his second novel, writing poetry, performing, and working on new songs. "
- Artist Bio
"Julian Peña (°1985, Okinawa, Japan) lives and works in Seattle, WA and a two-time recipient of South Sound Magazine's Best Artist of the Year. He has exhibited in solo and group exhibitions including "Fool's Paradise" solo art show at Ok Hotel & Gallery in Seattle, WA and "Strength + Struggle" group art show at the Tacoma Art Museum in Tacoma, WA. One of his most memorable and pivotal career milestone was at "Dawn of 2012" group show at Fulcrum Gallery in Tacoma, WA. Recently, he joined other talented, LGBTQA+ artists at the Skyview Observatory for the group show "Look How Far We've Come: A Queer Art Show 902 Feet in the Air." He studied for his Bachelor of Art in Painting and Drawing at the University of Washington and took an intensive course in Nihonga (traditional Japanese mineral pigment painting) course with Judith Kruger in Savannah, GA.
Peña is strongly influenced by Japanese graphic design and art. He explores many different decorative techniques and rich materials to create lavishly flat surfaces with bright and bold colors oscillating across the surfaces of his works. He often draws from anime content, manga, fantasy narratives, video game aesthetic culture, and Japanese art history as his source of inspiration. He aims to create fantastical narratives we can all relate to using color harmony, memorable characters, and decorative surface textures."
-Artist Bio
@ Fremont Abbey Arts Center
7p doors, 7:30p show
All ages, PG-13 (some content may not be suitable for young audiences)
Some seating available, bar w/ID
No one turned away for lack of funds
--------------------------------------------------------------------------
THE ROUND
has been held live in Seattle, WA (USA) every month for 200+ months in a row and features local and touring artists
Music | Poetry | Visual | Collaboration
Songwriters/bands sharing their music, alternating with a poet,+ visual artists creating live.
All together to create a unique evening of high quality & collaborative arts.
www.abbeypresents.org and www.theround.org for more 
--------------------------------------------------------------------------
ABBEY ARTS EVENT INFO:
Check tickets for show time
Fremont Abbey is ADA accessible on either level.
Service animals as defined by the ADA are allowed. Service animals are defined as dogs that are individually trained to do work or perform tasks for people with disabilities.
We have a mix of normal chairs, some tall chairs, and standing room in back.
Seating is not reserved unless noted.
Please refrain from talking or texting during the show.
No video from the seating area please.
Please limit photos during the show so as to not distract other attendees from the experience.
We are an all ages venue. Kids 10 & under are free at Abbey Arts concerts & arts events unless noted.
Entering the venue indicates agreement to adhere to the Abbey Respect Policy. All are welcome.
No outside alcohol allowed. Quiet picnics ok.
--------------------------------------------------------------------------
ABOUT ABBEY ARTS, SEATTLE:
NONPROFIT 501C3, NON-RELIGIOUS, EST. 2005
Presenting welcoming music, arts & cultural experiences for people of all ages & incomes.
Home Venue: Fremont Abbey, 4272 Fremont Ave North, Seattle, WA 98103 / 206-414-8325 Ballard Homestead: 6541 Jones Ave NW, Seattle | + UHeights Auditorium, St Mark's Cathedral, & more
--------------------------------------------------
See Updated Public Health Safety Info at the bottom of this page under Abbey Arts Presents. All Abbey Arts venues adhere to WA State & King County health guidelines. Thanks for helping keep our community safe!
--------------------------------------------------
About the organizer
Public Health Info:
Be sure to check your events ticketing page for any special requirements per event.
That being said, we still strongly encourage people attending to follow all safety protocols shown below and per King County Public Health.
Attendees are welcome to wear masks at their discretion, all are welcome. Please don't discriminate based on mask or no mask. Some people may opt to wear a N95 for their own protection.
Please check your specific event details before purchasing a ticket.
THESE GUIDELINES MAY CHANGE AT ANY TIME DUE TO PUBLIC HEALTH GUIDELINES
-----------MORE INFO--------------
All Abbey Arts employees & volunteers are vaccinated.
We are operating at full capacity and do not have any capacity restrictions unless otherwise noted in the event description.
We have added hand sanitizing stations and air filtration systems around our venues. We encourage you to regularly sanitize and fully wash hands when you use the restroom.
****
By entering the Venue, you and the members of your group voluntarily assume the risks of contracting COVID-19 and agree to release, waive, discharge and covenant not to sue any Artist performing or Abbey employee or company (including their owners, officers, employees, volunteers, agents and the City of Seattle), and hold these entities and persons harmless from liability regarding any and all claims relating to COVID-19 and indirectly or directly arising out of or relating to the Venue or event.
****
Individual events may have additional safety measures in place, see Ticketing pages for details.
-----------------------
ABBEY ARTS, SEATTLE:
NONPROFIT 501C3, NON-RELIGIOUS, EST. 2005
Fremont Abbey | Ballard Homestead | South Park Hall | St Mark's Capitol Hill | The Auditorium @ UHeights |  & more
Independent nonprofit, non-religious, all ages/incomes. 
Low Fee Tickets! No hidden high fees like Ticktmstr. :-)
[ Click here to subscribe to our optional text messages. ]
[The views and opinions expressed at events are those of the artists and performers and do not necessarily reflect Abbey Arts. About Page | Respect Policy.]
Refunds may be available per event settings.
No refunds due to support act changes.
Tickets for rental events may be via their website. 
Note: Entry requirements are subject to change. By purchasing tickets to this event you agree to abide by entry requirements in effect at the time of the event. Check the venue website leading up to your event for the latest protocols.