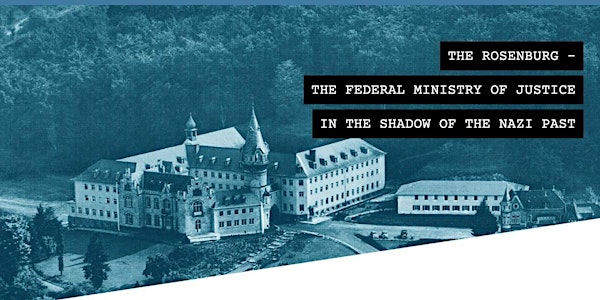 THE ROSENBURG Exhibition Opening Celebration
When and where
Location
Gilman Hall 50 (Marjorie Fisher Auditorium) Johns Hopkins University Homewood Campus 3400 N. Charles Street Baltimore, MD 21218
Description
The Rosenburg—The Federal Ministry of Justice in the Shadow of the Nazi Past
This exhibition by Germany's Federal Ministry of Justice and Consumer Protection (BMJV) will make the second stop on its U.S. tour when it opens at Johns Hopkins University on Thursday, March 28, 2019.
You are cordially invited to attend the opening celebration, featuring remarks by
Winston Tabb, Sheridan Dean of University Libraries & Museums, The Johns Hopkins University
Peter Jelavich, Ph.D., Professor of History, The Johns Hopkins University

Christian Lange, Parliamentary State Secretary to the Federal Minister of Justice and Consumer Protection
6 p.m. Program
Reception will follow
Location: Marjorie Fisher Auditorium in Gilman Hall (room 50) on the Johns Hopkins University Homewood Campus (#26 on the campus map)

Guests are invited to view the exhibition before and after the program
Milton S. Eisenhower Library (#53 on campus map), across the Keyser Quad from Gilman Hall
Space is limited; please register to attend.
Directions and Parking: Johns Hopkins Homewood Campus is located in north Baltimore (driving directions). For GPS navigation, use the following address:
San Martin Parking Garage
3350 San Martin Drive, Baltimore, Maryland 21210
The campus parking map and visitor parking page provide additional details on parking locations and directions.


---

About the exhibition:
The findings of the Rosenburg Files (2016)—a four-year study of the post-World War II establishment of the German justice ministry and named after the ministry's first official residence in Bonn—revealed that there was an alarmingly high degree of continuity between the personnel of the Nazi judiciary and the justice ministry through the 1950s and into the 1960s. Through visual and auditory interactive displays, The Rosenburg—The Federal Ministry of Justice in the Shadow of the Nazi Past explores how the justice ministry handled its Nazi past and eventually came to terms with this open secret.
Exhibition hours:
Milton S. Eisenhower Library, Q and M Levels
March 28 through May 1, 2019
7:30 a.m.–3 a.m.
Hours may vary; please check website
Entrance free of charge; photo ID required for M Level