Join us on Thursday, 5-20-21 at 12:30pm PDT / 3:30pm EDT for a virtual dialogue about the foundations of white nationalism in the U.S.
About this event
Featuring Hector Amaya, Ginna Green, and Shannon Speed, this conversation engages the origins of white nationalism in the United States, and its longevity across generations, geographies, and political moments.
Sponsored by Repair, and co-sponsored by the UCLA American Indian Studies Center, Ikar, the Critical Race Studies Program at the UCLA School of Law, Temple Beth Am, the Native Nations Law & Policy Center at the UCLA School of Law, and Bend the Arc Jewish Action.
This event is closed captioned, open to the public, and admission is free on demand. Donations are welcomed to offset event costs.
Questions or requests related to disability access? Contact us: repair.inquiries@gmail.com
Want to know what else is coming up? Visit our events registration page
Image Description:
Tarnished gold-colored metal letters mounted on a worn cement wall, reading "United States of America".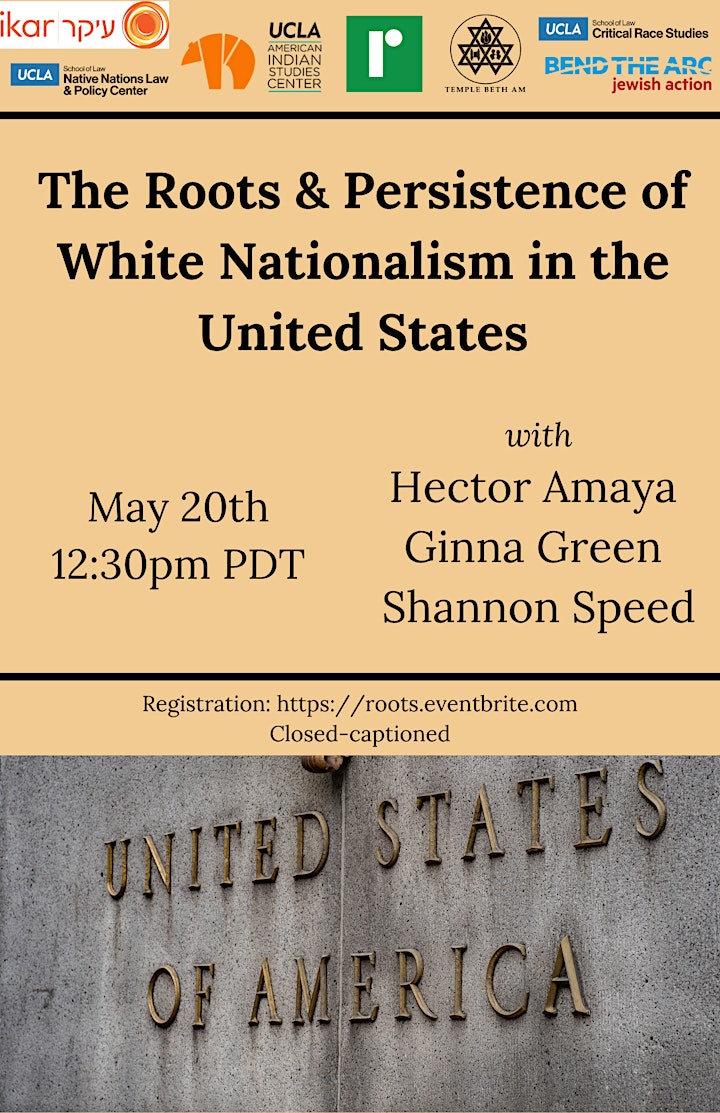 Organizer of The Roots & Persistence of White Nationalism in the United States
Repair is a health and disability justice organization, based in Los Angeles.
We engage primarily in community and professional education, community-building, and policy analysis on a range of social change issues. Our priorities include: violence and trauma, health and healthcare, civics education, food and nutrition, and criminal justice systems. Many of our projects address the impact of racism, poverty and gender violence on community health.
Contact us at repair.inquiries@gmail.com
Connect with us on facebook, twitter, instagram, LinkedIn, and subscribe to our youtube channel.