"The Roots of Liberty" Seminar by KrisAnne Hall

Saturday, February 15, 2014 from 8:30 AM to 3:00 PM (CST)
Event Details
You're invited to a free seminar on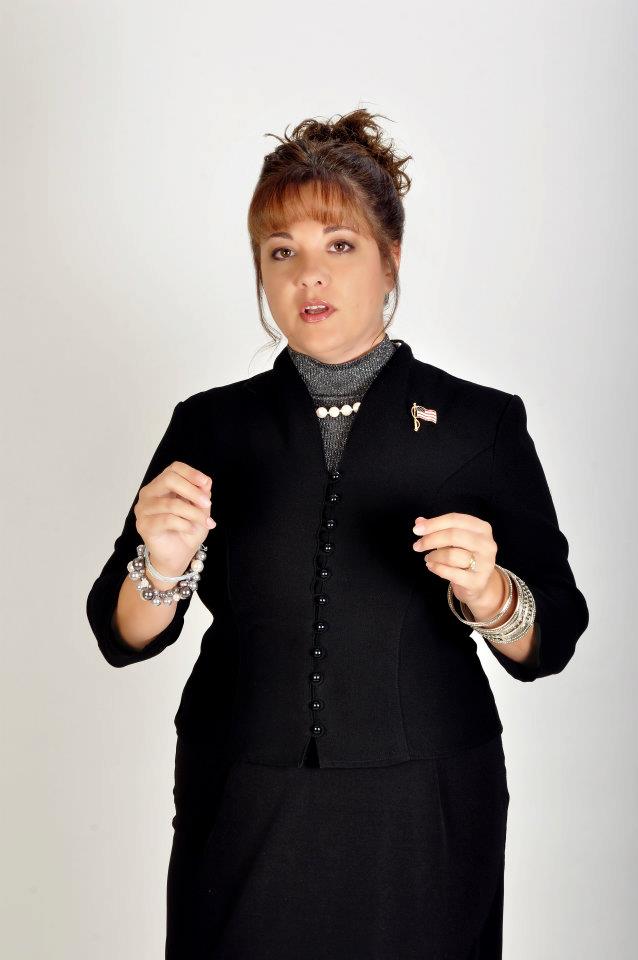 "The Roots of Liberty" presented by KrisAnne Hall. 
KrisAnne is an incredibly passionate speaker - a true Patrick Henry of our time.  She is an attorney and former state prosecutor who was fired after teaching the Constitution to Tea Party groups - she would not sacrifice liberty for a paycheck. 

KrisAnne is a disabled veteran of the U. S. Army, a Russian linguist, a mother, a pastor's wife and a patriot.  She now travels the country and teaches the Constitution and the history that gave us our founding documents. 

KrisAnne Hall's "The Roots of Liberty" seminar is NOT JUST ANOTHER LECTURE ON THE CONSTITUTION. KrisAnne Hall does not just teach the Constitution, she lays the foundations that show how reliable and relevant our founding documents are today.  It is important to know not only what your rights are, but why you have them.  Watch KrisAnne's video "10 Minutes for Liberty" to see why it's important to attend this seminar. 

KrisAnne presents the "genealogy" of the Constitution - the 700+ year history and five foundational documents that are the very roots of American Liberty. In addition to the history of the Bill of Rights, KrisAnne presents each of the first ten amendments in their context - in the words and history of our founders. She also presents the 17th amendment and what we must do to make our federal politicians accountable.
The seminar is open to the public.  Students and elected officials are encouraged to attend.  If we are to reclaim our nation, we must reclaim our history!  Mark your calendars and register now for this don't-miss event!   

SEMINAR SCHEDULE
8:30 a.m. - Meet and Greet

Coffee, tea, water and ice will be provided. 

Attendees may order a pizza lunch for $3 per person upon arrival -OR- may bring their own snacks, lunches, and drinks.
Soft drink and snack machines are available on site.
KrisAnne Hall's books and DVD sets, plus seminar workbooks ($3) and "Liberty First" pins ($5), will be available for purchase and signing.

Mrs. Hall's seminar is free of charge; however, donations will be gratefully accepted.
9:00 a.m. - Genealogy of the Constitution
12:30-1:00 p.m. - Lunch

1:00-3:00 p.m. - The Bill of Rights and the 17th Amendment
KRISANNE HALL BIO
Born and raised in St. Louis, Missouri, KrisAnne Hall received her undergraduate degree in bio-chemistry from Blackburn College in 1991 and her J. D. from the University of Florida's Levin College of Law and is a former Russian linguist for the U. S. Army. KrisAnne worked for several years as a state prosecutor and two years with a prominent law firm defending religious liberty and first amendment rights. She now resides in North Florida with her husband, Chris (a pastor and former foreign language instructor for the U. S. Navy), and her adopted son, Colton.

Mrs. Hall is the author of:
"Not a Living Breathing Document: Reclaiming Our Constitution"

"Bedtime Stories for Budding Patriots"

"Essential Stories for Junior Patriots"

 "The Roots of Liberty: The Historic Foundations of the Bill of Rights" (DVD series)

"Liberty First:  The Path to Restoring America"

                                                           
Two books that inspired KrisAnne's love for our history were Founding Brothers by Joseph Ellis and 1776 by David McCollough.  She has been awarded the Freedom Fighter award by Americans for Prosperity, the Certificate of Achievement from the Sons of the Revolution for her defense of Liberty, and the Congressman James Blair Award for Defending the Constitution.
SEMINAR FLYER - Click here to view and print.  The flyer pdf is linked in the left-hand column.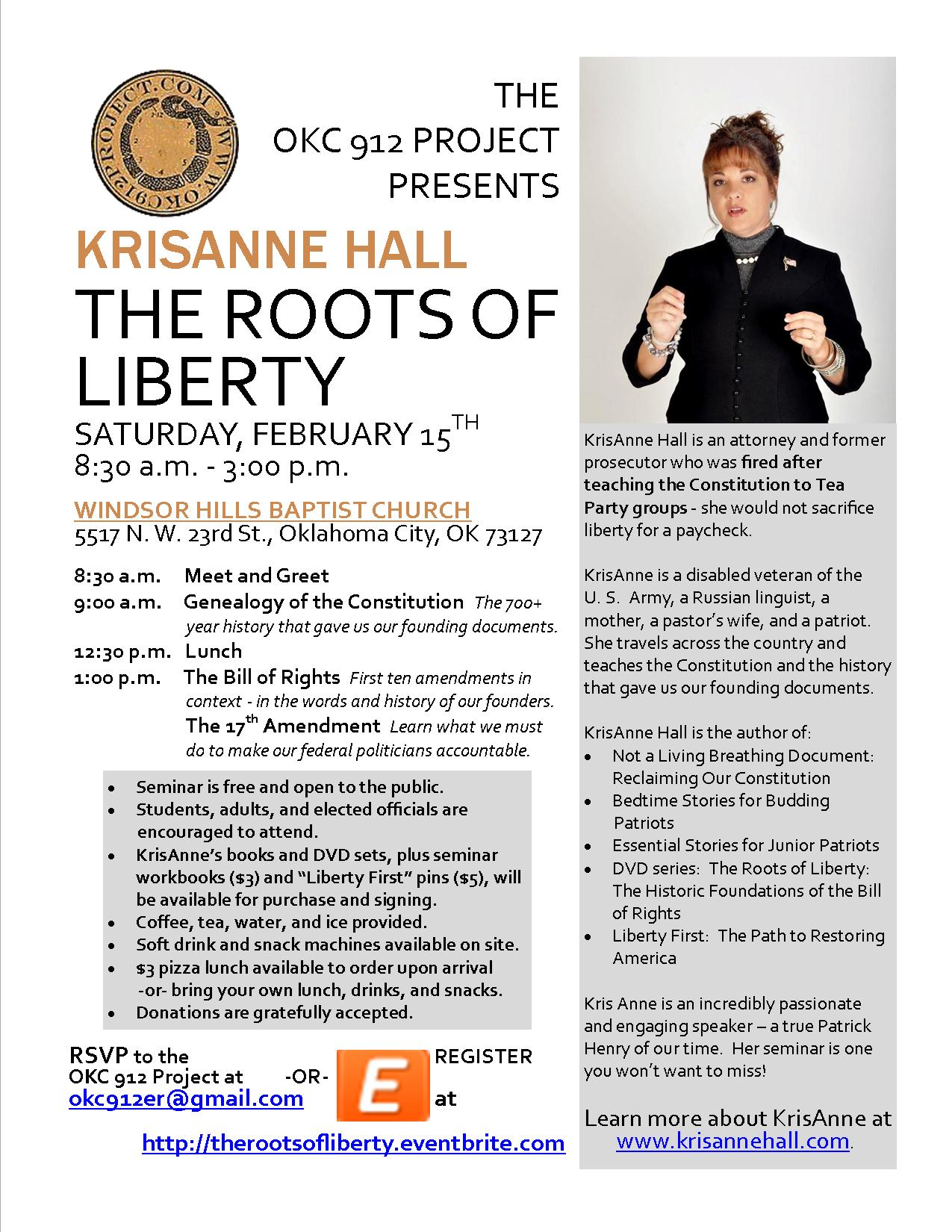 When & Where

Windsor Hills Baptist Church
5517 N. W. 23rd Street
Oklahoma City, OK 73127


Saturday, February 15, 2014 from 8:30 AM to 3:00 PM (CST)
Add to my calendar
Organizer
OKC 912 Project

The OKC 912 Project is a conservative grassroots organization whose main focus is educating its members in local governmental structure, organization, and issues in order to create more educated voters and citizens willing to participate in their government.  Our mission, based on the belief that God's guiding principles were instrumental in the creation of the United States Constitution, is to help reduce the federal government's involvement, influence, and power over our daily lives.
"The Roots of Liberty" Seminar by KrisAnne Hall