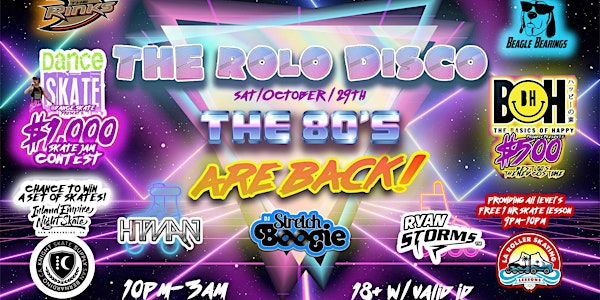 The Rolo Disco - The 80's Are Back!
80s Themed Roller Disco Costume party w/ $1,000 Skate jam Contest , $500 Costume Contest < Chance to win a set of Skates and much much more.
When and where
Location
The Rinks 4325 Prado Road ##101 Corona, CA 92880
About this event
Join us and hundreds of skaters from all around the globe for our 2nd annual Pre Halloween 80's themed costume roller disco.
With 2 rink's with Jam floors for all levels...( Always Skate to your ability! )
Night Brought to you in part by: @Knightskatesb & @ienightskate
who are blessing everyone with.....
A CHANCE TO WIN A BRAND NEW SET OF SKATES!
Just by showing up... enter your name into raffle must be present to win!
Rink 1 Advance / Intermediate Skate rink:
Pros
Performers
those that got what it takes!!
Skate jam contest Starts at 11pm
Rink 2 Intermediate / Beginner Skate Rink
1st timers
Sea Legs
Nervous Nelly's
Skate Lessons Start at 9pm must sign up via ticket add on
So you think you can Skate ?
$1,000 SKATE JAM CONTEST
* All contestants must register ( see tickets )
Will be a Pyramid Bracket;
Judges Vote on:
1. Crowd applause
2. Performance / energy
3. Musicality
4. Creativity / originality
5. Skills
Main Mc/Host & Judge #1 @MorganWeske & www.DANCESKATE.com
Official Sponsor & Judge #2 @PayrollDaddy & www.KNIGHTSKATE.com
@Areason2skate / Miss Disney herself & Judge #3
@aaliyah913 / @larollergirls @rrealapparel Judge #4
Surprise Judges announced at event!!
80's inspired Sounds by:
Main Room
Dj Hitman & DJ Stretch Boogie
Shoes Ok Room
Dj Ryan Storms
$500 80's themed Costume contest Proudly brought to you by @ThebasicofHappy
(80s themed Costumed a must!!)
Judges will pick based on:
Creativity / Originality / Crowd Applause
Vendors Row:
SUPPORT SKATE OWNED SMALL BUSINESS VISIT VENDORS ROW:
@DANCESKATE / www.DANCESKATE.com
@RADMUMMY
@THEBASICOFHAPPY
@KNIGHTSKATESB
@JMKRIDE
LA Roller Skating Lessons Free Skate Lesson: 9pm sharp!!
Want to learn something new or The Basics @larollerskatinglessons and these amazing coaches have teamed up to ensure all bases are covered.
Be sure to add on the lesson you want to partake in when purchasing your ticket!
1. Beginners - Smooth your ROLL & balance, Stopping, etc… Crystal @seesmalls
2. Beginners / Intermediate - Backwards transitions from FWD to BWD & back initial 2 ft. spins Instructor @jupiterhead
3. Beginners / Intermediate Artistic In-line Spins, Backward crossing creative footwork Ice & In-line Instructor @lilylikecom
4. Quad Beginner Jam/Rex skating learn basic rhythmic moves w/ Instructor @areason2skate
5. Intermediate Line Shuffle Skate & the Downtown from @dazzlerrollerdance
6. Learn to Free Skate with JMK's @mattietyce
7. Intermediate / Advanced Quad Jam/Rex from Chicago's own @dylan__morton
8. Intermediate / Advanced Slides w/ @l.a_slaiders
9. Intermediate / Advanced Slalom Lesson with @newsoulmelody
10. Advanced Quad Lesson By the Legend himself @buckwildjrich
11.Advanced Spins & edges by the roller skating superstar @candai & @josiahbishop66
Support your Coach Donations/Tips Highly encouraged!
So excited hope to see you there!
Skate games with chance's to win Skate prizes from event sponsors & Vendors.
MUCH MORE TBA ......
ALL WHEELS WELCOME...DONT HATE ROLLER SKATE!
Tickets on sale now!!
(Limited Quantity, First come First serve!)
All taking Place in Corona, CA
4325 Prado Rd #101, Corona, CA 92880