Description
Please join WIGA NYC in collaboration with NYU's Student Association for Global Affairs and the Gender Working Group on our panel discussion themed "The Role of Women in Global Affairs: Paving The Way for a More Inclusive Working Environment".
Prominent women from exclusive fields in the private sector, civil society, and government come together to engage and portray their strenuous journey along their paths to success.
This event will be in the form of a panel discussion, with room for questions and discussion with the audience. Moreover, refreshments and snacks will be provided, along with a chance to network.
Moderator: Kristina Koch (Chief of Recruitment Section, Department of Field Support, United Nations)
Panel:
Alison Miller (Deputy Director for Management at The Earth Institute, Columbia University)
Joanna D. Underwood (Founder & Chair, Energy Vision)
Laetitia De Marez (Senior Climate Finance Expert and Policy Analyst, Climate Analytics)
Mary Jane Ajodah (Vice President, Client Service Delivery Strategy, BNY Mellon)
Yael Eisenstat (Founder of Kiele Global)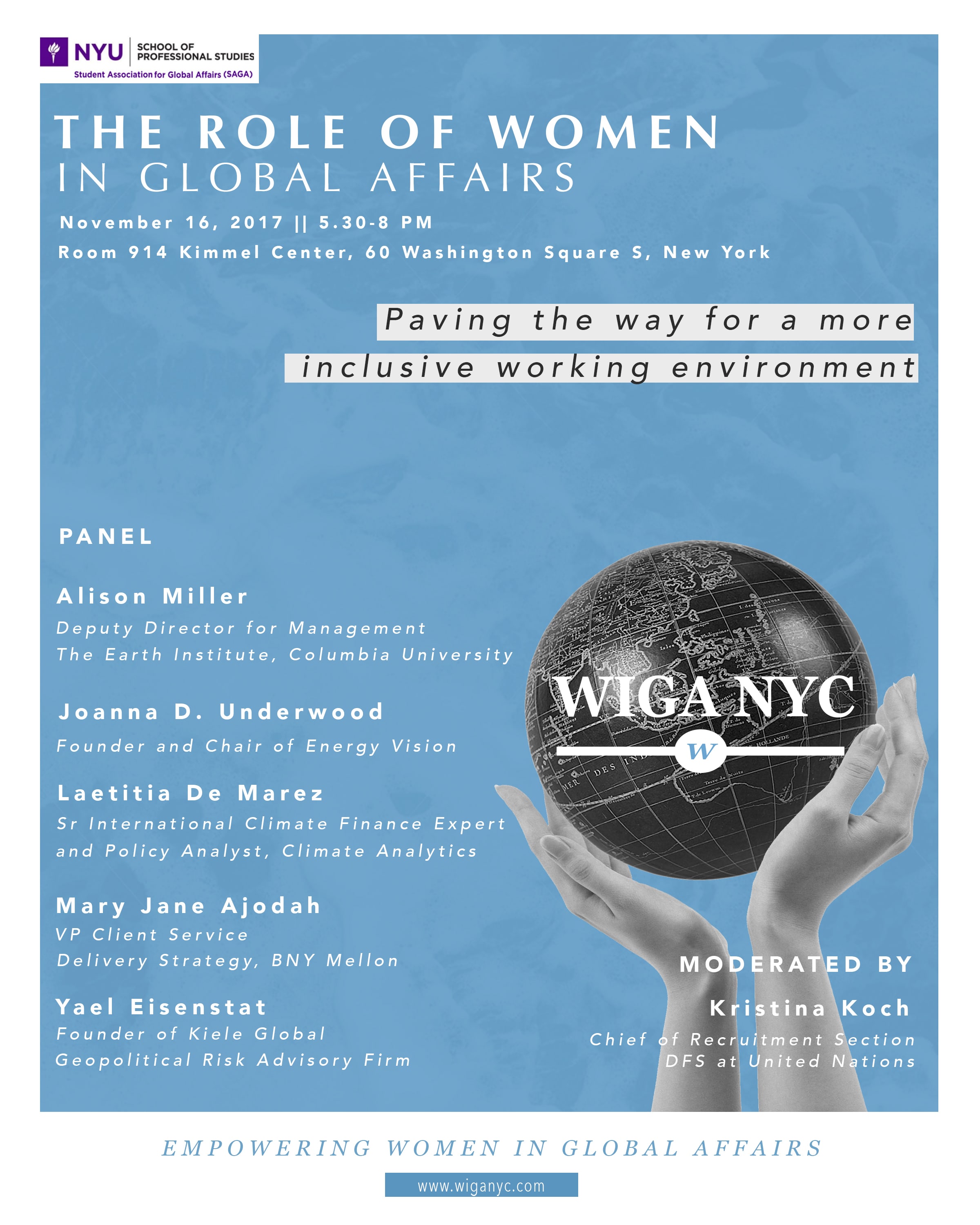 Moderator

Kristina Koch
Chief of Recruitment at DFS in United Nations
Kristina Koch has twenty years of experience working directly in conflict-affected countries and in various headquarters positions backstopping efforts to promote international peace and security. Her expertise and experience span humanitarian operations, post-conflict development and peacebuilding, and peacekeeping. She's worked in field-based positions in the former Yugoslavia, West Africa, and Central Africa for United Nations peacekeeping, the Organization for Security and Cooperation in Europe, USAID, the State Department's Bureau for Population, Refugees, and Migration, and the International Rescue Committee. She is currently the Chief of Recruitment at Department of Field Services in United Nations.
Panel
Alison Miller
Deputy Director for Management of The Earth Institute, Columbia University
As Deputy Director for Management of the Earth Institute, Miller helps manage the largest research organization at Columbia University, comprised of nearly 800 full-time employees with an annual budget of $130 million. She has written about climate policy, sustainability metrics, and management and policy analysis. Miller is the co-author, with Steven Cohen and William Eimicke, of the 2015 book, Sustainability Policy: Hastening the Transition to a Cleaner Economy. In 2014, she was selected as one of City & State's 40 under 40 Rising Stars in NYC Politics & Policy.

Joanna D. Underwood
Founder and Chair of Energy Vision
Joanna Underwood has founded and led two major environmental organizations and is one of the most well known US environmental leaders. From 1975 to 2006 she ran the national NGO INFORM which pioneered in exploring business and industrial practices that could prevent wastes and resource destruction at their source. In 2007 Underwood founded and is now Chair of Energy Vision, focused on identifying and promoting the sustainable transportation fuels of the future.

Laetitia De Marez
Senior International Climate Finance Expert and Policy Analyst, Climate Analytics
Laetitia De Marez is Director of the NYC branch of Climate Analytics, an international non-profit climate science, and policy institute, supporting science-based policy to prevent dangerous climate change and enable sustainable development in most vulnerable countries. Laetitia is a highly experienced policy analyst, active in the UN Climate negotiations since 2003, specializing in climate action financing and enhancing ownership of beneficiaries through capacity building. As senior adviser to countries delegations and global organizations, Ms. De Marez has been involved in important high-level diplomatic meetings and international deal-making.

Mary Jane Ajodah
Vice President, Client Service Delivery Strategy, BNY Mellon
Mary Jane Ajodah covers FinTech and Emerging Technology within the Client Service Delivery Strategy team at BNY Mellon. Mary Jane joined BNY Mellon in Dec 2015 from IBM Global Business Services, where she worked as a Management Consultant within IBM's Strategy and Change Internal Practice. During her time at IBM, Mary Jane worked on the launch of the IBM Digital business unit and internal strategy for consulting services in the Americas during the Apple-IBM partnership and launch of Watson services. Mary Jane received the IBM Service Excellence Award in 2015. Mary Jane received her BA in Economics and International Relations Phi Beta Kappa, magna cum laude from New York University.

Yael Eisenstat
Founder of Kiele, Global Geopolitical Risk Advisory Firm
Yaël has spent 17 years working at the intersection of global political, social and security issues, as a CIA officer, a national security advisor to Vice President Biden, a diplomat, the senior intelligence officer at the National Counterterrorism Center, a corporate social responsibility strategist at a Fortune 5 company, and the head of a global political risk firm. She is the founder of Kilele Global, an advisory firm providing intelligence-based advice to help companies, foundations, and start-ups assess the full range of (non-financial) risks so they can operate smartly and with purpose.