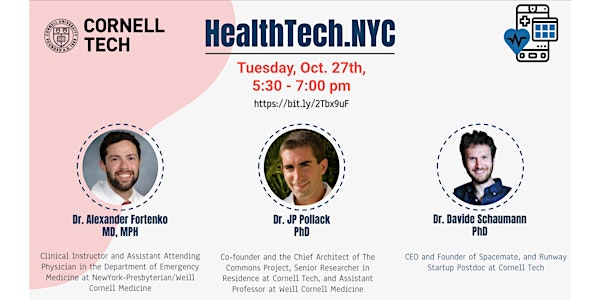 The Role of Tech Interventions in Reopening Post-COVID19.
The Role of Tech Interventions in Reopening Post-COVID19.
About this event
We're thrilled to invite you to our next HealthTech.NYC event. HealthTech.NYC is a student-run initiative to foster the health tech ecosystem here in New York. Founded at the Health Tech Hub in the Jacobs Technion-Cornell Institute at Cornell Tech, HealthTech.NYC convenes engineers, clinicians, and leaders intent on improving healthcare through the use of digital technology.
Our first event is a panel on Tuesday, October 27th, at 5:30 pm about The Role of Tech Interventions in Reopening Post-COVID19.
As employees come back to the workplace and schools reopen, tech interventions have helped mitigate health risks to workers and customers. In light of the risk factors associated with COVID-19, this panel will cover the methods used to speed up innovation and the challenges of creating the contactless experience. Dr. Alexander Fortenko, JP Pollack, and Davide Schaumann will be sharing their insights on the work they have been doing to make reopening a safe possibility. This panel will look at the challenge of reopening thru the lenses of a technical, operational, and medical challenge.
Featured speakers:
Dr. Alexander Fortenko MD, MPH - is a Clinical Instructor and Assistant Attending Physician in the Department of Emergency Medicine at NewYork-Presbyterian/Weill Cornell Medicine. His research focuses on remote monitoring of COVID-19 patients with the hope of identifying data-driven vital sign thresholds that can predict clinical deterioration before patients become ill.
JP Pollack - is a co-founder and the Chief Architect of The Commons Project, a Senior Researcher in Residence at Cornell Tech, and an Assistant Professor at Weill Cornell Medicine. He builds tools and conducts research related to helping individuals collect health data from real-world settings and combining those with their clinical record for research and care.
Davide Schaumann - is the CEO and Founder of Spacemate. He is also currently enrolled as a Runway Startup Postdoc at Cornell Tech. His work is focused at the intersection of Architectural Design, Artificial Intelligence, and Human Behavior Science. His mission is to optimize the design and day-to-day operations of complex workplaces to enhance people's well-being, operational efficiency, and space utilization.
Please RSVP if you are able to attend and feel free to submit questions for our panelists ahead of time and during the event using this link: https://app.sli.do/event/wiim4jdo
Zoom Link: https://bit.ly/2Tbx9uF
We look forward to seeing you there!