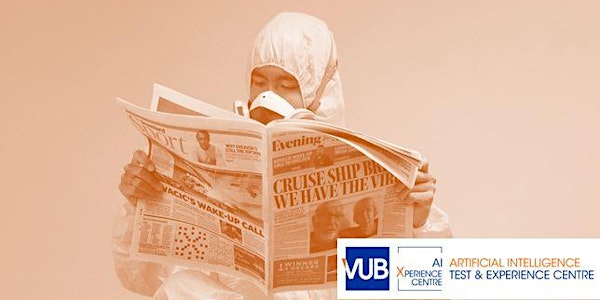 The Role of News Organisations, Social Media & Fake News Analysis in Times
Learn about the technological challenges and the lessons for Media players & Policy Makers presented in the crisis of COVID-19.
About this event
The AI Experience Centre invites you to participate in the first session of its webinar series all of which focuses on the key take aways of the recent COVID-19 outbreak across a variety of sectors.
When?
Tuesday, May 11, 2020: 11.00-12.00
Where?
Prior to the event you will be provided with an URL address of the webinar.
Agenda:
11:00 – 11:05: Introduction by Hans De Canck, Manager of the AI Experience Centre
11:05-11:35: presentation by VUB Experts
11:35-11:45: Expert colleague reaction (CLAIRE)
11:45- 12:00: Q&A online attendants
About the Webinar Session:
This session welcomes Prof. dr. Ike Picone from Studies in Media, Innovation and Technology (SMIT) research group & dr. Tom Willaert from the Artificial Intelligence Lab. The senior researchers will discuss the role of social media & fake news analysis in times of the COVID19 crisis. The webinar will also shed light on the key technological challenges the scientific community encountered to then finally provide insights for media players and policy-makers based on this experience. Come prepared and you will get the chance to ask questions from experts at the end of the sessions.
About the Webinar Series:
The AI Experience Centre of the VUB is dedicated to emerging as an enabler by connecting academic expertise of the EU AI Framework with relevant stakeholders. The Centre is comprised of leading research groups (Artificial Intelligence Lab, BruBotics, ETRO, and SMIT) in the field of Artificial Intelligence and Robotics. In the wake of the outbreak of COVID-19 the research groups and the Centre have dedicated their expertise to help health, policy, and economic decision making. We would like to invite you to learn from this experience together. Our goal is to improve ongoing and new projects that involve AI & Data innovation and to enhance the role of academics & scientists in creating a human-centricpost-corona society. A society where AI & Data technology contributes to the Common Good.
Stay tuned for our next webinar on Tuesday, May 12, 2020: 17.00 – 18.00. The session invites researchers from BruBotics who will share their work on Open Source actions in the field of Mechanics & Robotics (Producing Open Source Ventilators, 3D printing challenges Decathlon Mask). Interested ? Sign up now.
To not miss any of our news visit our website.
Any Questions? Email us at hans.de.canck@vub.be