The Role of Male Allies, Advocates, and Mentors in Retaining Women in Tech

Monday, March 13, 2017 from 1:00 PM to 6:00 PM (EDT)
Event Details
You have to register here: 
https://local.anitaborg.org/event/role-male-allies-advocates-mentors-retaining-women-tech/
If you want to know about the next event and/or interested in getting involved, fill out this form: http://bit.ly/2ln1fvv
---
Advocates, mentors, and allies are all roles that require a commitment and a will to help other individuals achieve their highest potential in their pursuit of activities to advance themselves and their communities.
Although the roles might be defined differently, they all encompass being supportive and encouraging. In the technology world, these relationships are essential to the retention and promotion of women.  However, the lack of female role models in the field, as well as the dearth of males to provide the needed support, illuminates a problem that must be addressed.
By attending our half-day workshop, we will highlight the problem and explain how current mentors, allies, and advocates are tackling it.  We will also provide resources, contacts/connections, and the support necessary for you to become part of the solution–to help elevate women's technological competency and their presence in the field.
Please join us at this important and timely event, which will impart the knowledge and the tools to assist you in becoming the change agents needed to help attract and keep more women in the field of technology and, perhaps, your company.
---
About the Anita Borg Institute for Women in Technology:
We connect, inspire and guide women in computing and organizations that view technology innovation as a strategic imperative. 
Sponsorship for this or other events can be found here: http://bit.ly/2lSncR1
---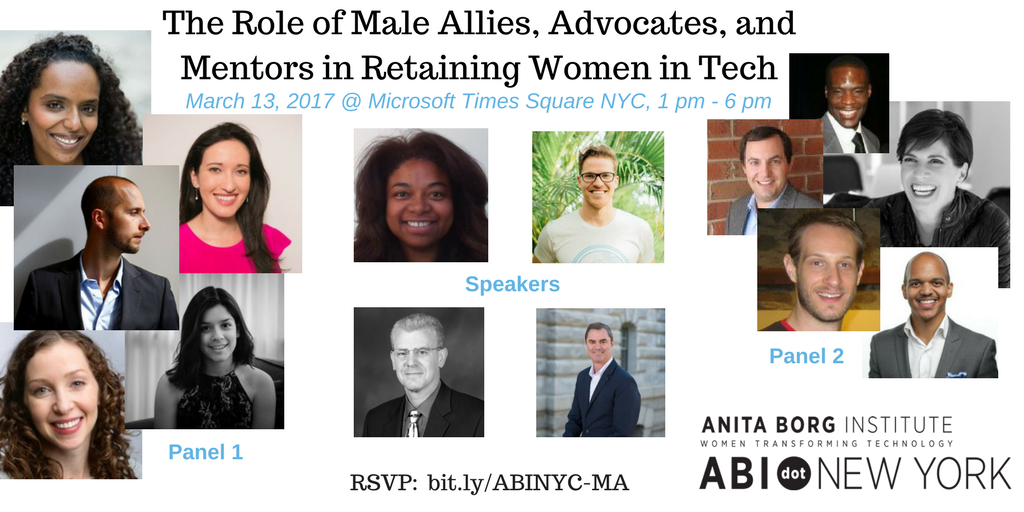 Tentative Agenda 
1:00 p.m. - 1:30 p.m. Arrival & Registration
1:30 p.m. - 1:45 p.m. ABI.NYC Introduction & Keynote
*  Rose Robinson, International Community Developer, Anita Borg Institute for Women in Technology
* Keynote Speaker, Confirmed next week
1:45 p.m. - 2:30 p.m.  Women perspectives (Real Problem)
Moderator
* Matt Wallaert, Behavioral Scientist
Panel
* Natalia Rodriguez: Helen Fellow in Data Visualization, American Museum of Natural History
* Erin Grau: Vice President of Operations, The New York Times
* Reham Fagiri: Co-Founder and CEO, AptDeco
* Vanessa Pestritto: Partner, Lattice Ventures
2:30 p.m. -  2:45 p.m. Break
2:45 p.m. - 3:30 p.m. Men perspectives  (Real Problem 2) 
Moderator
* Kelly Hoey, Author, Build Your Dream Network
Panel
* Dan Storms: Senior Director of Product, XO Group Inc.
* Evin Robinson: Co-Founder, New York on Tech
* Chaim Haas: Head of Innovation Communication, Bloomberg LP
* Haile Owusu: Chief Data Scientist, Mashable 
3:30 p.m. -  3:45 p.m. Break
3:45 p.m. -  4:45 p.m. Solutions for Improvement
Authors of Athena Rising:
Brad Johnson, PhD, is a professor of psychology in the Department of Leadership, Ethics, and Law at the United States Naval Academy, and a faculty associate in the Graduate School of Education at Johns Hopkins University. He is a fellow of the American Psychological Association and recipient of Johns Hopkins University Teaching Excellence Award. He has served as chair of the American Psychological Association's Ethics Committee and as president of the Society for Military Psychology. Dr. Johnson is the author of more than 100 journal articles and book chapters-many on the topic of mentoring and 12 books, in the areas of mentoring, professional ethics, and counseling.
David Smith, PhD, is an active duty U.S. Navy Captain and Associate Professor of Sociology in the Department of Leadership, Ethics, and Law at the United States Naval Academy, having served four years as the chair. As a sociologist trained in military sociology and social psychology, he focuses his research in gender, work, and family issues including dual career families, military families, women in the military, and retention of women. Dr. Smith is the author of numerous journal articles and book chapters- many on the topic of gender in the workplace
4:45 p.m. – 5:00 p.m. – Closing Remarks (Motivation to do it)
* Leo Widrich, COO/Co-founder at Buffer
Have questions about The Role of Male Allies, Advocates, and Mentors in Retaining Women in Tech?
Contact ABI.New York
When & Where

Microsoft Technology Center
11 Times Square
New York, NY 10036


Monday, March 13, 2017 from 1:00 PM to 6:00 PM (EDT)
Add to my calendar
Organizer
ABI.New York
Website:http://local.anitaborg.org/organizer/abi-new-york/
ABI.New York connects local women technologists just like you. You can build your network, discover the future you want, and get guidance you can use now. ABI.New York's goals are to inspire women.
The Role of Male Allies, Advocates, and Mentors in Retaining Women in Tech