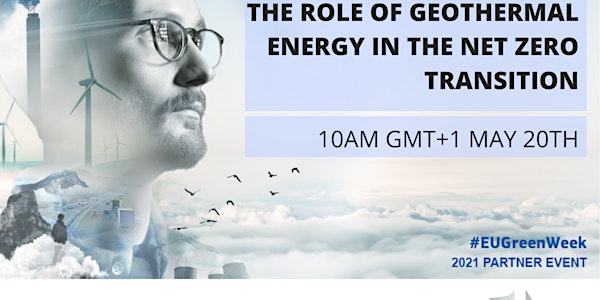 The role of geothermal energy in the net zero transition
As part of EU Green Week 2021, NPA Interreg SMARTrenew project presents an event exploring the adoption of geothermal energy in EU regions.
About this event
The Interreg Northern Periphery & Arctic Programme project SMARTrenew, presents a webinar exploring the adoption of geothermal energy across Iceland, the Faroe Islands and Finland, and probing how public funding and policy decisions can accelerate geothermal utilisation across EU communities, to achieve a reduction in pollutants and CO2 emissions that contribute to Climate Change.
This event will consider the challenges and learnings in geothermal adoption, exploring multiple regional perspectives and showcasing best practices with contribution from energy leaders across the EU.
Speakers:
Ragnar Asmundsson, CEO of Energy Fund Iceland
Ragnar has a PhD degree in physics and has worked in the energy sector, both in Iceland and New Zealand. He has coordinated European and national energy projects, including the HiTI high temperature geothermal tool development effort and was deeply involved in the implementation of industrial size seawater heat pumps for the island of Vestmannaeyjar. He is currently working on the remaining energy transition in Iceland – the final nails in the 'oil coffin'.
Sigurdur Fridleifsson, CEO, Energy Agency Iceland
Sigurdur has an MA degree in environmental science and has worked in the energy sector for 15 years. He has been the manager of the Energy Agency from start in 2005. The main tasks are improved energy efficiency, energy transition in transport and implementation of new energy technique, Awareness racing and education about energy and environmental improvements is a large part of the operation.
Annu Martinkauppi​, Geophysicist , Geological Survey of Finland
Annu's main experience is related to geothermal energy R&D projects, design of large shallow geothermal energy systems, Thermal Response Tests, and geothermal energy potential mapping. Annu Martinkauppi is developing novel solutions for geothermal energy utilisation in Finland as a part of GTK's geothermal energy group.​
Asmo Huusko, Account Manager, Geological Survey of Finland
Asmo is an enthusiast in geothermal and other low-carbon energy solutions. He has expertise in engineering, product development and management and the adoption of shallow and deep geothermal energy in Finland.
Meinhard Eliasen, Senior Energy Advisor , Faroese Energy Department
Meinhard joined the Department in 2000 and has since worked in a range of areas related to both renewable energy as well as oil and gas exploration. These have included involvement in the project to assess the feasibility of Ground Source Heating , renewable power production as well as projects to improve the energy efficiency in the fish harvesting sector. Meinhard Eliasen has a Master's Degree in mechanical engineering and ocean technology from Denmark's Technical University (DTU).