Description






On June 1 & 2, executives from Fortune 1000 companies are invited to join RocketSpace's exclusive Corporate Innovation Summit in San Francisco where corporate innovation executives from our world-class clients will come together to exchange ideas, do business, and to see and hear from ground-breaking startups innovating in the Internet of Things (IoT), Virutal Reality (VR), Augmented Reality (AR), and Mixed Reality (MR).
The summit will span two days and will be chock full of content — Dr. Shawn DuBravac, Chief Economist, Consumer Technology Association, Robert Scoble & Shel Israel of Transformation Group, Phillip Raub, Co-Founder of b8ta, and others — with a heavy focus on the fast-paced worlds of IoT, VR/AR/MR.

This is a fantastic and rare opportunity to network and build relationships with other corporate innovation executives from the Aerospace, Manufacturing, Transportation, Logistics, Food, Financial Services, Pharmaceutical, Biotechnology, Telecommunications, Electronics, IT, Video Game, Oil & Gas, Automotive industries.

Our corporate members invited to attend include: Agro Fresh, Allstate, Arvato, Axel Springer, BASF, BP UK, BP USA, BSM, Canon, Capitec Bank, Eli Lilly, Fiege Logistics, Fonterra, Gam, Gerdau, Givaudan, Griffith Foods, IBM, Ingram Micro Labs, KALEIDO, Lufthansa, Magna, Man Truck, Mizuho, Nestle, NWS, OSI, Rabobank, RBS, SC, State Farm, TE Connectivity, VW, and others.
Register today and join the conversation.
Note: This event is for corporate executives and startup founders only. Third party consultants, vendors, and/or those who market products or services to corporate executives will not be able to attend. If you are a startup founder, click here for startup pricing.
---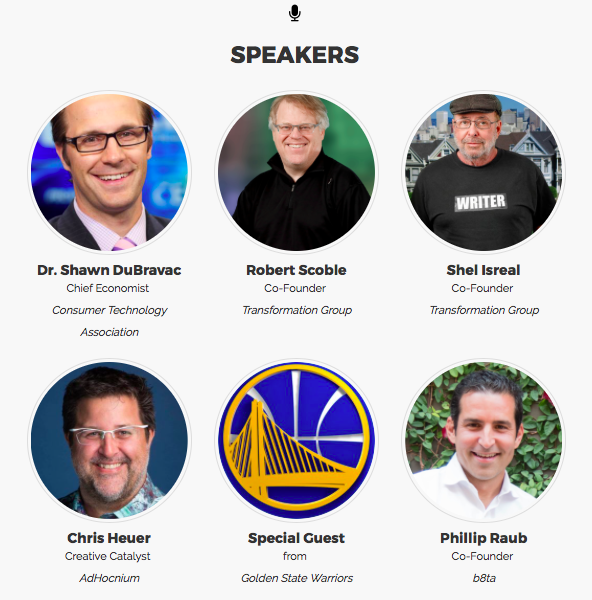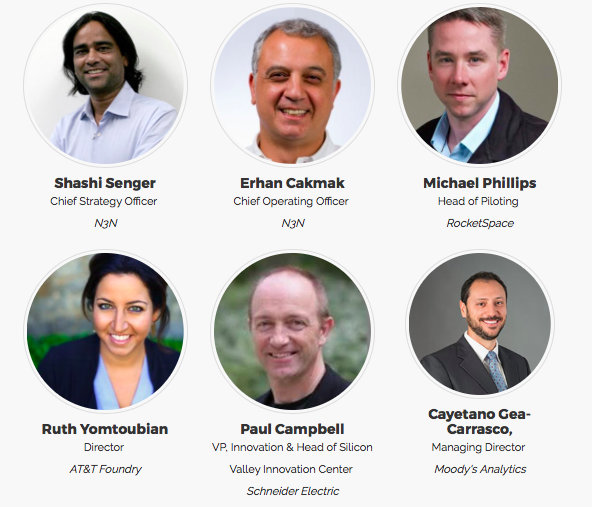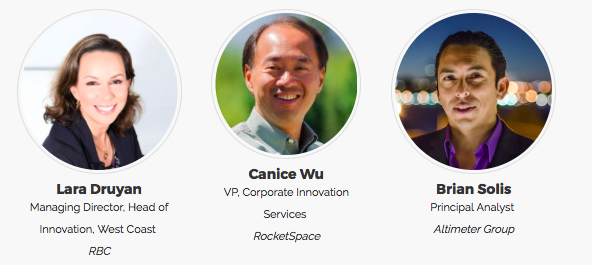 ---


Corporate Innovation Summit Agenda -

June 1, 2017



9:00 am - 12:00 pm

Innovation Tour - Corporate Members Only
- Immersion Visits to 2-3 Disruptive Tech Companies

1:30

Welcome to the RocketSpace Corporate Innovation Summit!

1:50

Opening Remarks

2:15 - 3:15

Five Use-Cases Defining VR, Mixed Reality and IoT
- Dr. Shawn DuBravac, Chief Economist, Consumer Technology Association

3:20 - 4:20

The Fourth Transformation - How Augmented Reality & Artificial Intelligence Will Change Everything
- Robert Scoble & Shel Israel, Transformation Group

4:20 - Break

4:30 - 5:00
How We Built an International IoT Acceleration Company: Visualizing IoT Data for Smart Cities, Smart Enterprises and Beyond.
- Shashi Senger, Chief Strategy Officer & Erhan Cakmak, Chief Operating Officer, N3N

5:15 - Lyft or Walk to 221 Main


5:30 - 9:00

Special Corporate Member Dinner Event - Corporate Members Only
DocuSign's Executive Briefing Center @ 221 Main St

- Cocktails & Conversation with Brian Solis, Principal Analyst, Altimeter Group


---
Corporate Innovation Summit Agenda - June 2, 2017
8:30 - 9:00 am
Breakfast @ RocketSpace
9:00 - 10:30
Innovation Cafe: A Facilitated Conversation on Maximizing Potential of your Efforts with a Strong Innovation Culture
- Chris Heuer, Creative Catalyst, AdHocnium
10:30 - Break
10:45 - 11:45
Panel: How to Structure Startup Partnerships That Deliver Results and Make an Impact On Your Business And Your Industry.
- Ruth Yomtoubian, Director, AT&T Foundry
- Paul Campbell, VP Innovation / Head of Silicon Valley Innovation Center, Schneider Electric
- Cayetano Gea-Carrasco, Managing Director, Moody's Analytics
- Lara Druyan, Managing Director, Head of Innovation, West Coast, RBC
- Canice Wu, VP, Corporate Innovation Services, RocketSpace (Moderator)
11:50 - 12:30
Piloting Flight School
- Michael Phillips, Head of Piloting, RocketSpace
12:30 - 2:00
Startup Expo Luncheon
- Interact with ground-breaking startups exhibiting over lunch
2:15 - 2:45
Retail Revolution - Re-thinking Retail: How b8ta is Working with Startups to Reimagine the Retail Industry
- Phillip Raub, Founder, b8ta
2:45 - 3:15
Emerging Tech from a Champion Team
- Special Guest, Golden State Warriors
3:30 - 5:30
IoT & VR/AR/MR Startups - Demo Showcase
5:30
Wrap-up & Cocktails
---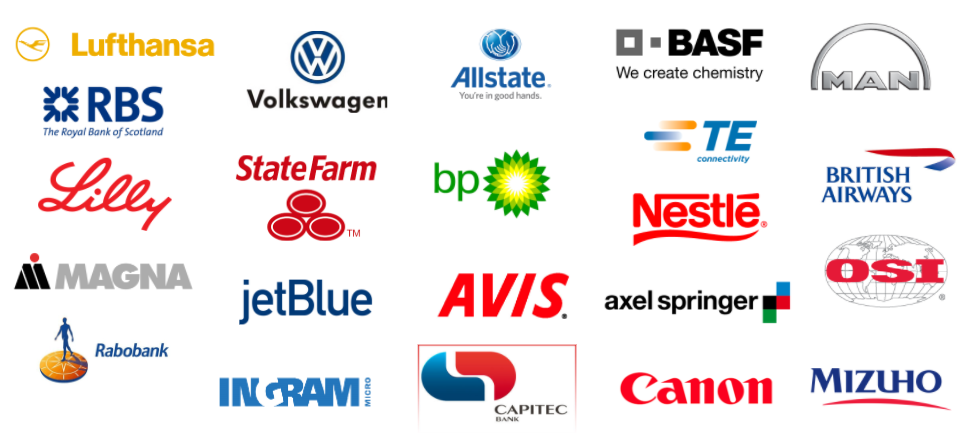 ---