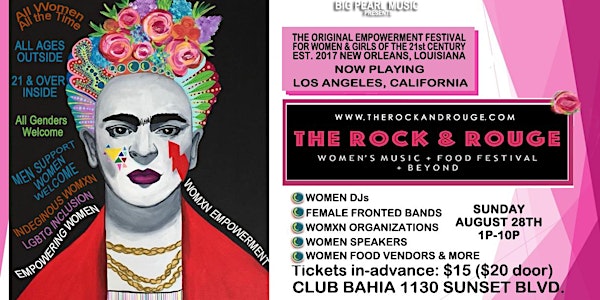 The Rock & Rouge Women's Music Festival & beyond Los Angeles
Rock & Rouge womxn empower thru local music, speakers, organizations & vendors connecting communities thru our differences under 1 movement.
When and where
Location
Club Bahia 1130 Sunset Boulevard Los Angeles, CA 90012
Refund Policy
Contact the organizer to request a refund.
Eventbrite's fee is nonrefundable.
About this event
Introducing the Rock & Rouge Women's Music Festival & beyond Los Angeles. This is the first L.A. Rock & Rouge special event showcasing women's empowerment thru activism in music, food, speaking and organizing. Joining us in partnership is Rise-Up 4 Abortions Rights! The Rock & Rouge Music Festival will be Sunday August 28th, 2022, at Club Bahia 1130 Sunset Blvd. Los Angeles, CA 90012. Women's rights are at stake again with the overturning of Roe vs, Wade by the U.S. Supreme Court. So, we must support and empower women organizations fighting for women's rights and the inclusivity of all others oppressed by the judgements of race, creed, color, socioeconomic status, and now, gender. We empower through supporting marches, organizations, music, spoken word, speakers and most of all education. ADVANCED TICKETS are $15; Door $20; 12-17ages $10; Children 12 & under Free.
The Rock & Rouge Women's Music Festival Los Angeles is a one-day event at Club Bahia that features a line-up of empowering women segments throughout the afternoon and into the evening. The program includes an indoor nightclub stage with live music, speakers, cash bar and food service. Outside, 2-outdoor parking lots with staging areas for women DJs, women business vendors in beauty, fashion, and lite bites surrounded by women organizations, speakers, and featuring emcee, JUAY:
Schedule of Events:
Club Bahia Food & Drink Specials
1pm-4pm bottomless mimosas $20
4pm-7pm Mai-Tais & Margaritas $6 with $2 Tacos
7pm-10pm Beer & wine $5
Main Stage
Angel Peaches & Los Combi Darks - 9pm-10pm cumbia
Collectivo Sabinas - 8pm-9pm Ska punk https://instagram.com/elcolectivosabinas?igshid=YmMyMTA2M2Y=
Big Pearl - 7pm-8pm Rock http://www.bigpearl.com
Scarlet & the fever - 6pm-7pm Soul Reg https://instagram.com/scarlettandthefever?igshid=YmMyMTA2M2Y=
Azul quetzal - 5pm-6pm Reggae https://instagram.com/azulquetzal1?igshid=YmMyMTA2M2Y=
Flor - 4pm-5pm TRAP R&B https://instagram.com/florlesliee?igshid=YmMyMTA2M2Y=
Hell Rose- 3pm - 4pm Punk https://instagram.com/hellrose?igshid=YmMyMTA2M2Y=
DJ New Wave Cholas - 1pm -8p
Vendors
https://instagram.com/keep_on_bakingg?igshid=YmMyMTA2M2Y= https://instagram.com/42seams?igshid=YmMyMTA2M2Y= https://instagram.com/rudas.piercing666?igshid=YmMyMTA2M2Y= ttps://instagram.com/papalotl_naturales?igshid=YmMyMTA2M2Y=
---------------------------------------------------------------------------------
The Rock & Rouge Back Story
The Rock & Rouge Women's Music Festival & beyond Los Angeles is a part of the original Rock & Rouge Women's Music & Food Festival & beyond founded in 2017 in New Orleans, Louisiana by New Orleans based vocalist & producer, Lani Ramos. This will be the first Rock & Rouge event in Los Angeles at Club Bahia 1130 Sunset Blvd. in Los Angeles after Ramos' relocation from New Orleans earlier this year due to Hurricane Ida. With nowhere to live and a packed car, Ramos drove across country to California descending into Los Angeles mid-January 2022. The adventure, "was very empowering" Ramos said in a hush tone. Then gushes, "it's a tremendously freeing feeling of empowerment when you can drive away from the darkness that pulls you down, knowing full well you're driving right into a bright new future. It hits you, this freeing feeling. You're driving all by yourself and going wherever you want across the United States. What a liberating and powerful feeling knowing you have total control over your own destiny. It's the same exact feeling when we march or when we stand up and speak up for what's right. That's all we want as humans is the freedom to live our own lives as we individually see fit. And when that right is taken away, we march. We gather and organize women's events to share information and experiences thru music, speakers and food and cocktails in the belief that every woman needs to stand up for equality and inclusivity," Ramos says. Its personal. Its support. It's POWER. It's my body my right! It is the Rock & Rouge.
The festival blossomed from the heels of the Women's March New Orleans Chapter 2017, and with four of its organizers, Ramos stood alongside a dozen powerhouse women leaders and speakers including New Orleans' Mayor, LaToya Cantrell and marched for women's rights speaking to 10K women in Duncan Plaza at City Hall on Jan. 20th, 2017. Spring 2017, Ramos announced plans to produce the Inaugural Rock & Rouge Women's Music & Food Festival & beyond at the New Orleans Jazz Museum at the ol U.S. Mint 2018. The Women's March organizers of 2017 jumped on-board the festival train lamenting the beginning of anew movement for the 21st Century.
On March 21, 2020, the 2nd Annual Rock & Rouge was scheduled and shut down March 16, 2020, due to Covid-19. On August 29, 2021, hurricane Ida swept through New Orleans, and like the mini-Katrina it was, it seemingly took out the rest of the the festival and Ramos on a personal level. So Ramos pushed out to California nearly giving up and devastated like so many other minority-owned women businesses, only to be re-awakened by the over-turning of Roe vs. Wade by the Supreme Court. Ramos realized The Rock & Rouge couldn't die. The repeating of this horrific history just cannot be tolerated. Womxn, now more than ever need support outlets and gatherings, especially in socioeconomic minority driven communities where danger runs deep with abuse, oppression or enslavement or even murder. So Ramos decided not to give up on the Rock & Rouge organizing this special event for our diverse womxn communities of L.A.
Welcome to the first festival of the 21st Century that empowers women and its communities near and afar. This event is organized in support with local promoter Guillermo Rodriguez and Club Bahia owner, Michael Higgins.
We look forward to seeing there.
Note: some photos are of the Festival in New Orleans