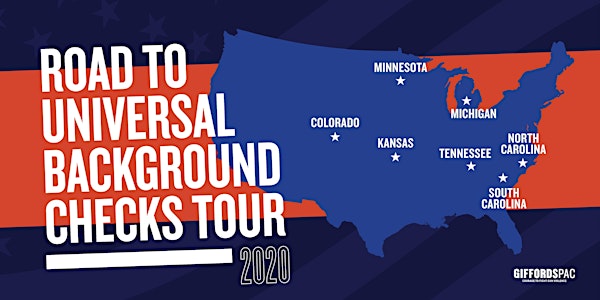 The Road to Universal Background Checks Tour — National Kickoff Event
It's time for a Gun Safety Senate.
About this event
This is the year we will elect a gun safety majority in the United States Senate. When elected, our majority will take historic action to make our country safer. So we're going on the road—virtually—to rally voters around background checks this election year.
Join us on July 14th to kickoff our nationwide Road to Background Checks Tour with:
Senator Chris Murphy
Former Congresswoman Gabby Giffords
Violence Prevention Activist Tre Bosley
After the national kickoff, stay tuned for details about these upcoming stops on the tour featuring Gabby Giffords and these Senate candidates in key battlegrounds:
July 21: Michigan—Senator Gary Peters
July 22: Tennessee—Iraq War veteran and candidate for the US Senate James Mackler
July 29: Minnesota—Senator Tina Smith
July 30: Kansas—State Senator, candidate for the US Senate Dr. Barbara Bollier
Aug. 10: North Carolina—former State Senator, veteran and candidate for the US Senate Cal Cunningham
Aug. 11: South Carolina—former South Carolina Democratic Party Chair and candidate for the US Senate Jaime Harrison
Aug. 12: Kentucky—combat veteran and candidate for the US Senate Amy McGrath
Aug 26: Colorado—former Governor and candidate for the US Senate John Hickenlooper