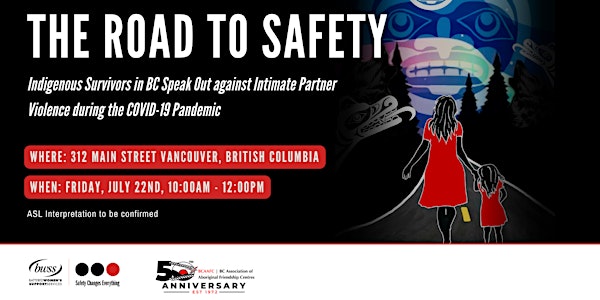 The Road to Safety: Indigenous Survivors in BC Speak Out against IPV
Launching our report The Road to Safety: Indigenous Survivors in BC Speak Out against Intimate Partner Violence during the COVID-19 Pandemic
When and where
Location
312 Main 312 Main St. Vancouver Canada
About this event
The BC Association of Aboriginal Friendship Centres and Battered Women's Support Services invites you to a community event releasing our year-long research project "The Road to Safety: Indigenous Survivors in BC Speak Out against Intimate Partner Violence during the COVID-19 Pandemic"
Join us for a launch event with our community-based Indigenous research lead Kirstin Scansen-Isbister, Manager of BWSS Indigenous Women's Program Summer Rain, BCAAFC Executive Director Leslie Varley, and BWSS Executive Director Angela Marie MacDougall. With a territorial welcome, as well as drumming with Wildflower Women of Turtle Island.
DATE: Friday July 22, 2022
TIME: 10 am – 12 pm PST
ACCESSIBILITY: ASL interpretation is being confirmed.
LOCATION: 312 Main Street, Vancouver. This is an in-person event, and all are welcome. We recommend that attendees wear masks to protect each other and the community, and that you to stay home if you are feeling sick.
**************
The Road to Safety: Indigenous Survivors in BC Speak Out against Intimate Partner Violence during the COVID-19 Pandemic
For Indigenous women and gender diverse people, the COVID-19 pandemic is exacerbating the pre-existing reality of gendered colonial violence. Colonialism lays the foundation for the many ways that Indigenous women and gender diverse peoples are not only experiencing intimate partner violence, but also the barriers Indigenous survivors face in accessing anti-violence supports and safety.
Over the past year, BCAAFC and BWSS, in partnership with the University of Victoria, have been engaged in a community-based research project involving surveys and first-hand interviews to understand the experiences of intimate partner violence that Indigenous women and gender diverse people are facing during the COVID-19 pandemic. Our survey findings show that Indigenous women and gender diverse people are experiencing an increase in the frequency and severity of intimate partner violence (IPV). For example, 85% of survey respondents reported an onset of IPV during the pandemic and 77% of survey respondents reported that they experienced an increase in IPV during the pandemic.
"We live in the North right, it's already pretty isolated up here as is. When you feel alone, you feel alone. It's hard to remember that you're not alone, especially when you're going through something like intimate partner violence." – Indigenous IPV Survivor
Through the research process, guided by the central methodology of "by and for Indigenous women," our team also found that persistent barriers arose for Indigenous women and gender diverse people seeking protection from intimate partner violence during the pandemic. Reduced services and service closures, growing waitlists to access services, inadequate access to transport and childcare, quarantine and isolation, racism and discrimination, and the involvement of MCFD and/or law enforcement agencies prevented many Indigenous survivors from accessing anti-violence support services and safety. When supports were accessed, they were often provided without cultural safety or the autonomy of Indigenous women in mind.
"We couldn't find a safe place to escape violence because no one would take us in because they were scared of getting COVID." – Indigenous IPV Survivor
We invite you for the launch of our report, and to honour the stories of the many courageous Indigenous women and gender diverse people shared through this work.
Understanding the relationship between structures of colonial gendered violence and the increased rates of gender-based violence experienced by Indigenous women and gender diverse people is crucial to enacting meaningful changes in provincial service provision and policy decisions. Many Indigenous survivors offered their stories and recommendations to prevent others from experiencing intimate partner violence, and we hope you join us to move towards making their vision a reality – a road to safety for Indigenous women, girls, and gender diverse people.