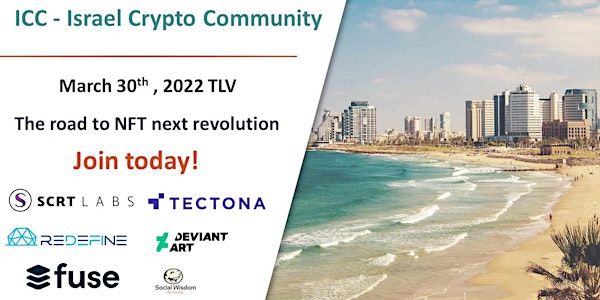 The road to NFT next revolution
The road to NFT next revolution
When and where
Location
בית ציוני אמריקה - ZOA House TLV 1 Daniel Frisch Street Tel Aviv-Yafo, Tel Aviv District Israel
About this event
Join us for a fun evening - The road to NFT next revolution
No more virtual we can finally meet on March 30th
from 17:00 - 21:30 @ ZOA Tel Aviv Second floor
Non-fungible token (NFT) is a non-interchangeable unit of data stored on a blockchain, a form of digital ledger, that can be sold and traded.
NFTs crashed into the mainstream prompting countless headlines - tech or marketing
Security issues. NFT for art or more?
Showcase and panel of the best NFT projects coming from Israel.
How can you take your NFT project to the level?
With SCRT Labs, Deviantart, Tectona, Redefine, Fuse.io .
Join us for a fun evening with great content, networking, pizza, and beers.
The event will be held in Hebrew.
SCRT Labs is the driving force and the founding core development team behind Secret Network. Their mission is to create products and systems that accelerate the adoption of privacy-first, decentralized technologies.
DeviantArt: Founded in 2000, DeviantArt is the largest online social network for artists and art enthusiasts to exhibit, promote, and discover works at a scale never imagined in the traditional art world. DeviantArt community has over 70 million registered members worldwide.
Redefine offers the first firewall solution for DeFi users - DeFirewall™. A holistic solution to assess and mitigate risk during each step in the investment process. Along with real-time monitoring, DeFirewall's proprietary insights engine offers a configurable policy layer to flag contracts and transactions based on organization's requirements. With the DeFirewall solution, organizations will be able to perform due-diligence on contracts and protocols in an automated way and assess the risks involved in transactions before signing them. Additionally, the premium DeFi Dome™ feature performs active risk mitigation and proactively saves user's funds that are in imminent danger of loss.
Agenda:
17:00 – 18:00 Networking
18:00 – 18:05 Opening remarks
18:05 – 18:20 SCRT Labs presentation Guy Zyskind - Founder and CEO at SCRT Labs Introducing Legendao, the New Play-To-Mint NFT Platform
18:20 – 18:35 DeviantArt presentation The unfulfilled promise of web 3 for creators.Moti Levy, DeviantArt COO
18:35 – 18:50 Tectona Guy Benartzi - Chief Architect The Blockchain Pixar Moment
18:50 19:05 - Redefine presentation - Gary Berkinfand, Blockchain Developer NFTs and Security
19:05 19:50 NFT Panel: AI in the NFT field, lowering friction costs for NFT's based projects, Security issues, NFT for art or more
Moderator: Merav Harel
Guy Zyskind - Founder and CEO at SCRT Labs
Tomer Weiss – Web 3.0 Product manager
Tal Muskal - CTO @ Tectona
Mark Smargon - CEO at Fuse.io
19:50 final remarks
20:00 – 21:00 Networking Pizza's and beers
By buying or getting tickets you subscribe to our newsletter you agree to receive emails and newsletters from us.