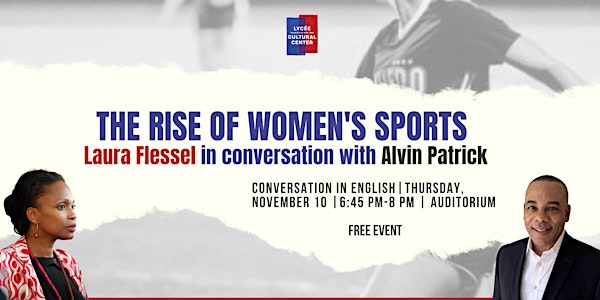 THE RISE OF WOMEN'S SPORTS: L. FLESSEL IN CONVERSATION WITH A. PATRICK
Exceptional guests Laura Flessel & Alvin Patrick
When and where
Location
Cultural Center, Lycée Français de New York 505 East 75th Street New York, NY 10021
About this event
THE RISE OF WOMEN 'S SPORTS : LAURA FLESSEL IN CONVERSATION WITH ALVIN PATRICK
Laura Flessel, five-time Olympic fencing champion and former French Minister of Sports, will honor us with her presence at the Lycée for two days of meetings and exchanges initiated by a senior student, Ariane Chevrier.
In conversation with Alvin Patrick, executive producer at CBS News, and our student, Laura will answer questions about the rise of female athletes and discuss their challenges and opportunities. Other topics will include fair competition, equal finance and equity in the perspective of the 2024 Olympics. Don't miss it !
The conversation will be in English.
Thursday, November 10 | 6:30 pm-8pm | Free Event
-
L'ESSOR DES SPORTS FÉMININS : CONVERSATION ENTRE LAURA FLESSEL ET ALVIN PATRICK
Laura Flessel, cinq fois médaillée aux Jeux Olympiques d'escrime et ancienne ministre des Sports en France, nous honore de sa présence au Lycée pour deux jours de rencontres et d'échanges à l'initiative d'une élève de Terminale, Ariane Chevrier.
Un dialogue avec notre élève et Alvin Patrick, producteur exécutif chez CBS News, permettra à Laura de répondre à nos questions sur l'essor des athlètes féminines et d'aborder les défis et les opportunités qu'elle a rencontrés dans son parcours. Ils aborderont aussi la compétition sportive, les financements équitables ou encore l'égalité des chances dans la perspective des Jeux Olympiques 2024. A ne pas manquer !
La conversation aura lieu en anglais.
Jeudi 10 Novembre | 18h30 - 20h | Gratuit