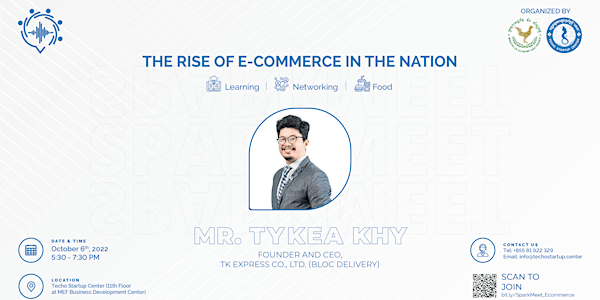 The Rise of E-commerce in the Nation
Network and Learn about The Rise of E-commerce in the Nation
When and where
Location
Techo Startup Center មជ្ឈមណ្ឌលអភិវឌ្ឍធុរកិច្ច - MEF Business Development Center OCIC Blvd Phnom Penh, Phnom Penh 12110 Cambodia
About this event
Welcome to the 17th SparkMeet event, which aims to bring together students, tech enthusiasts, and aspiring entrepreneurs to share knowledge and connect with one another.
For the upcoming event, we will share on the topic The Rise of E-commerce in the Nation. Based on the 6th iTrade Bulletin published by The Trade Training and Research Institute (TTRI) of the Ministry of Commerce in 2022, it is estimated that the e-commerce revenue in Cambodia will reach $1.78 billion by 2025. This means there will be a potential market for e-commerce in the future. Thus, every entrepreneur should learn more about e-commerce environment as well as grab this great opportunity now. So, our guest speaker, Mr. Tykea Khy, Founder & Chief Executive Officer of TK Express Co., LTD. (BLOC Delivery), will share on this topic.
Keys takeaway:
After joining this event, participants will learn more about:
• The current e-commerce environment
• The foreign influence on domestic shopping
• The elements of successful e-commerce
Short Bio of Our Guest Speaker:
Mr. Tykea Khy has been in the technology field for almost 20 years. He is committed to build a technology company which offers solutions for micro, small, and medium enterprises (MSME) to move from offline to online by offering a delivery service, payment and platform to sell their products.
• Date: 06/October/2022
• Time: From 5:30 PM
• Language: Khmer
• Location: Techo Startup Center Head Office, Business Development Center, 11th floor, OCIC street, Sangkat Chroy Chongva, Khan Chroy Chongva, Phnom Penh (https://goo.gl/maps/HTiig8weCDZ1gueq7)
Join our telegram group chat made for our meetup community here: t.me/SparkMeet