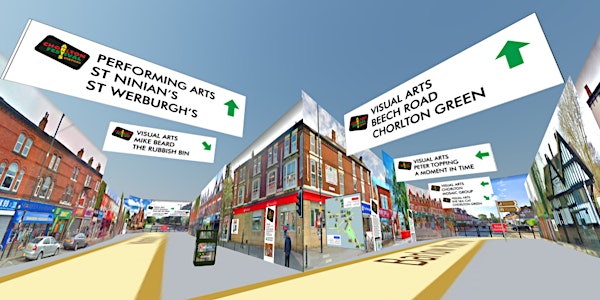 The Rise, Fall and Rise of the Chorlton Community Arts Festival
A Dialogical Webinar with Carolyn Kagan (Chair) and Peter Topping (Arts Director) - Chorlton Community Arts Festival, Manchester, UK
By New Bank for Community Ideas and Solutions
When and where
Date and time
Monday, April 12, 2021 · 10 - 11:30am PDT
About this event
Please enter at https://us02web.zoom.us/j/87815496468
A group of residents from Chorlton (a neighbourhood in the southern area of Manchester, UK) together with community psychologist Carolyn Kagan organise a community arts festival every year. This is a special way of bringing people and a local community together and nurturing the soil of mutual support, belongingness and solidarity.
In 2020, due to the pandemic, and after planning and scheduling over 200 artists to engage in creative activities across 60 community places, the Community Arts Festival had to be cancelled. Then a local resident came along and offered to curate a digital or virtual festival. This went ahead in October. We worked with 20 of the original artists to prepare virtual galleries, and virtual streets of Chorlton, learning as we went, and opening the festival to all.
Carolyn and Peter will tell you about the Arts Festival in the neighbourhood of Chorlton, Manchester, UK, which they have run since 2019, although the festival has been going since 2002. We examine some of the successes and challenges and consider whether there are lessons for community arts festivals anywhere.
Carolyn Kagan is a community psychologist with a background of working with art and artists in research and working with complex systems for change. She has lived in Chorlton for 45 years. Carolyn is active in a number of community groups and third sector organisations and brings community psychological thinking to local and regional activism. Since 2019 Carolyn has chaired the group of volunteers reviving the Chorlton Art Festival whose primary purpose is to bring people in the neighbourhood together in celebration of local talent - and to have fun.
Peter Topping has been painting pictures since he was a boy; as he says "I was born an artist". He has lived in Chorlton for 50 years. Having had a fruitful life in advertising and exhibitions, Peter retired at 60 to pursue his pleasure of painting. He took all of the pictures and provided paintings and graphic design for the story boards for seven books written with a local historian. As his first solo book Peter has written 'Smile Dammit Smile!!! Chorlton' which is a satirical book based loosely on events and places in Chorlton-cum-Hardy. In 2019 Peter was instrumental in reviving the Chorlton Art Festival and became the Festival Director, a voluntary position which he holds to this day.
About the organizer
A New Sense of Community
What we should remember...
People around the world have reacted in surprising and creative ways to the effects of the Corona pandemic and other global crises.
We should remember unique moments and ideas of community spirit and collective solidarity. As many people as possible should be infected by these ideas, spontaneous solutions and loving gestures. That is why we would like to collect these events as common treasures.
Perhaps you have experienced or heard about situations and reactions in your community, your neighbourhood or in your social environment that have impressed you. We invite you to share them with us. We will publish your examples - together with many other ideas from around the world - so that others can benefit from your experiences.
Please submit to http://www.ecpa-online.com/new-bank/
Together we might create a world with a new sense of community…