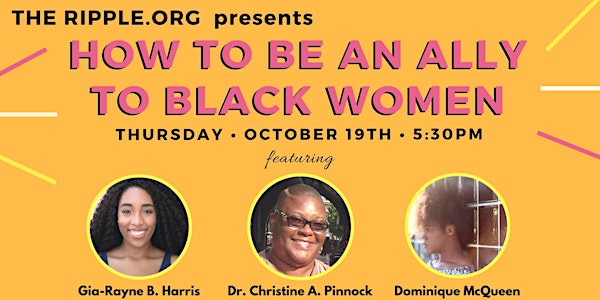 The Ripple.org Presents: How To Be An Ally To Black Women
Date and time
Thursday, October 19, 2017 · 5 - 7pm EDT
Location
Civic Hall 118 W 22nd Street 12th Floor New York, NY 10011
Description
HOW TO BE AN ALLY is a panel series from The Ripple that uplifts and amplifies the different voices being left out of the current feminist discussion.
Please join us this month as we highlight the voices of Black Women!
Doors at 5pm. Event begins promptly at 5:30pm.
Event is open to all ages, genders and religions.
Event space is wheelchair accessible.
Tickets will be sold at the door.
---
Our incredible speakers this month are:
Gia-Rayne B. Harris is a writer, actress, singer, and director. She can be seen performing with the New York Neo Futurists ensemble on a regular basis. She is an alum of the University of Pennsylvania with a degree in Health and a concentration in Gender Studies. Passionate about feminism and the advocacy of people of color, she is working on creating her own production company to create art that will provide a voice to underrepresented groups.
Dr. Christine A. Pinnock is a writer, Black feminist anthropologist and garden photographer who recently earned her doctorate in Anthropology from The Graduate Center (CUNY). Her broader research interests involve immigration, sexuality, diasporic/transnational communities, Caribbean literature, and gendered
labor. Currently Dr. Pinnock is an Adjunct Assistant Professor in the Institute for Research in African-American Studies (IRAAS) at Columbia University. She teaches Gender, Sexuality and Labor in the Contemporary Caribbean and is also the consultant for IRAAS' Thesis Writing Workshop. She is working on her manuscript, All Dis Way: Afro-Caribbean Women's Narratives of Struggle with Immigration, Labor and Race in New York City, along with other writing projects. Dr. Pinnock is the owner of Building
Future Legacies for Young Scholars, a college preparedness consulting firm, and is deeply committed to helping college-bound, undergraduate, and graduate scholars effectively navigate and succeed in higher education. She also provides professional development workshops for academic professionals and K-12 educators. Dr. Pinnock can be contacted at Christinepinnock@gmail.com.
Dominique McQueen is a Transgender U.S. Army Veteran turned model and philanthropist. While developing her own anti bullying campaign, Persist 4 Peace, she has worked closely with Someone Cares Inc, of Atlanta, serving as Project Manager. While continuing to pursue her entertainment career, she is also on the Veterans' Affairs Mental Health Advisory Council and has recently become a Certified Peer Support Specialist for the DBSA.
---
Do you offer Financial Aid?
Yes! For those in need of financial assistance, The Ripple always offers a Financial Hardships Program. Please contact us at Finance@TheRipple.org for more information.
---
What is The Ripple?
The Ripple is an intersectional women's collective founded by Dana Suchow and Rachel Cargle,
At The Ripple, we believe that empowered women are the key to America's future. Women have been completely disenfranchised in our society, and while not all disenfranchisement is equal, it doesn't make any single woman less valuable or worthy. Waves start from ripples, and The Ripple is about empowering women to make waves in their communities through meaningful and lasting conversations.
www.TheRipple.org
Please email Events@TheRipple.org if any questions.
About the organizer
Since overcoming Bulimia, Binge Eating Disorder and exercise compulsion, Dana Suchow has become an expert in the field of body image, self love, and eating disorder prevention. Offering a nonclinical and holistic approach, Dana gives parents, teachers and caregivers the tools to raise children who love their bodies and themselves!

Dana works with large corporations, giving tools to help empower their female workforce. She also coaches 1:1 with individuals, teachers, and families. Dana is an international speaker, and for years she has worked intimately with groups as small as 10, to auditoriums of over 1,000. She is a frequent Summit Panelist and Keynote Speaker, giving 15 minute talks to 3 hour workshops. Dana also works with children of all school levels, from Elementary School to College, appearing in person or by video.
In 2012 Dana founded DoTheHotpants.com as a fashion blog, but once she realized fashion's unattainable beauty standards were fueling her eating disorder, Dana made the powerful decision to leave the industry and focus on eating disorder prevention and activism. In 2014 Dana founded #MyBodyStory, an ongoing storytelling series created to uplift girl's and women's voices that so often go unheard. In 2016 Dana co-founded The Ripple, a nonprofit nationwide activist collective focused on helping women make waves in their communities. In 2018, Dana was awarded the Girl Up #GirlHero Award by This Is Us star and activist Chrissy Metz.
Dana lives in New York City and holds a Masters Degree in Creative Writing from San Francisco State University. You can find her on Good Morning America, The Oprah Winfrey Network, Vogue, Huffington Post, Yahoo, ELLE, Seventeen Magazine and more!