| | |
| --- | --- |
| The Riot Starter No Excuses Master Class | |
Event Details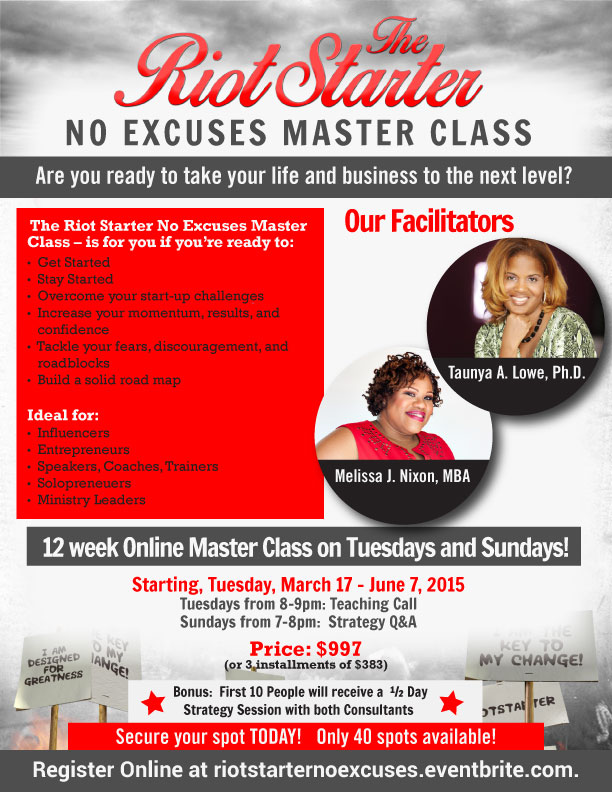 Are you ready to take your life and business to the next level?
 The Riot Starter No Excuses Master Class – is for you if you're ready to:
•  Get Started
•  Stay Started
•  Overcome your start-up challenges
•  Increase your momentum, results, and
   confidence
•  Tackle your fears, discouragement, and
   roadblocks
•  Build a solid road map

Ideal for:
•  Influencers
•  Entrepreneurs
•  Speakers, Coaches, Trainers
•  Solopreneuers
•  Ministry Leaders
Facilitated by Taunya Lowe, Ph. D. and Melissa J. Nixon, MBA
12 week Online Master Class on Tuesdays and Sundays!
Starting, Tuesday, March 17 - June 7, 2015
Tuesdays from 8-9pm: Teaching Call
Sundays from 7-8pm:  Strategy Q&A
Secure your spot TODAY!   Only 40 spots available!

Organizer
Dr. Taunya Lowe The Riot Starter is an innovative, insightful, change agent who understands the concept of adding value to others. As a trainer and presenter, she is witty and engaging while offering practical solutions.mentored dand Coached by both John Maxwell and Lisa Nichols; Dr. Lowe is the author of Wanna Start a Riot? Change. Affirmations, Confirmations, and Prayers; a national and international speaker, trainer, consultant and coach, Dr. Lowe has an impressive human services background of more than 20 years which spans many disciplines. She is the founder and driving force behind the Riot Starter movement which consists of programs, products, retreats, and trainings. She is inspirational, transformational and your partner for individual and organizational success. www.drtaunyalowe.com