Live, In-Person Music Performances by New Found Glory, Knuckle Puck, Hot Mulligan | Movie Screenings of Beetlejuice, The Exorcist
About this event
The Riot Fest Halloween Special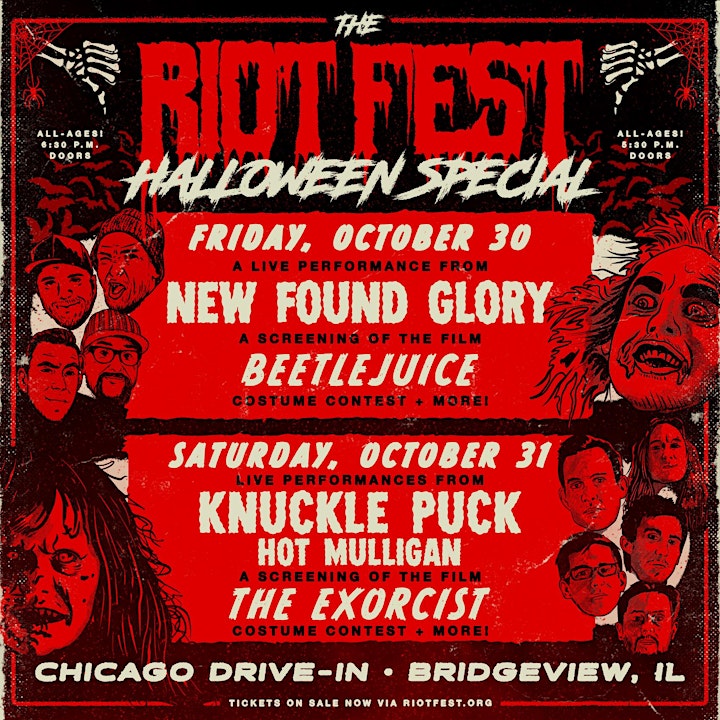 - - - - - - - -
FAQ
Q: Wait, are these live performances?
A: Yes. The bands will have live, in-person performances on stage in our parking lot.
Q: When does the movie screening begin each night?
A: We'll start each night's flick shortly after the last performance wraps up.
Q: Do I have a reserved spot at the Drive-In with my ticket to The Riot Fest Halloween Special?
A: Parking spots are first come, first served for GA and Preferred passes. While a Preferred ticket gets you in the first five rows, you'll still want to arrive early to secure the best spot possible.
Q: Does everyone in my car need a ticket?
A: Nope, just one ticket for the whole car.
Q: How many people can be in my car?
A: One ticket allows 4 people in the car. Any amount greater than 4 people requires an add-on ticket, available at checkout.
Q: Can I sit outside of my car?
A: You will be allowed to sit outside of your car, so long as you stay by your car, in your parking spot, and always exercise 6 feet of social distancing between other attendees.
Q: Uh, where exactly is the Chicago Drive-In?
A: 7000 S Harlem Ave, Bridgeview, IL. Take the right exit off 71st St—you'll want to be in the East Lot of the SeatGeek Stadium. Unless you don't want to be at The Riot Fest Halloween Special. Then you should go to a different lot.
Q: Is outside food/drinks allowed?
A: Nope, sorry. But there's plenty of hot food and snacks inside!