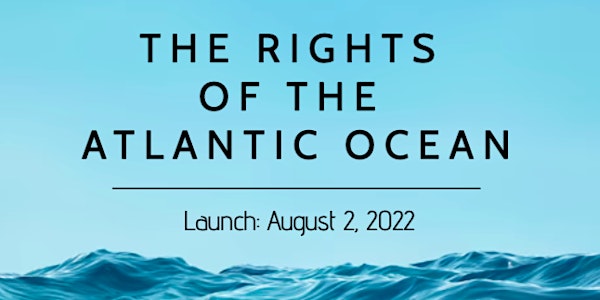 The Rights of the Atlantic Ocean Kickoff & Fundraiser
This is a kickoff for the Rights of the Atlantic Ocean campaign and a fundraiser for the SJCNL and the Grand River Keepers.
When and where
Location
Benevolent Irish Society 30 Harvey Road St. John's, NL A1C 2G1 Canada
Refund Policy
Contact the organizer to request a refund.
Eventbrite's fee is nonrefundable.
About this event
The Rights of the Atlantic Ocean First Look & Fundraiser
The Social Justice Co-operative (SJC), with the help of allies, is helping draft a new bill to acknowledge the rights of Atlantic Ocean. Our hope is to use the law to extend "personhood" to all bodies of water in Newfoundland and Labrador.
We are honoured to host allies Thomas Linzey & Mari Margil from the Centre for Democratic and Environmental Rights (CDER). Thomas, Mari, and CDER have worked to establish the first Rights of Nature laws around the world, and are visiting Newfoundland this summer.
The event is held at the Benevolent Irish Society at 30 Harvey Road, St. John's. Doors open at 6:30PM and the event is from 7PM-10PM!
There will be a reading of the first draft of the Rights of the Atlantic Ocean and a Q&A session with our guests.
We will be serving finger foods and will have a cash bar and a custom cocktail called Waves of Love. There will also be a door prize and a silent auction, as well as entertainment by Jamie Ruby (circus performer) and Cuerpos (local band with Nadia Duman and Francis Dawson).
SJC is an independent voice in the Province advocating for climate action, community projects, and a revolution of care. Though there are many non-profits in NL who do great work, SJC is relatively unique as none of our core funding comes from government. While we have incredible sweat equity from our volunteers, funds are needed to continue to fight the climate emergency through our grassroots advocacy and activism.
Proceeds will be shared with the Grand River Keepers in Labrador, who we acknowledge have shouldered significant work to protect important bodies of water in our province.
Accessibility Information:
This event will take place at The Benevolent Irish Society in the main floor area. It is an accessible space with no step at the entrance, power doors throughout and a ramp for accessing the female washrooms. The male washroom is on the same level as the main floor. There are no gender-neutral washrooms in this space. There will be free snacks, coffee and tea available.
If you have questions or accessibility concerns, please get in touch at: SocialJusticeCoopNL@gmail.com
About the Social Justice Co-operative of Newfoundland and Labrador:
The St. John's Social Justice Co-operative is a collective of people who are building a grassroots movement centred on creating caring communities and fostering friendships between activists based on caring for each other. We believe in the dignity and value of every human being. We call this movement a "Revolution of Care." Check out our website at: https://www.sjcnl.ca
About CEDR:
Based in Spokane, Washington, the Centre for Democratic and Environmental Rights (CDER) aims to shift how we relate to nature. With increasing environmental crises, CDER calls on us to change our ways of governance as we focus on the protection of human and natural communities. CDER works with grassroots organizations such as SJCNL to protect our rights to a healthy environment, and to protect the rights of nature itself. Since governments and corporations often thwart the efforts of environmental protectors, CDER calls on all of us to strengthen our democratic rights so that we have the authority to protect nature.
Since 2006, CDER has partnered with communities, countries, and tribal nations to establish laws to recognize and protect the legal rights of nature. As their mission increases momentum, for the first time, nature has gained legal rights in several locations globally; people can subsequently defend these rights on behalf of the natural world. To learn more about CDER, you can visit their website by clicking here: https://www.centerforenvironmentalrights.org.
About Thomas Linzey:
Thomas Linzey serves as Senior Legal Counsel for the Center for Democratic and Environmental Rights. He is the co-founder of the Community Environmental Legal Defense Fund, and is widely recognized as the founder of the contemporary "community rights" movement which has resulted in the adoption of hundreds of municipal laws across the United States. He also sits on the Board of Advisors of the New Earth Foundation.
Linzey is a graduate of Widener Law School and a three-time recipient of the law school's public interest law award. He has been a finalist for the Ford Foundation's Leadership for a Changing World Award, and is a recipient of the Pennsylvania Farmers Union's Golden Triangle Legislative Award. He is licensed to practice law in Pennsylvania, and is admitted to practice in the U.S. Supreme Court, the Third, Fourth, Eighth, and Tenth Circuit Courts of Appeals, and the U.S. District Court for the Western and Middle Districts of Pennsylvania.
Linzey is the author of Be The Change: How to Get What You Want in Your Community (Gibbs-Smith 2009), the author of On Community Civil Disobedience in the Name of Sustainability (PM Press 2016), and the co-author of We the People: Stories from the Community Rights Movement in the United States (PM Press 2016). He was a co-host of Democracy Matters, a syndicated public affairs radio show broadcast from KYRS in Spokane, Washington. He was featured in Leonardo DiCaprio and Tree Media's film 11th Hour and We the People 2.0 (Official Selection of the Seattle International Film Festival), assisted the Ecuadorian constitutional assembly in 2008 to adopt the world's first constitution recognizing the independently enforceable Rights of Nature, and is a frequent lecturer at conferences across the country.
Linzey's work has been featured widely, including in the New York Times, the Los Angeles Times, Mother Jones, and the Nation magazine. In 2007, he was named one of Forbes Magazine's "Top Ten Revolutionaries," and he was named one of the top 400 environmentalists of the last 200 years in the two-volume encyclopedia, American Environmental Leaders (3rd Ed. Grey House Publishing 2018). He is currently working on a new book, "Modern American Democracy (and other fairy tales)" .
About Mari Margil:
Mari Margil serves as the Executive Director of the Center for Democratic and Environmental Rights and program manager for CDER's International Center for the Rights of Nature. Margil previously served as the Associate Director of the Community Environmental Legal Defense Fund (CELDF). In 2008, she served as a consultant to Ecuador's national Constituent Assembly, helping to draft the world's first Rights of Nature constitutional provisions. Margil is widely viewed as one of the leading global voices for the recognition of legally enforceable rights of ecosystems and nature.
In her role with CDER, Margil works with national, state, and local governments, tribal nations, and indigenous communities in Australia, Sweden, the Philippines, Nepal, and elsewhere, to advance legal and policy frameworks regarding Rights of Nature. She has served as the primary drafter of a "Himalayas Bill of Rights" (Nepal) and other groundbreaking legislation.
Margil has presented at conferences around the world, including the Bioneers Conference (California), as well as in Bolivia, Ecuador, Canada, Ireland, Northern Ireland, Italy, Sweden, Australia, and Nepal. Her writing has been featured in The Guardian, YES! Magazine, Earth Island Journal, Democracy Journal, World Policy Journal, In These Times, and Common Dreams.
Margil received her Master's degree from Harvard University's John F. Kennedy School of Government and is a co-author of The Bottom Line or Public Health (Oxford University Press 2010), Exploring Wild Law: The Philosophy of Earth Jurisprudence (Wakefield Press 2011), and Bearing Witness: The Human Rights Case Against Fracking and Climate Change (Oregon State University Press 2021). She was a co-host of Democracy Matters, a syndicated public affairs radio show broadcast from KYRS in Spokane, Washington.