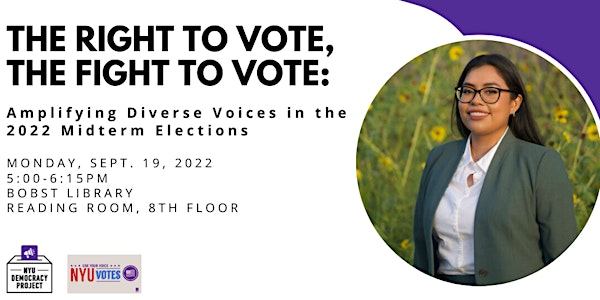 The Right to Vote, the Fight to Vote
A discussion on amplifying diverse voices for the November 2022 midterm election, with former US Congressional candidate Jessica Cisneros.
When and where
Location
Bobst Library, 8th Floor North Reading Room 70 Washington Square South New York, NY 10012
About this event
September 19th, 5-6:15pm
Bobst Library
Reading Room, 8th Floor
Snacks provided
Join the NYU Democracy Project and NYU Votes in the run-up to National Voter Registration Day for a discussion of the fight for voting rights ahead featuring special guest speaker former US Congressional candidate Jessica Cisneros. This event will be centered around the issues at stake for the November 2022 midterms and specifically the importance of voting in the face of voter suppression efforts across the country.
Speakers:
Jessica Cisneros:
Jessica Cisneros is a proud Mexican-American immigration and human rights attorney who recently ran for Congress in Texas' 28th district. Jessica has championed voting rights in a state with the lowest voter turnout and the most restrictive voting laws in the country. She maintains that voter ID laws, gerrymandering, long lines at the polls, and polling place relocations are all barriers to voting rooted in a long history of efforts to suppress the votes of immigrants and people of color, and ran on a platform of robust voter protections including the For the People Act. Drawing on her recent campaign experience, Cisneros will share key lessons for the national fight for voting rights ahead.
Anthony Cruz :
Anthony Cruz is a queer latinx who is currently the Democratic Candidate for Hempstead Town Council's 3rd District and a student at NYU Steinhardt. Anthony is a dedicated advocate for underrepresented communities and youth, with experience serving as President of the Valley Stream Central Memorial PTSA, Student Board Member of the Valley Stream Central High School District, and in a variety of roles within NYU's Student Government Assembly.
The discussion will grapple with how to amplify diverse voices in the 2022 election midterm elections in the face of mounting voter suppression and threats to democracy. 
We hope to see you there!
Note: Due to COVID protocols, this event is only open to NYU students, staff, and faculty.