25 years ago a man with Jesus and a job could get a good woman. But it's 2020! What's the criteria today...and who is chasing who?!
About this event
It's been several decades since these ladies, Ashley, Nadine and Rachelle , worried seriously about the dating game. They've married, divorced, mated or stayed intentionally single...but the sun has set on their 'youthful' mantra.
Now, they find themselves back in the dating game. . And how the game has changed. These ladies aren't desperate. They have careers. Homes. Security. Even retirement plans. However, they realize that their is more to life than career planning-positions, livable salaries, healthcare and 401 plans. There is the woman side of life and career planning can't replace a warm body on a cold night.
So, what are these savvy women looking for in a man today? And just as important, do they have what men in their Beau-agraphics are looking for?
So at the end of the day the real question is, what do they need from a man and do they have what that man wants in exchange?
Come and enjoy this funny and sensitive take on dating over forty!
It's a new day!
This project is supported in part by the Cultural Arts Division of the City of Austin Economic Development Departnent. It is also supported in part by Austin Creative Alliance.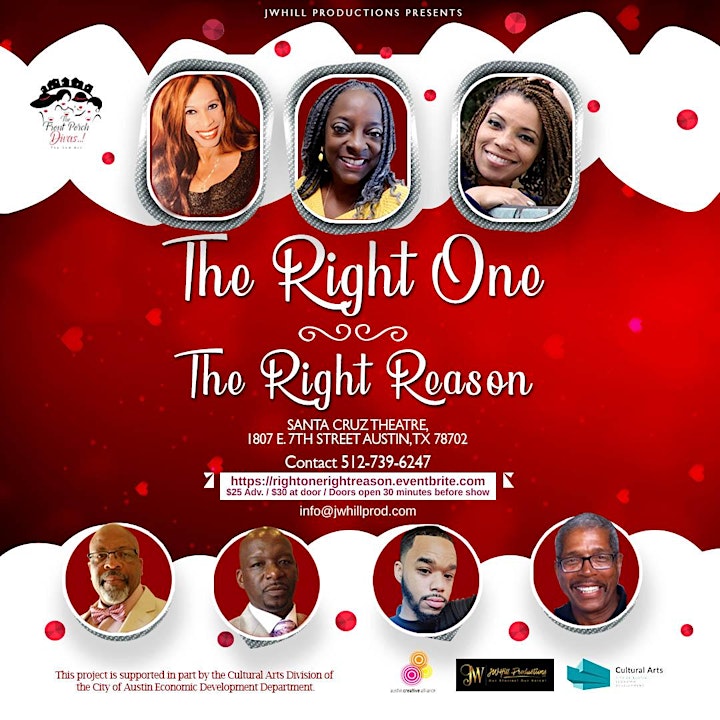 APRIL 23rd at 7:30pm
APRIL 24th at 7:30pm
APRIL 25th at 2:00pm (matinee)
APRIL 25th at 7:30pm
DOORS OPEN 30 MINUTES BEFORE SHOW!
Organizer of The Right One, The Right Reason