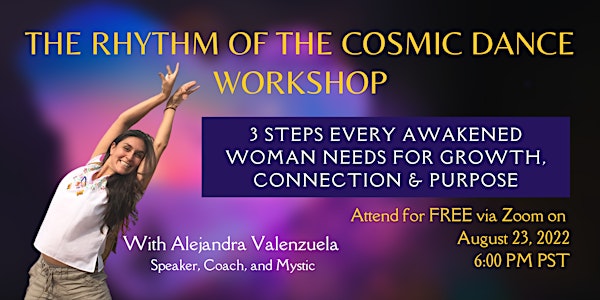 The Rhythm of the Cosmic Dance - Free Workshop
In this free workshop, I'll teach you three simple steps to create a devotional practice that empowers the awakened woman you've become!
About this event
This event is for women who are:
1) Going through a massive SPIRITUAL AWAKENING
2) Looking for SUPPORT to RECONCILE the woman they were with the woman they're becoming
3) Have already had one or more "dark night of the soul," journeys and are looking for a devotional practice that EMPOWERS the AWAKENED WOMAN they've become
Sound like you? If so, join me!
__________________________________________________________________________________
Hi, my name is Alejandra Valenzuela. I'm a speaker, coach and mystic who received my spiritual awakening in 2018 while on a birthday trip to the central plains of Brazil. I was guided by Spirit to pick up and leave my hometown of Los Angeles, and the life I once knew behind, and embark on an unknown journey of soul retrieval. Four years later, I now find myself living among the redwoods of northern California, working with Mother Earth to support and empower women who are also awakening to their purpose.
I believe in the importance of nurturing and caring for the next generation and provide motivational talks on a variety of topics to teenagers and young adults. I have a successful YouTube channel and I'm a creator of blessed, intentional jewelry to enhance a person's spiritual practice.
Click the link to connect with me on my socials: https://linktr.ee/alejandravalenzuela