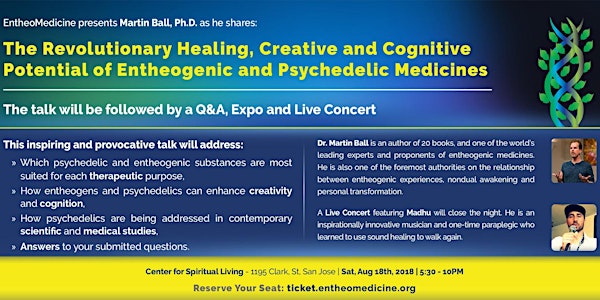 The Revolutionary Healing, Creative and Cognitive Potential of Entheogenic and Psychedelic Medicines
When and where
Location
Center for Spiritual Living San Jose 1195 Clark Street San Jose, CA 95125
Refund Policy
Refunds up to 30 days before event
Description
EntheoMedicine presents Martin Ball, Ph.D. The Revolutionary Healing, Creative and Cognitive Potential of Entheogenic and Psychedelic Medicines
Discover ground-breaking new research into the therapeutic advantages of psychedelic substances in treating anxiety, trauma, addiction and its profound potential to enhance creativity and cognitive ability.
The talk will be followed by a Q&A, Expo and Concert!
Dr. Martin Ball will discuss why entheogens such as such as psilocybin mushrooms, peyote, ayahuasca, MDMA, 5-MeO-DMT and others as are effective tools with profound potential for healing.
This inspiring and provocative talk will address:
Which psychedelic and entheogenic substances are most suited for each therapeutic purpose,
How entheogens and psychedelics can enhance creativity and cognition,
How psychedelics are being addressed in contemporary scientific and medical studies,
Answers to your submitted questions and,
How psychedelics have been used by numerous cultures and in traditions around the world throughout human history.
Center for Spiritual Living - 1195 Clark, St, San Jose | Sat, Aug 18th, 2018 | 5:30 - 10PM
Dr. Martin Ball professor and host of Exploring Psychedelic annual conference at the University of Southern Oregon. Author of 20 books, and one of the world's leading experts and proponents of entheogenic/psychedelic medicines, and is one of the foremost authorities on the relationship between entheogenic experience and nondual awakening and personal transformation.
A Live Concert featuring Madhu will close the night.
A one-time paraplegic, he is a musician who learned to use sound healing to walk again.
Madhu uses vocal looping to tell stories with sound; weaving soundscapes with inspirational messages, Sanskrit, Tibetan Mantras, and Quechua Invocations.
Learn More https://entheomedicine.org