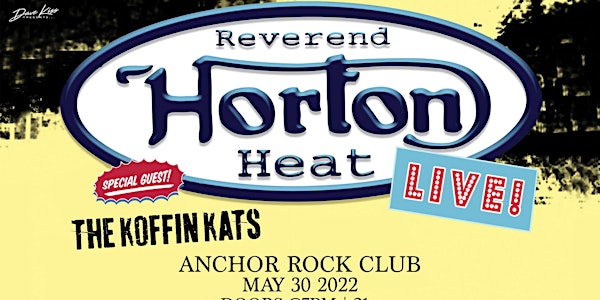 The Reverend Horton Heat ~ Koffin Kats
Event Information
Performers
The Reverend Horton Heat
Koffin Kats
Location
Anchor Rock Club
247 S New York Ave
Atlantic City, NJ 08401
Dave Kiss Presents: The Reverend Horton Heat ~ Koffin Kats at Anchor Rock Club
About this event
*Proof of Covid-19 vaccination required for entry*
*Attendees are encouraged to wear masks while not actively drinking*
The Reverend Horton Heat
With their hot-rodded fusion of dazzling high-speed guitar runs, thundering rhythms, high-profile swagger, and lyrical smirk, the Reverend Horton Heat are perhaps the most popular psychobilly artists of all time, their recognition rivaled only by the esteem generated by the genre's founders, . The Reverend (as both the band and its guitar-playing frontman are known) built a strong cult following during the '90s through constant touring, manic showmanship, and a barbed sense of humor. The latter was nothing new in the world of psychobilly, of course, and Heat's music certainly maintained the trashy aesthetic of his spiritual forebears. The Reverend's true innovation was updating the psychobilly sound for the alternative rock era. In their hands, it had roaring distorted guitars, rocked as hard as any punk band, and didn't look exclusively to the pop culture of the past for its style or subject matter. Most of the Reverend's lyrics were gonzo celebrations of sex, drugs, booze, and cars, and true to his name, his early concerts often featured mock sermons in the style of a rural revivalist preacher. On their 1992 debut Smoke 'Em If You Got 'Em, the group established the template of their no-frills, high-intensity approach to rockabilly, and though celebrity producers helped beef up the sound of their next two albums -- of on 1993's The Full Custom Gospel Sounds and 's on 1994's Liquor in the Front -- the Reverend's essential style changed little with time. They would explore a more introspective side on 2004's Revival, embrace their country influences on 2009's Laughin' & Cryin' with the Reverend Horton Heat, and add a pianist to the mix on 2018's Whole New Life, but on-stage and in the studio, Jim Heath and his bandmates could always be depended upon to deliver some of the twangy fire that their fans loved.
Koffin Kats
In accordance with Philadelphia's citywide mandate, attendees will be required to show proof of Covid-19 vaccination for entry to all Dave Kiss Presents events. Please note that negative PCR / antigen test results will not be accepted. We ask that you bring your vaccination card, a copy of your vaccination card, or a legible photo of your vaccination card on your phone. Full vaccination must be completed at least 14 days prior to the date of the event. No refunds for the event if you are unable or unwilling to provide proof of vaccination.
 All Dave Kiss Presents events will be presented in accordance with city & state guidelines and requirements as of the date of the event, which could include changes to capacity, attendance prerequisites, procedures, and other protective measures. Any updated protocols will be included in your ticket reminder e-mail closer to the event date.
Performers
The Reverend Horton Heat
Koffin Kats
Date and time
Location
Anchor Rock Club
247 S New York Ave
Atlantic City, NJ 08401