About this Event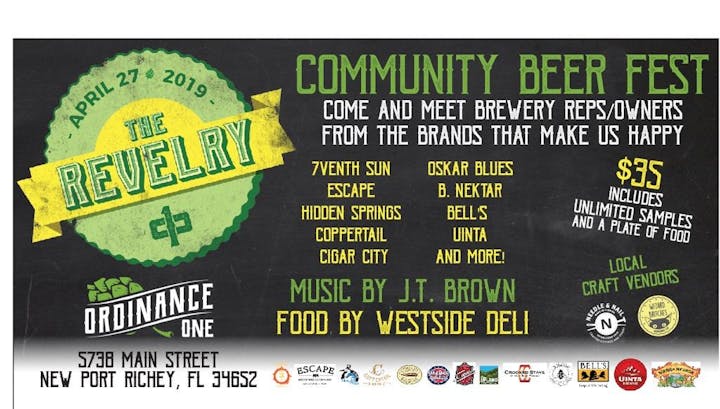 Welcome to the inaugural Revelry. We have been listening and put together a festival that highlights what our customers have enjoyed the most this past year here at Ordinance One. We have craft vendors showcasing what they do best, Westside Deli slinging their delicious sandwiches, J.T. Brown's musical talents, and (of course) beer. Many of the breweries that we have showcased through O1 will be in attendance to sample, educate, and hang with.
For $35 ($45 day of) gets you unlimited samples from all of our beer vendors and a plate of food from our friends at Westside Deli.
Joining in the fun will be:
7venth Sun Brewing Co., Escape Brewing Co., Coppertail Brewing Co., Green Bench Brewing Co., Narragansett Brewing Co., B. Nektar Meadery., Cigar City Brewing Co., Oskar Blues Brewing Co., Bell's Brewing Co., Uinta Brewing Co., Hidden Springs Ale Works., Sierra Nevada Brewing Co., Upland Brewing Co., Crooked Stave Brewing Co., plus a few special guests.
Needle & Nail and Wizard Britches will be showcasing their talents as well. More to follow...