About this Event
In 1951, Douglas MacArthur referred to himself as the "reunion of blue and grey personified." The American Civil War was an immediate and formative experience for both of his parents and their families, and their experiences helped inspire and shape Douglas MacArthur and his older brother Arthur. General MacArthur's wife, the Tennessee-born Jean Faircloth MacArthur, also had a significant Civil War pedigree. Between them, General and Mrs. MacArthur had ties to virtually every major land campaign east of the Mississippi River.
The MacArthur Memorial and Emerging Civil War are co-sponsoring a symposium with four scholars exploring the Civil War activities of Douglas and Jean MacArthur's ancestors.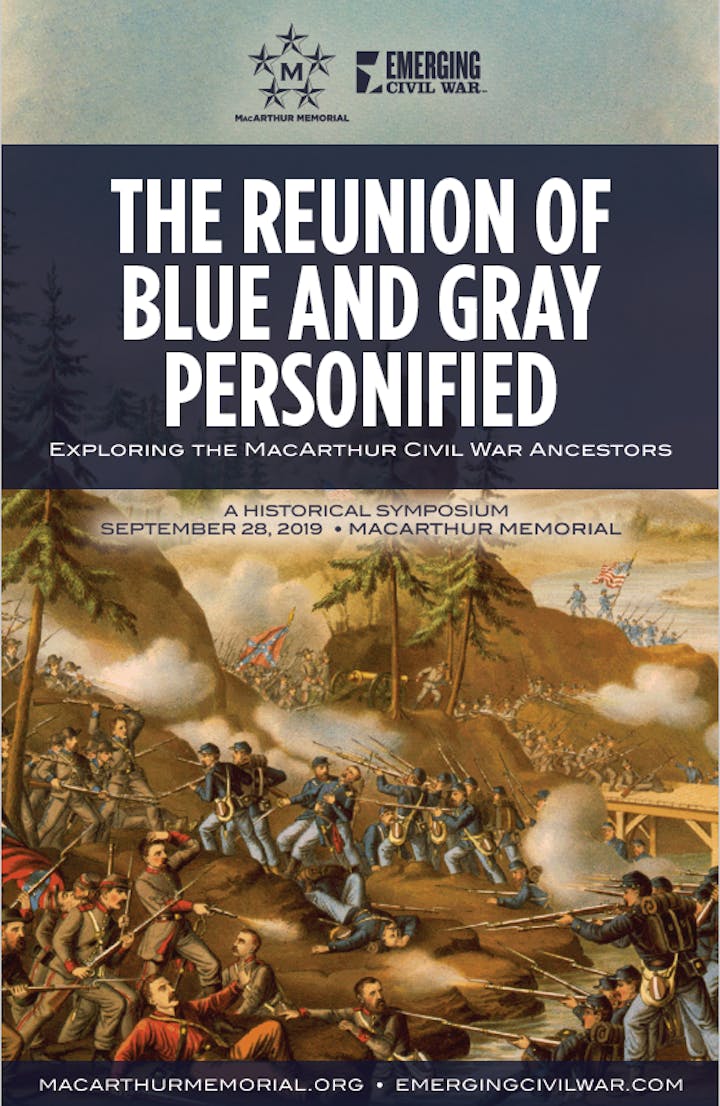 GENERAL INFORMATION:
WHEN: September 28, 2019, 9:15 a.m. – 3:00 p.m. Doors open at 8:30 a.m.
WHERE: MacArthur Memorial, 198 Bank Street, Norfolk, VA 23510
COST: FREE, but registration is required. Register online.
PARKING: The MacArthur Center South Parking Deck is across from the MacArthur Memorial on City Hall Avenue. The entrance to this garage is at the intersection of Bank Street and City Hall Avenue. Before 6:00 PM, parking in the South Deck is $1.
CONTACT: macarthurcw@gmail.com; 757.441.2965
UNABLE TO ATTEND? Each presentation will include a Q&A session. If you have a question for one of the presenters, please send it to amanda.williams@norfolk.gov or send a tweet to @MacArthur1880. Time permitting, one of our staff members will ask the question during the Q&A session. Each session will be recorded and turned into a podcast following the symposium. We cannot guarantee your question will be included in the recording, but we will make every effort to have your question answered. All sessions will be available on the MacArthur Memorial's Podcast series in late 2019.