The Return of Screw York City feat Killa Kyleon, Doughbeezy, League of Extraordinary Gz, Kydd, Worldwide, Lyric Michelle, Young B, and Grit Boys

Wednesday, April 10, 2013 at 9:00 PM (EDT)
Event Details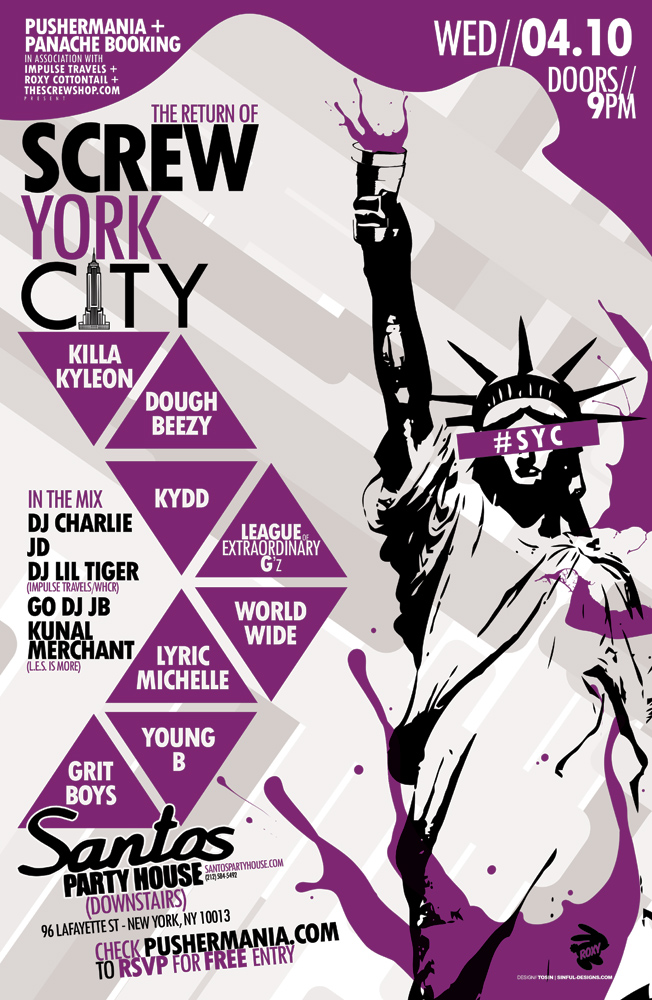 Have questions about The Return of Screw York City feat Killa Kyleon, Doughbeezy, League of Extraordinary Gz, Kydd, Worldwide, Lyric Michelle, Young B, and Grit Boys?
Contact PUSHERMANIA
Organiser
You might know Matt Sonzala as the blogger/radio host who helped the Houston hip-hop scene to explode half a decade ago, or you may know him as the guy who expanded hip-hop's presence at SXSW. Either way, Sonzala says that 2013 has even bigger surprises in store for the music world.
Matt is joined by Chris Sakaguchi who has worked with Austin companies like C3, Transmission and SXSW and shares his vision for bringing more eyes and ears on the vibrant sounds of Texas that often are ignored. Dallas based PR maven Sandrine Phay joins the team as Head of Public Relations and has worked with labels like Interscope and Universal to promote their urban artists throughout the south.