Join us for The Re:turn, a pop-up space and experiential program curated by ATÖLYE Dubai at Dubai Design Week.
About this event
Between November 8-13, ATÖLYE Dubai will temporarily relocate their Strategic Design Studio and Creative Community from Emirates Towers to a pop-up space in Dubai Design District (d3) for The Re:turn.
Inspired by the belief that we are all creative by nature, each day of The Re:turn represents a different stage of the cyclical creative process, moving from an inward exploration of the self to an outward mobilization of the collective—exploring the themes of circular economy, design thinking, architecture, community design, biomimicry (and many more) along the way.
DAY 1 - RE:DEFINE what it means to be "creative" by exploring the nature & potential of creativity.
DAY 2 - RE:WIRE your brain with practical tools that trigger innate imagination and creation.
DAY 3 - RE:EXAMINE your surroundings to find inspiration for innovative solutions.
DAY 4 - RE:CONVENE as a collective by learning how to harness the power of community.
DAY 5 - RE:SHAPE the systems and environments that shape creative capitals, at scale.
DAY 6 - RE:EVALUATE the impact of your work on people and the planet, only to begin the cycle again.
During off-program hours, The Re:turn will operate as a communal workspace daily, inviting ATÖLYE community members, artists and Design Week attendees to RE:CLAIM the space as their own.
***
Click TICKETS on the right-hand side to register - if the session you'd like to attend is sold out, please fill out our Waitlist Form and we'll get back to you!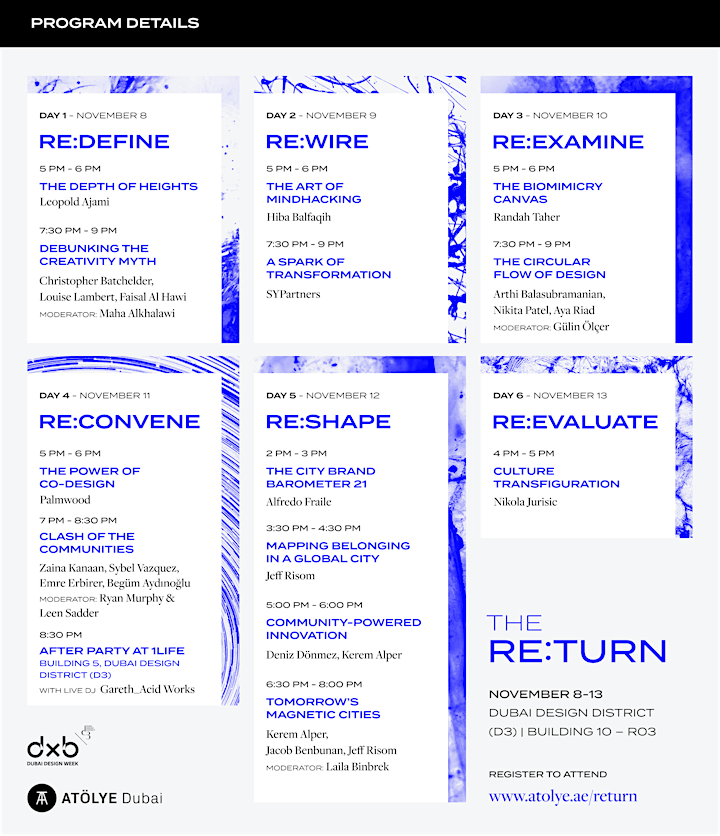 ----
*Please note that throughout the 6-day event, pictures will be taken and shared on social media.
*By registering for this event, you are agreeing to subscribe to our newsletter (you can opt-out at any time).
Organizer of The Re:turn at Dubai Design Week
ATÖLYE is a community-powered organization that places a Design Studio and Learning Academy at the heart of a vibrant Creative Hub.
With hubs in Istanbul and Dubai, ATÖLYE facilitates the creative exchanges between individuals and systems, with the hopes of setting off a ripple effect of social, economic, and ecological change in the world.