The Responsibility Process - Leading and Coaching workshop
Actions and Detail Panel
The Responsibility Process - Leading and Coaching workshop
Wed, May 31, 2017, 8:30 AM – 5:00 PM EDT
Description
Do People Around You Waste Valuable Time And Energy NOT Taking Ownership For Obvious and Important Problems?
You strive to be efficient but lose a lot of time to resistance and defensiveness around you

You want to improve productivity but keep rehashing old issues

You try to introduce change but banging your head on the wall hurts
Confidently Lead and Coach people to Take Responsibility and Demonstrate Ownership with The Responsibility Process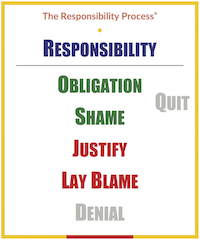 Applied research over the last twenty-five years on the front lines of leadership about how personal responsibility works in the mind (how we avoid it and take it) now makes it possible for coaches and leaders to understand and apply the mental processes and language of personal Responsibility.

Working with The Responsibility Process will lead you to insights and a-ha's about your behavior that may cause others to avoid Responsibility and Ownership. These same insights and a-ha's will show you what you can change so that others step up to Responsibility and Ownership.

Inspire those around you to demonstrate far greater ownership behavior as individuals, and in teams and enterprises. You will add more value as your team or clients take ownership; practice self-leadership; and learn, correct, and improve more easily, directly, and quickly.
Each participant will receive:
Your own copy of Christopher's new book: The Responsibility Process – Unlocking Your Natural Ability to Live and Lead with Power – a $20 (USD) value

A certificate of completion you can use to claim professional development or continuing education credits from your association.

Free admission to a follow-up webinar with Christopher one to two months following the workshop

$100 coupon toward your first year's membership in The Leadership Gift Program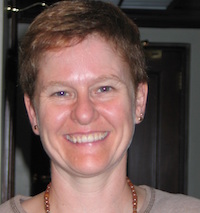 "Over the last year 350 people in 9 countries have become way more productive than we ever imagined they could be. Our agile processes are successful primarily because everyone takes ownership by understanding and practicing The Responsibility Process. Today we produce twice the software with half the headcount."
—Judith Mills, Vice President Product Eng. Ops., CDC Software, Atlanta, Georgia
"Once you see how much time and effort you and your team members can waste on the islands of "lay blame", "justify", "shame", and "obligation", you will want to learn this stuff."
-Christoph Steindl, CEO, Catalysts.cc, Linz, Austria
Benefits
Leave this workshop ready to apply what you learn about yourself and others

Understand how your mind uses The Responsibility Process to keep you stuck or propel you forward

Improve how you demonstrate, lead, and coach ownership behavior with the tools and activities you will learn

Understand the difference between accountability and responsibility and the mental processes they invoke in you and those you lead

Learn how to invite and allow others to try on what you will learn, what is required and where the pitfalls lie

Realize why giving advice may be the weakest tool you have available—and what you can do that's more effective

Evaluate and choose the basic tools to support your success in practicing and teaching ownership behavior

Address your important topics and interests that intersect with this content
Hands on
Work directly with The Responsibility Process® and The Keys to Responsibility to practice leadership and coaching tools that Christopher and his students in The Leadership Gift Program apply with their teams and clients.

Teams that attend together will leave with a new shared language for highly effective leadership, teamwork, change, and performance.
Workshop Details
Morning
8:00am-8:30am - check-in and coffee

Learning The Responsibility Process

Applying The Responsibility Process and Keys to Responsibility for self-leadership

Teaching The Responsibility Process for shared understanding
Lunch 12:30pm-1:30pm

Afternoon

Responsibility ≠ Accountability

Agility and Responsibility

Elevating responsibility in others

Intervening as a leader or coach
Adjourn 5:00pm


Register Early - Space is Limited
"This workshop is one of the most valuable training events I have attended in my professional career."
—Chris Farrell, Senior Consultant, Quick Solutions, Columbus, OH

"This was an excellent and informative training. Rather than focus on a specific technique to train it simply provides insight to a thought process that everyone goes through. Being aware of that process can allow you to move toward responsibility and ownership much faster."
—Kincade Park, Senior Manager of Business Analysts/ScrumMasters, BancVue, Austin, TX

FAQs
Is lunch included?
Yes.
Will I get a certificate?
Yes. Each participant will receive a certificate for 7 hours of leadership development in the classroom. You may use this for continuing education units (CEUs) or professional development units (PDUs) with your organization or association.
Where can I contact the organizer with questions?
Christopher Avery: ca@christopheravery.com
Applied Frameworks: Contact
Is my registration/ticket transferrable?
Yes. Just ask the person to whom you give your ticket to inform us at the registration table on the day of the workshop.
What is the refund policy?
Cancel more than 30 days before the event for a full refund.
Substitute another attendee anytime.
If you cancel within 30 days before the Intensive, we may be able to apply some or all of your registration fee to membership in The Leadership Gift Program. Contact Christopher Avery about this.
Can I be certified to teach this workshop?
Yes, if you are interested in opportunities to be certified to license and teach this content, please contact Christopher Avery.

Date and Time
Location
Hilton Garden Inn Raleigh-Durham Airport
1500 RDU Center Drive
Morrisville, NC 27560