The Resistance: Black Journalists Uprising in Media
Hear from Black journalists who have challenged the newsroom status quo in 2020 and beyond.
About this event
In 2020, Black journalists across the country sparked a wave of newsroom reckonings that led to published apologies and promises to change course.
What's next?
Join Media 2070 via the Clubhouse app on Tue., Feb. 16 for a live conservation with Black journalists sparking newsroom transformation. Let's unpack the lineage of Black Narrative Power.
What: "The Resistance: Black Journalists Uprising in Media"
Where: Clubhouse app
When: Tues., Feb. 16 at 6 p.m. ET
Who: Panelists: Erin B. Logan (Los Angeles Times), Alexis Johnson (VICE), Tauhid Chappell (Media 2070), Moderator: Chenjerai Kumanyika (Rutgers University and the NPR podcasts Uncivil, Seeing White and Louder Than a Riot)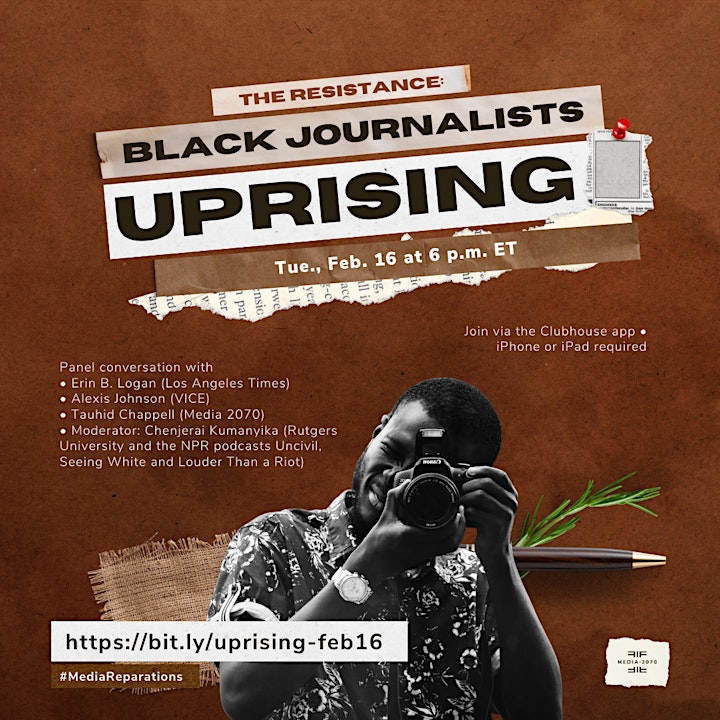 Presented by Media 2070: The Media Reparations Project
> Learn more at media2070.org