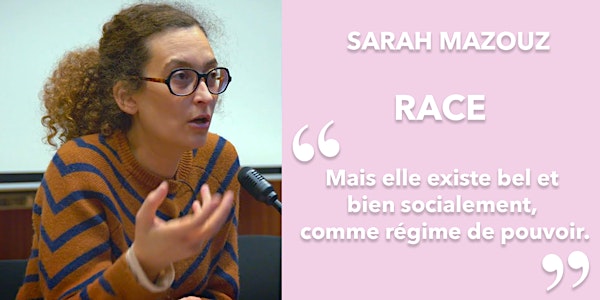 The Republic and her others: Race and Nation in France in the years 2000
Location
Maison Française East Gallery, Buell Hall
Columbia University
515 West 116th Sreet
New York, NY 10027
A Talk by Sarah Mazouz, introduced by Thomas Dodman
About this event
Drawing from ethnographic research on the naturalization process, Sarah Mazouz examines the non-recognition of racial questions and discriminations in contemporary France.
Sarah Mazouz is tenured researcher at the CNRS (CERAPS). Her main research topics are race, intersectionality and antidiscrimination policies in France, and citizenship politics in France and in Germany. Her work draws on ethnography. It also leans on Critical Race Studies, Legal Consciousness Studies, and Critical Anthropology of Moral as well as the sociology of public policies. She is the author of La République et ses autres. Politiques de l'altérité dans la France des années 2000, Lyon, ENS Éditions, 2017 (English translation forthcoming in September 2022 at Rowman and Littlefield International's series Challenging Migration Studies) and Race, Paris, Anamosa, 2020. Along with Éléonore Lépinard, she authored Pour l'intersectionnalité, Paris, Anamosa, 2021.
Thomas Dodman is Assistant Professor of French and Director of the History and Literature Program at Columbia.
This event is co-sponsored by the Maison Française, Center for the Study of Race and Ethnicity, and Institute for Comparative Literature and Society.
This event is on first come first serve basis.