About this Event
The Remains 55 year musical adventure began when Barry Tashian, Vern Miller, Bill Briggs and Chip Damiani met at Boston University in 1964. There was musical magic in the air from the first time they played together. They began performing at a favorite local watering hole, The Rathskeller, and soon, the lines stretched from Kenmore Square to Fenway Park on Remains' night at "The Rat." It wasn't long before word got out and record labels came courting the band.
Two months after the inception of The Remains, they signed with Epic Records and found themselves spending Christmas vacation in New York City's Columbia Studios recording their first single, "Why Do I Cry." Having garnered a regional hit, the band, now known for their raucous, blues-rooted sound and a hyper-energetic stage show, was catapulted onto the national music scene. Famed music critic and later Bruce Springsteen manager Jon Landau once wrote, "The Remains were how you told a stranger about Rock "n" Roll."
By the spring of 1965, The Remains' touring schedule had become so rigorous, the band decided to leave college and devote themselves full-time to their music career. A stint at Trude Heller's popular night club in New York created such a buzz that Ed Sullivan came to hear the band and signed them to appear on his Christmas Show. Trips to Nashville to work with famed producer Billy Sherrill resulted in their second and third singles, "I Can't Get Away From You" and "Diddy Wah Diddy."
In early 1966, the band signed with a New York talent management company and moved to the City. While performing at Ondines in NYC, famed photographer Jerry Shatzberg heard The Remains and immediately hired them to play a private party for The Rolling Stones. They also met legendary booking agent Bob Bonus. Bonus walked into The Remains' office one day, sat the band down, and said, "How would you guys like to be the opening act on the Beatle's US tour this summer?" Having just made a pact not to open for anyone and to only headline their own shows, it took about 2 seconds to break their pact and say, "YES." Shortly before the band began prepping for The Beatles' Tour, drummer Chip Damiani decided he had had enough of the rock and roll life and left the group.
Thanks to record producer Felix Pappalardi (who later produced Cream and played bass with Mountain), drummer N.D. Smart joined the band to replace Damiani. The Remains spent much of August 1966 on a chartered jet with John, Paul, George and Ringo touring from coast to coast and performing on what would become The Beatles' last tour.
Following The Beatles' tour, The Remains recorded their fourth single, "Don't Look Back," and after finishing work on their Epic album, decided to disband. While some might say this was an unwise business decision as the band appeared to be on the brink of stardom, they were simply exhausted from the whirlwind and needed a break for their own physical and mental well-being. The album became the stuff of legend, sells for large dollars to connoisseurs of early garage rock, and still kicks butt. Lenny Kaye put "Don't Look Back" on his seminal Nuggets compilation. A speaker-melting live in the studio performance from 1966 released decades later and called "A Session with the Remains" showcases the band in full flight and constitutes proof that no American band could touch their stage act.
The Remains got back together occasionally for reunions and original drummer Chip Damiani re-joined the band for these shows. Every time they'd get together to play it was like they had never stopped. The magic was always there and they just loved being in each other's company and playing music together. A recording of a reunion gig at The Boston Tea Party, titled "The Remains Live 1969", was released on vinyl and CD on Sundazed Records in 2018. It is yet another shredding live performance.
In 2005, they recorded a new album, "Movin' On". A musical, "All Good Things", based on the story of The Remains premiered at The Fringe Festival in NYC and a documentary, "America's Lost Band, directed by award-winning director Michael Stitch, was awarded honors at several film festivals.
In 2010, The Remains were inducted into The Boston Music Awards Hall of Fame.
Original drummer Chip Damiani passed away a few years ago and The Remains are now joined by drummer George Correia, who has a long list of session credits. Their rare live performances remain electric and worthy of their status as rock legends, and their material has proved to be timeless.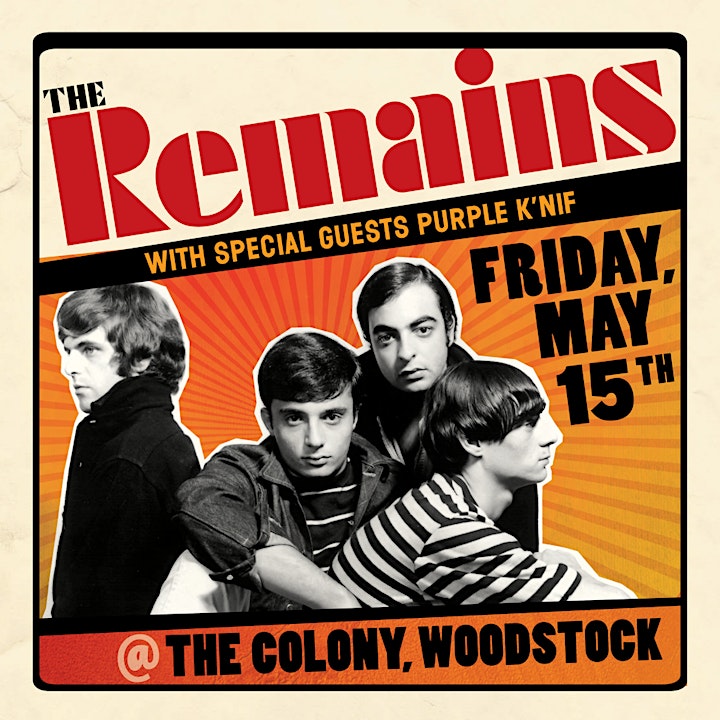 Performers
Date and Time
Location
Refund Policy