Description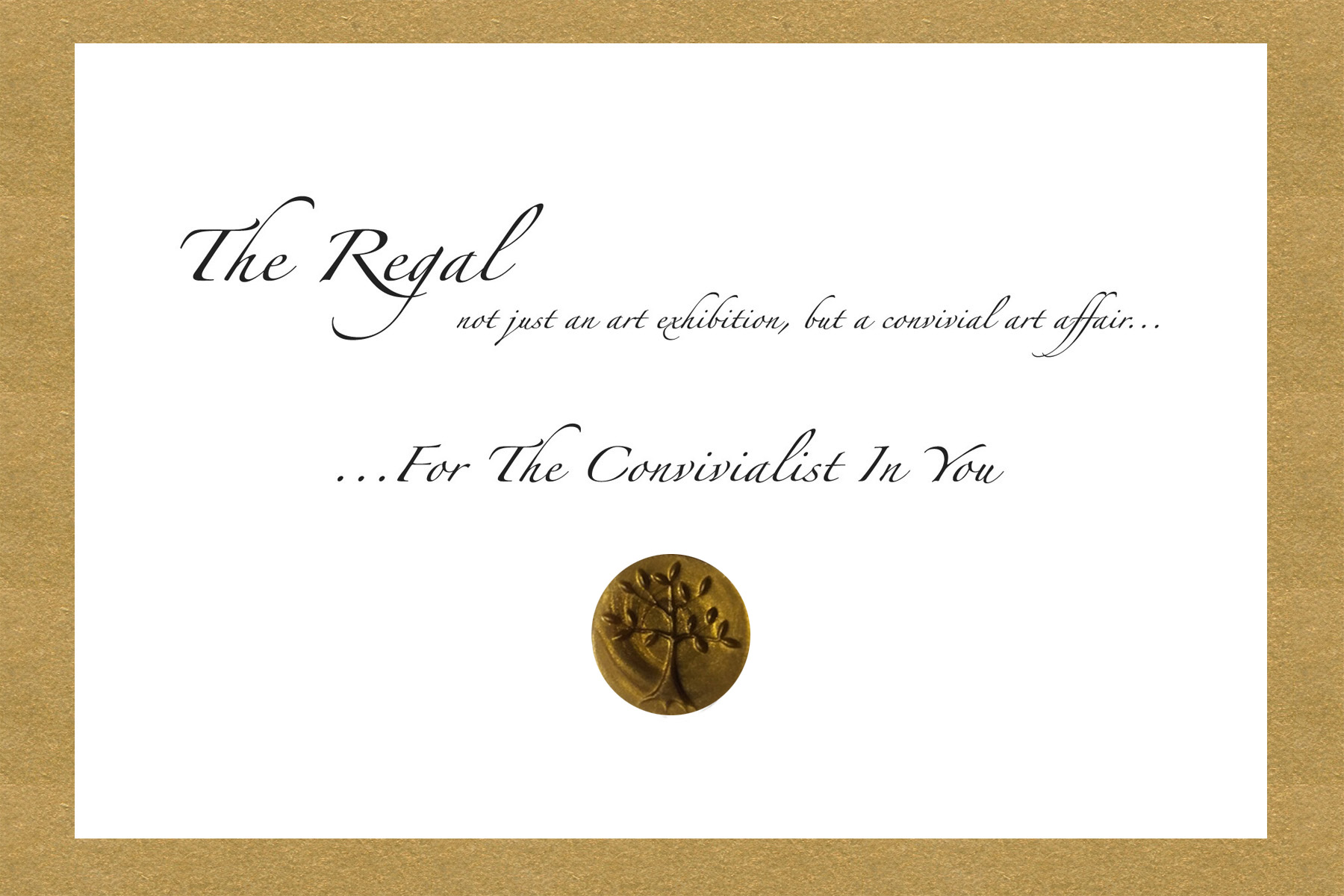 Please Click Here - https://youtu.be/BAYjORZwiZc
"A fine evening of art and conversation, pleasing delectables and quenching potables, with a percentage of the proceeds donated to charity."


The Regal
---
G & M Regalia Art, LLC proudly presents "The Regal", an event highlighted as "a convivial art affair". This Fine Art Exhibition and Sale will take place on Saturday, October 14, 2017 from 5:00pm-9:00pm at Maryland Institute College of Art (MICA) in the beautiful historic Main Building.
There will be scrumptious bites & delightful desserts from Parkhurst Catering, fall themed libations, and ambience created by the subtle sounds of The Clarence Ward III Quartet.


The Artists
---
Exhibiting Artists: Oletha DeVane, Daniel Greenberg, Camille Gustus, Jeffrey Kent, Christopher Kojzar, and Zev Schmitz will be in attendance at the event to both mingle and to participate in three part artists series gallery talks.


The Artwork
---
Items for sales:
ALL WORK EXHIBITED which includes the following media:
Mixed Media
Painting
Photography
Printmaking
2. THREE Limited Print Editons by each artist:
5 signed and numbered prints per edition.
Totaling 15 prints for sale per artist .
3. The Regal Limited Edition 6 Card Stationary Collection:

Includes ONE image from each artist's collection of work on exhibition, 6 cards in all.
6 notecards and 6 envelopes
Each collection will be numbered in succession; with a run of ONLY 50 sets.
4.
Courtyard
Silent
Auction
:
One original piece from each artist that is represented from their limited print edition.
Bidding will begin at 5:30PM and commence at 8:30PM.
The Charity
WIDE ANGLE YOUTH MEDIA:
The mission, "Through media arts education, Wide Angle Youth Media cultivates and amplifies the voices of Baltimore youth to engage audiences across generational, cultural, and social divides. Our programs inspire creativity and instill confidence in young people, empowering them with skills to navigate school, career, and life."
Donation: 10% of ticket sales will be donated to Wide Angle Youth Media.


"Engage and be engaged by a host of convivial amusements."


The Fun
---
1. "Listen to one of the Artists Series Gallery Talks." Each themed talk lasts 20 minutes, allocating 3 minutes per artist to speak on each topic.
The Gallery Talk Schedule:
Talk #1: "INSIGHT" @ 5:45PM

Talk #2: "MOTIF" @ 6:45PM

Talk #3: "PROCESS" @ 7:45PM
2. "Partake in the evening's Collective Art Endeavor." Each attendee has the option to contribute and be represented in The Regal Communal Art piece to be completed by the evening's end. Then to be used as the "Thank You" card imagery mailed to all attendees after the event.
3. "Discuss the artist's quote of the hour over drink or dessert." Famous artists quotes will be displayed thoughout the evening with multiple possible answers as to who it might be. Attendees will have a chance to cast their vote of who the think it is from the multiple choice options.
4. "Does your key open the box?" When checking-in to the Regal you will receive your "The Regal Welcome Bag". Amongst the items will be a skeleton key with your bid/purchasing number attached. There will be 6 boxes placed in different locations throughout the different rooms of the event. Each box holds a specially selected convivial gift for the person holding the right key.

*These are just a few of the interactive activities to engage with the guests all while they look, see, and acquire art.*





The Tickets
---
"The Regal" Golden Invitation & Entrance Tickets are $50 each and available until October 10th, 2017. ALL attendees will receive tickets in the mail at the address listed in the shipping address window of the order form prompt.
"Convivialist, one who enjoys food, drinks, good company, and great conversation."
FAQs
Are there ID or minimum age requirements to enter the event?
Attendees must be 18 years of age or older to attend, and 21 years of age or older to be served alcohol. Libation wristbands will only be given to those 21 years of age or older.

What are my transportation/parking options for getting to and from the event?
Parking is open and free through out the Bolton Hill surrounding neighborhood.
How can I contact the organizer with any questions?
Questions about the event can be emailed to the following email address: mr.marbury82@gmail.com
Date and Time
Location
Maryland Institute College of Art, Main Building
1300 West Mount Royal Avenue
Baltimore, MD 21217
Refund Policy