About this Event
One of the world's biggest challenges is the refugee crisis: the movement of people fleeing violence, persecution, human rights violations and natural disasters, and their obstacles to resettlement. The number of forcibly displaced people has never been higher, at 68.5 million today, 25 million of whom are refugees crossing international borders, according to the UN High Commissioner for Refugees (UNHCR). More than half of these individuals come from Sudan, Afghanistan and Syria. The crisis is growing. What can we all do about it? How can individuals take action to help solve the issue?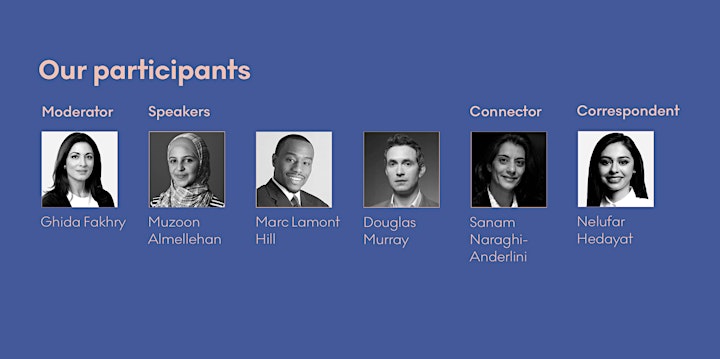 Our participants
Moderator
Our moderator assists the speakers and audience throughout the show and is the audience's advocate for accuracy and insight.
• Ghida Fakhry, international broadcast journalist and award–winning presenter
Speakers
Three speakers, three perspectives. Each invited speaker presents a view and opinion on a possible solution to a world challenge.
• Muzoon Almellehan, Syrian refugee and education activist
• Marc Lamont Hill, American academic, author and activist
• Douglas Murray, British author and journalist
Connector
The role of connector is a bridge–builder, combining elements of each opinion to create an unorthodox, challenging response that deconstructs arguments and examines their consequences.
• Sanam Naraghi-Anderlini, peace campaigner, author and consultant to the UN
Correspondent
Our correspondent acts as the voice of the outside world during our live debate.
• Nelufar Hedayat, award–winning journalist and documentary maker