Description
Take your cooking skills to the next level with The Refined Cook Culinary Series, fun social events that give you tasty tips on preparing healthy, gourmet dinners. Come with friends or meet new ones. This is a friendly gathering of up to 8 people.
Your hosts are a wife and husband team who are passionate about great food and hosting sumptuous dinner parties. Learn new culinary techniques, efficient shortcuts, and unique plating ideas to elevate everyday meals into extraordinary ones. Watch and socialize or get hands-on experience in the kitchen, or a little of both.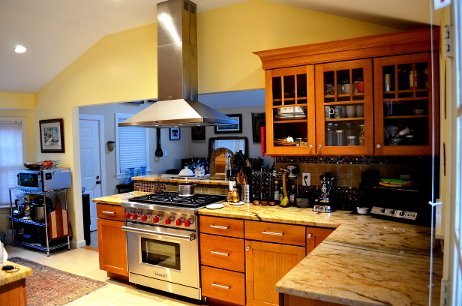 The Classroom
---
This class is: Vive La France (gluten free): $75/person

In Spring 2016, Marlene did a month-long immersion in the South of France working on an organic farm, performing in a concert and cycling through the Dordogne region. This menu commemorates the first anniversary of this trip, inspired by French meals over the years. We will finish with a take on a Parisian icon, Crêpe Nutella, except the "nutella" here is home-made.

*Creamy Asparagus soup with Smoked Salmon and Crème fraîche, Pan fried Scallops in a Pernod cream sauce, Sautéed Organic Beets, carrots and Beet greens, Banana and Hazelnut Chocolate Crêpe (a la Nutella) (Gluten Free)

*Note: We wiill do our best to keep the ingredients/menu exactly as written, but substitutions may be made occasionally due to market availability and our desire to find the freshest produce possible.
Event details:
Price covers tuition and materials (you will receive a copy of recipes)
Class size 4-6 participants (we may cancel the class if minimum is not met)

Our ingredients are minimally, if at all, processed, and are usually organic or natural
Must be 21 yrs. and older (it's BYOB)
Held in a private home in a semi-professional kitchen with first rate equipment (e.g., 6-burner Wolf range)
Instruction style is combination of demonstration and hands-on
Unless otherwise noted, venue is in Dedham
Private bookings for party of 6-8 available, just contact us
Address provided after registration. No refunds within 48 hours of event.
---
Please visit www.refinedcook.com for more information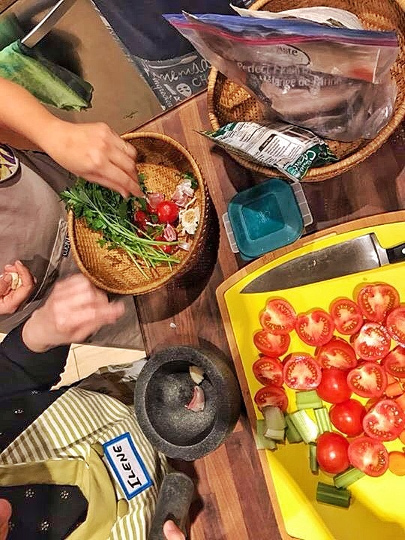 About Us

Marlene is Director and Instructor at Home Chef Workshop, whose mission is to teach and bring healthy, gourmet cooking into homes, offering a slower and sustainable lifestyle. She is also a jazz musician who appreciates improvisation in music and in the kitchen.
Jeff is a graphic artist and former wine consultant who has helped many a lost soul with wine pairing and buying tips that don't break the budget. His wry humor and eye for aesthetic detail are evident in his cooking, presentation, and sense of décor.
Jeff and Marlene will share their love of world cuisines culled from travels in Asia, Patagonia, the Himalayas, the Andes, the Amazon jungle, and most recently, their cycling trip through the French Dordogne region, home of foie gras and rustic gastronomy.
Some past yummy creations: