About this Event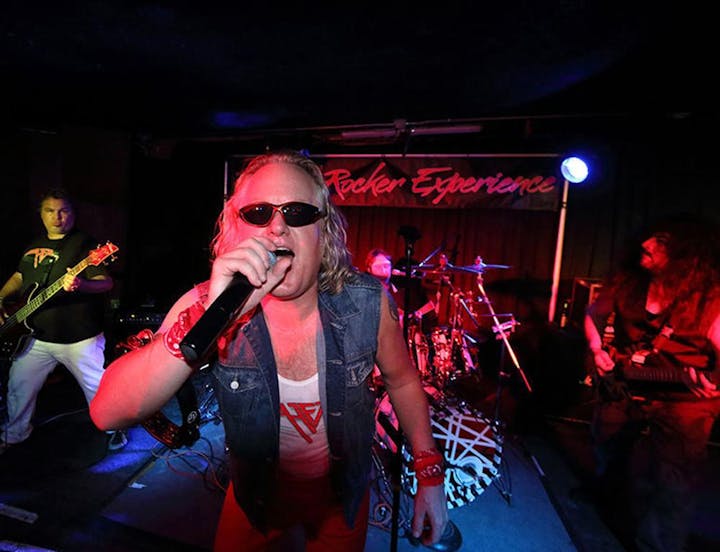 HFTROCKS Productions presents the Red Rocker Experience and Destroyer. The Red Rocker Experience is back in Redwood City performing an early show of all the greatest hits from Montrose, Sammy & Van Hagar with special co-headliner guests Destroyer, a tribute to KISS; closing the show.
Fire up your hot rod, and come on out to Redwood City, where you can grab some fine Mexican food along Broadway and stumble over to the Club Fox because the Red Rocker Experience will be "in da house"!
Co-headlining Bill: Red Rocker Experience opens (8:30 - 10:00PM) and Destroyer closes (10:20 - 11:50PM)
The Red Rocker Experience brings all the great and iconic Sammy Hagar tunes to life! It's all Sammy, all the time!
After more than a dozen years of performing Van Halen's DLR era music as HOT FOR TEACHER (HFT), it was high time that the band decided to include the other half of the VH canon with a contemporaneity popular string of #1 hits and albums from Sammy Hagar – affectionately known as Van Hagar.
Showcasing Van Hagar's song selections has been a passion to this group, and has lead to huge crowd moments, sing-a-longs, and most importantly… a f'n great time! The foreshadowing began when HFT performed in San Francisco with VH, Other Half & Chickenfoot member Michael Anthony back in 2003. Today, in the same fashion, the band also rocks out earlier songs from the Sammy discography as well.
This dynamic tribute now performs a number of other hits from Hagar's 4 Decades of Rock; leading off with the legacy of the original guitar wizard Ronnie Montrose, then on to Sammy's famous solo work – and of course includes the great and aforementioned Van Hagar hits.
Born in 2013, The Red Rocker Experience has been working in front of a number of NorCal's most discriminate "Redheads" that included shows at the awesome Sammy's Island Bar & Grill and at the famed Sweetwater Café. It was at the Sweetwater in 2014 where The Red Rocker Experience performed a sold out benefit show for Liza Lauser (Liza 2.0). The show naturally included an entire Red Rocker set with Sammy's oldest friend and famed Wabo drummer (original percussionist on all of the hits), David Lauser.
So, even though you're not Standing in Hampton with a Three Lock Box, Hagar fans will enjoy the VOA because I Never Said Goodbye to the Red Voodoo that The Red Rocker Experience spreads through the music of Sammy Hagar and David Lauser. So get your "Redhead" self to a gig. It's time to start Livin it up!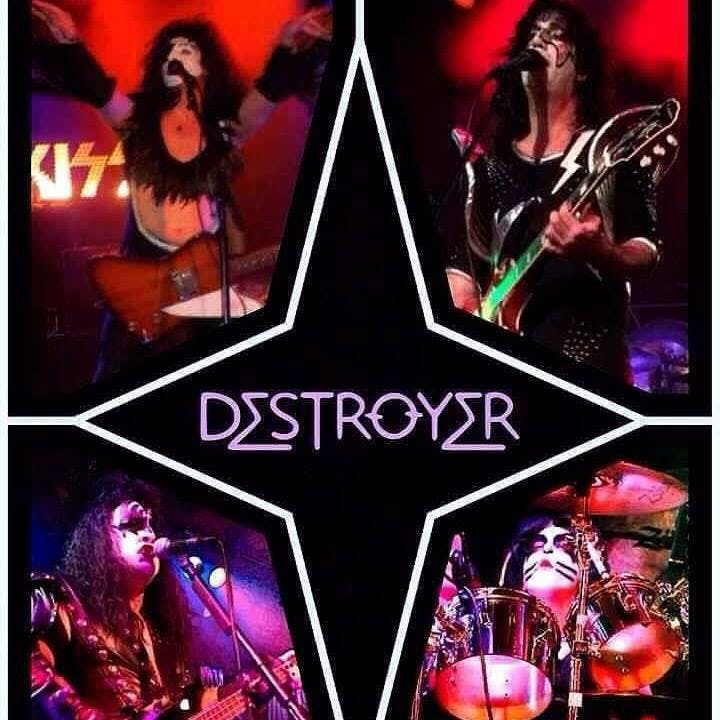 Ruling over The San Francisco Bay Area for over 16 years, DESTROYER has opened for the real KISS and GWAR, and has also been written about in Rolling Stone, SPIN and even Metal Edge Magazines!
Their exciting and thrilling tribute show to the greatest rock and roll band in the world is a show not to miss. Even Peter Criss' first wife Lydia flew from New York to see these guys do their show. Their drummer received a big KISS from her for singing "Beth" to her at that show!
Wearing early era costumes, Destroyer ensures the crowd to be captivated and also intrigued by their sing-along set of classic KISS tunes that everyone enjoys. Destroyer has preformed in clubs, casinos, corporate events, private parties, and made special appearances!
Hear all your old favorite KISS tunes like Deuce, Strutter, C'mon and Love Me, I Was Made For Loving You, some rarities, and many more! Come out and "ROCK AND ROLL ALL NITE" with DESTROYER, the hottest band in the land!