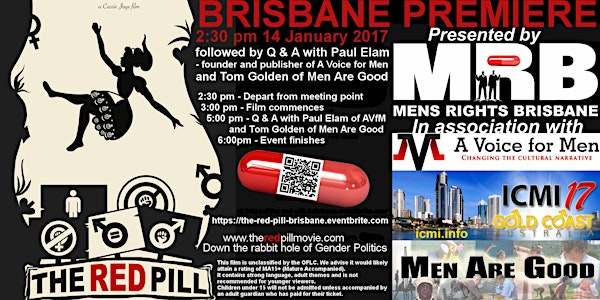 The Red Pill - Brisbane Premiere and Q & A with Paul Elam of A Voice for Me...
Event Information
Location
Brisbane GPO, (Not actual location - see notes in event description)
261 Queen St
Brisbane, QLD 4000
Australia
Description
The Red Pill - Brisbane Premiere - 2:30 pm 14 January 2017
followed by Q & A with Paul Elam - founder and publisher of A Voice for Men and Tom Golden of Men are Good

---
NB. Location listed in eventbrite IS NOT the actual location. DO NOT go to the GPO! Location is being kept secret and only ticket-holders will be advised. This precaution is necessary to save our host venue from the kind of harassment encountered during prior Melbourne and Sydney screenings.

Tickets only available online. Ticket holders will receive an email informing of the meeting point shortly after close of ticket sales at midday 14th of January.

---
Itinerary:

2:30 pm sharp
Depart from meeting point

3:00 pm
Film commences

5:00 pm
Q & A with Paul Elam - founder and publisher or A Voice for Men and Tom Golden of Men are Good

6:00 pm
Event concludes

You may wish to join us afterwards for a meal or drinks at a venue nearby.

---
Why are men's rights so controversial?
One feminist sets out to investigate the men's rights movement.
Here's what she found...
Feminist outrage in Melbourne and Sydney got screenings canned.
See it in Brisbane before it gets banned!

In both Sydney and Melbourne screenings were cancelled due to feminist outrage and interference. To prevent the same in Brisbane, an inner city meeting point will be advised on the Men's Rights Brisbane facebook page after close of business the day before screening to save our host venue from harassment. Feminists are welcome (encouraged even) to attend as long as the rights of others to watch the film in peace are respected. Indeed, your presence at the Q & A is sure to make it a lively affair.

This documentary is taken from a feminist's perspective and examines and challenges common perceptions promoted by feminism in gender politics. Whether you're feminist, non-feminist or agnostic, this film is profoundly thought-provoking and is bound to challenge the beliefs, perspectives and assumptions of many viewers.

Follow Men's Rights Brisbane on facebook for event updates. Patrons with mobility issues should advise us upon booking as the venue is a walk away from the meeting point and alternative arrangements will be made. Please be at the meeting point at 2:30pm sharp to allow time to reach the venue and find your seat.

---

This film is unclassified by the OFLC. We advise it would likely attain a rating of MA15+ (Mature Accompanied).
It contains strong language, adult themes and is not recommended for younger viewers.
Children under 15 will not be admitted unless accompanied by an adult guardian who has paid for their ticket.

---

www.theredpillmovie.com
Down the rabbit hole of Gender Politics

Presented by Men's Rights Brisbane in association with avoiceformen.com, icmi.info and menaregood.com

Date and time
Location
Brisbane GPO, (Not actual location - see notes in event description)
261 Queen St
Brisbane, QLD 4000
Australia