Sales Have Ended
Ticket sales have ended
Thank you for your registration. All ticket sales are final.No Refunds, Exchanges, or Transfers.
Sales Have Ended
Ticket sales have ended
Thank you for your registration. All ticket sales are final.No Refunds, Exchanges, or Transfers.
Join the National Women's Empowerment Ministry for the Networking In Red Event of The Year!
About this event
The Red Blouse Brunch is an empowering experience that includes networking and making connections ( Net- Connecting) with successful and influential women as well as recognizing women , who are essential and making a difference in their respective industries, community, and within the faith based community. February is also American Heart Month and we want to bring awareness to habits that bring forth to having a healthy heart, especially within the African American Community.
A Two Day Virtual Experience:
Friday Night Networking 7pm-9pm : Do you need to become more skilled at networking, making meaningful connections, and collaborating? Join us Friday night for our four networking circuits with like minded professional women, lead by industry experts ,so we may help you live your purpose.
Saturday Empowerment, Exposure, Awards & Recognition 10am-12:30pm: Come meet and learn from our NEW 2021 Women's Empowerment Award Recipients on how they are breaking glass ceilings and staying empowered through one of the worlds most challenging times.
This event will be fun, empowering, and just what you need to understand your purpose. Grab a friend, Grab a Red Blouse , and Stay EMPOWERED to do Amazing Things in 2021.
Attire: Red Blouse
NETWORKING CIRCUIT SPEAKERS:
1. Networking in Media and Entertainment| Speaker Joyce Littel
2. Networking with Women in Educational Leadership | Speaker Kedra Fairweather
3. Networking for Women Leaders in Politics and Government | Speaker Dee Dawkins-Haigler
4. Networking in Business/ Career and Entrepreneurship | Speaker Maxine Caine
Sponsorship Information:
Your company has the opportunity to work with National Women's Empowerment Ministry to create a large award and recognition platform to empower women to continue to be pillars in their community, support small businesses, and encourage women leading faith based organizations to change the world.If you are interested in becoming a sponsor, please see the package information below.
View The 2021 Sponsorship Package
Virtual Vendor Information: ( Registration Available Sunday, Feb1 4th)
We are showcasing 6 of Atlanta's best vendors for our upcoming Red Blouse Brunch. We will spotlight you on video to showcase your product or service for up to 3 minutes, place your company information on our vendor list and provide offerings to all registered attendees. We have to approve all vendors, and if you are not approved, for any reason, we will refund you.
We offer regular vendor opportunities and exclusive vendor opportunities, which means no other vendor in your category, no worries about having to compete for the same customer( ie. Jewelry Vendors) or two candle vendors, etc. Exclusivity vendor would be just one jewelry vendor.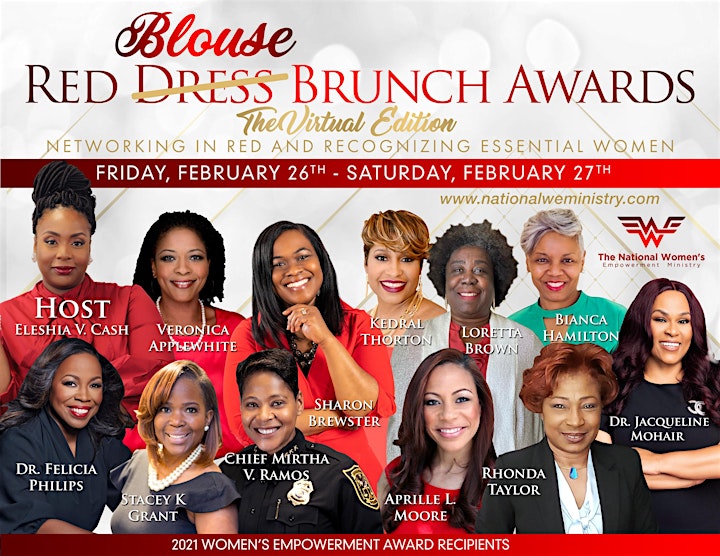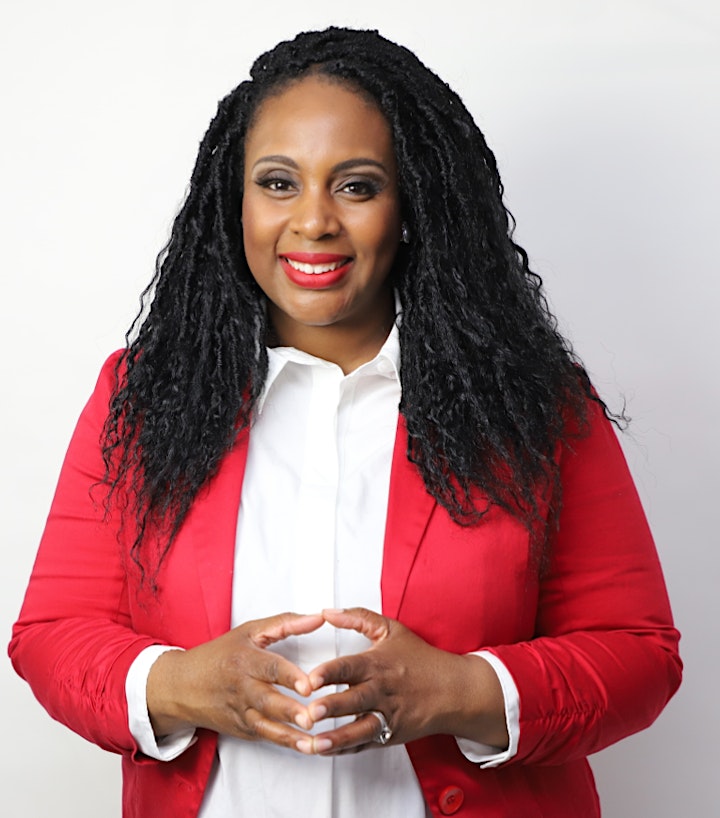 Meet The Host of The Annual Red Dress Brunch, NOW Red Blouse Brunch- The Virtual Edition , Eleshia V. Cash.
I am a Sought after Speaker, Collaborator, Trainer, Author, Blogger, Podcaster, Women's Empowerment Champion, and Spiritual Motivator . As the CEO of Jackson HR & Administrative Services LLC, Ydennek Girls Who Lead, Founder Of The National Women's Empowerment Ministry and Director of GLCC Job Network. I work with individuals and companies on how collaborative relationship building is a necessary power tool to gain more partnerships, build your network and referrals, and maximize the exposure for your company to gain more revenue.
Annually I host the "Red Dress Brunch" a networking in red event with over 200 women attending as we honor women for their contribution to the community, respective career, and faith based community.
My goal is to provide women with the formula for building a valuable network that will lend them the opportunity to make enriching and profitable connections.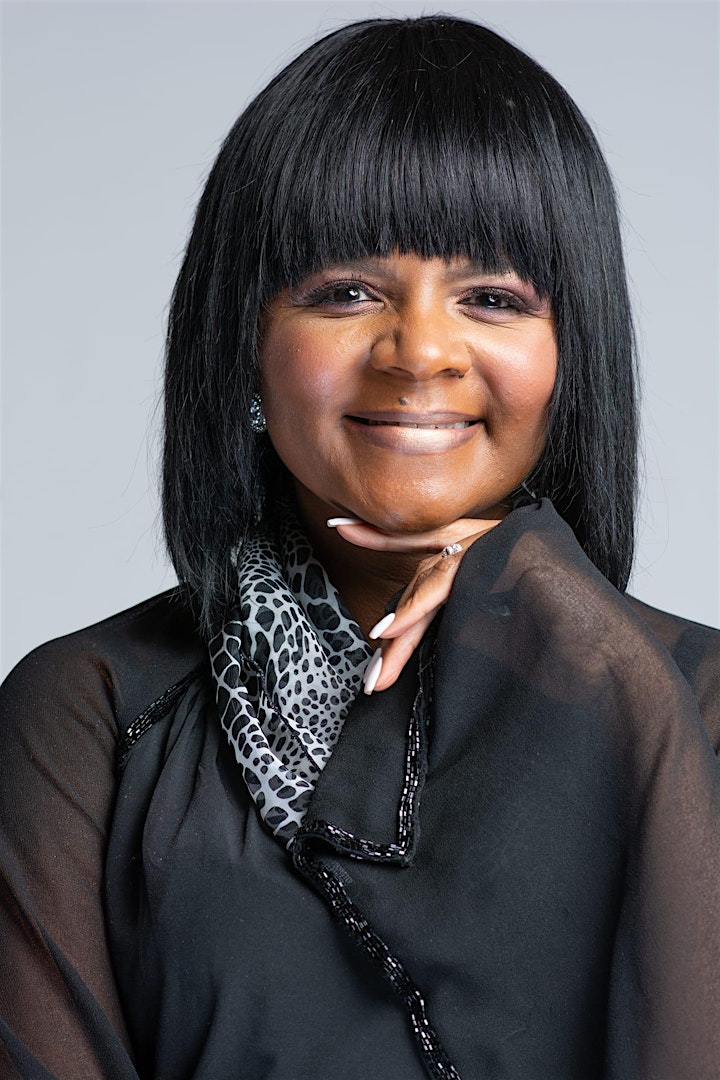 Meet The Keynote Speaker of The Annual Red Dress Brunch, NOW Red Blouse Brunch- The Virtual Edition , Pastor Stacey H. Twyman.
In her quest to teach, train, and develop transformational leaders, Stacey H. Twyman graduated Cum Laude in 2019, from Regent University earning a Master's in Organizational Leadership with a Concentration in Mentoring and Leadership Coaching.As an innovator, Stacey H. Twyman started her own professional, management development, and training company, Meta-Leadership Factory, LLC, where she is the President and CEO. As an author, Stacey Self-published three books, 6 Highly Successful Habits fo the Ant; The Apostle Paul: Transformational Leadership and 6 Highly Successful Habits of the Ant 2.0. As a student and to advance further in academic studies, Stacey Twyman is pursuing her doctoral degree in Strategic Leadership with a focus in Ecclesiastical Leadership. As a teacher, Mrs. Twyman is currently an Adjunct Professor at Beulah Heights University and the Co- Pastor of of Strong Tower Christian Center in Snellville, Georgia, where she co-labors with her husband Senior Pastor, David Twyman. Co-Pastor Stacey loves the Lord with all her heart, soul, and mind; and is humbled to serve God's people.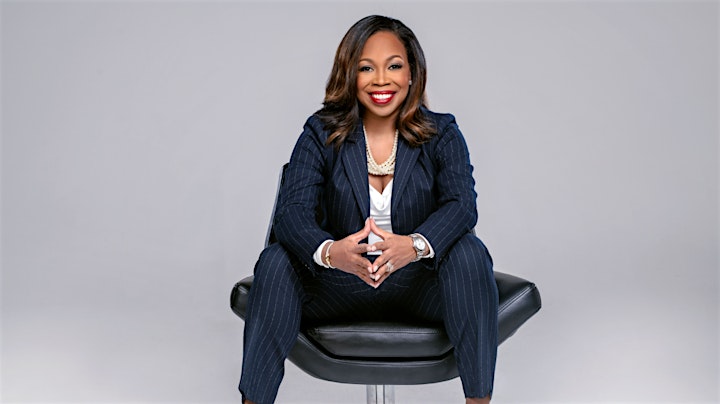 Meet Dr. Felicia Phillips - WOMAN OF POWER AWARD RECIPIENT
The Woman of Power Award is the National Women's Empowerment Ministry highest women's empowerment award that recognizes the woman who has made the greatest stride in redefining influence and is changing the way our country thinks about women leading across multiple platforms.
Dr. Felicia Phillips is a Master Business Strategist and CEO of PPICW, Incorporated headquartered in Atlanta, Georgia. PPICW is a 2-Time award-winning, certified MBE consulting firm specializing in small business, program and leadership development. Felicia has built her 30-year entrepreneurial career on serving, educating and mentoring small and diverse businesses as well as assisting corporations with their diversity, equity and inclusion initiatives. PPICW has had the privilege to work with companies like Southern Company, Wells Fargo, Papa John's International, Grady Health System, Delta Air Lines, the Small Business Administration and many other organizations.
Dr. Felicia is Founder of the One Million Dreams Foundation for Black Women and Girls as well as her annual conference, MogulCon both assisting black businesses grow and scale for profitability. She is a member of the Forbes Coaches Council, the Atlanta Business League and has been featured on CBS, FOX, BET and many other media outlets.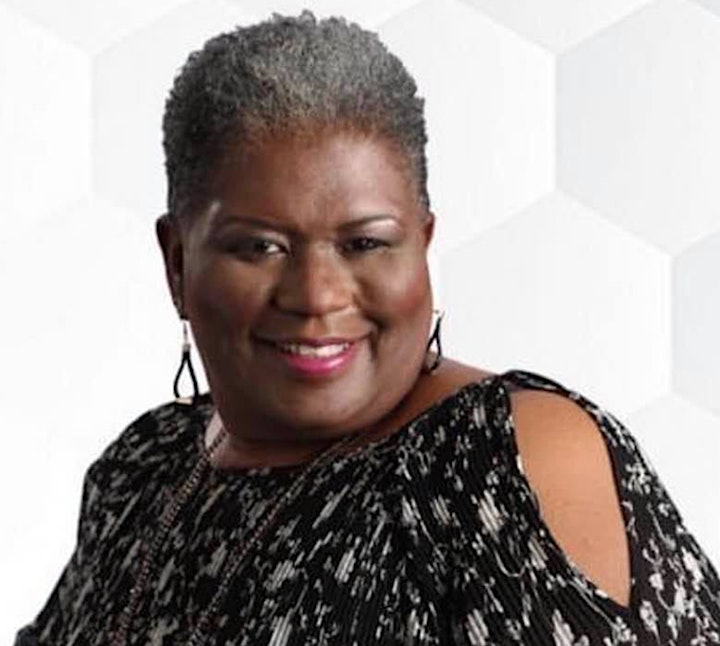 Meet Joyce Littel - NETWORKING IN MEDIA AND ENTERTAINMENT SPEAKER
Celebrity… Entrepreneur… Visionary! These are just a few words that merely come close to the defined greatness of Joyce Littel.
Joyce serves as the visionary and CEO of Littel Concepts, LLC – a premier entertainment and promotions firm located in Atlanta, GA. Joyce has organized special events for BET, BETJ Lyric Café, Jason Lary Presents, Ken Ford, The 100 Black Men of DeKalb, The Rainbow Push Coalition, Commissioner Stan Watson, Big Bethel Village and Maggie Russel Towers (Senior Living Facilities), Moonlight Cruises, Little Management Group and Forest Lodge Event Center. Signature Littel events include: A Holiday Affair Concert, ATL's Baddest Chicks, Got Word? Youth Poetry Slam, Passion & Poetry, Poetic Moments LIVE and Relationship Conversations. In 2010, Joyce launched her very own Home Girl Concert Series featuring exclusive concerts and events tailored specifically for Joyce's hometown of Athens, GA. In 2016, Joyce and her family formed Little Management Group, LLC and became the facility managers of the Forest Lodge Event Center in Athens, GA.
Currently, Joyce is the Program Director for 1380 WAOK a sister station to Atlanta's V103, where is also the hosts for "Saturday Throwbacks" from 6am-10am;".
As a 30-year veteran in the industry of radio, Joyce Littel has undoubtedly set a standard of excellence through the longevity of her career.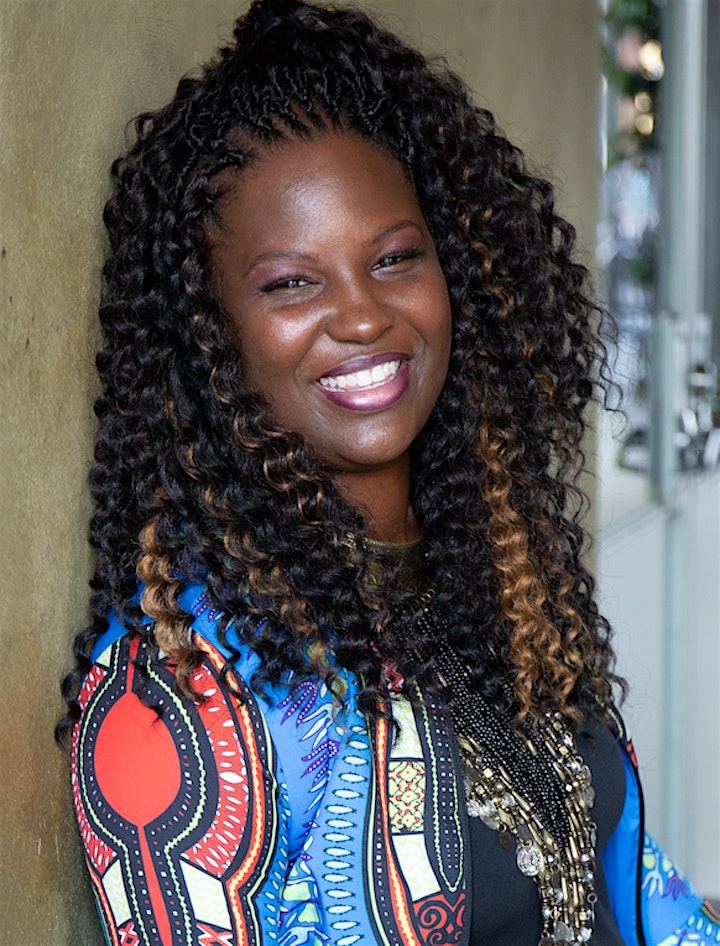 Meet Kedra Fairweather - NETWORKING IN EDUCATIONAL LEADERSHIP SPEAKER
Kedra Fairweather is a Master Leadership Communications Strategist and CEO of Positivity Reigns LLC, a company designed to influence, inspire and motivate all people to focus on God's Love, Vision, and Purpose for their lives .Kedra has served her community as a leader in education for the past fourteen years. With a myriad of leadership experience, she is also the Coordinator for Leadership Development in DeKalb County School District. Kedra is continuing to inspire, mentor, and coach the next generation of leaders to their career best.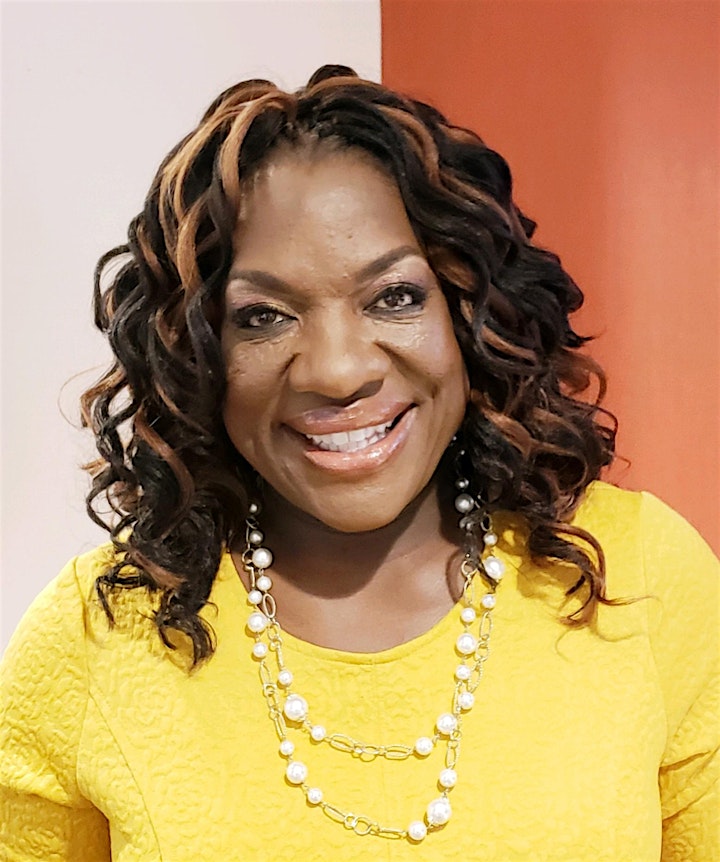 Meet Dee Dawkins- Haigler- NETWORKING FOR WOMEN WHO LEAD IN POLITICS AND GOVERNMENT SPEAKER
Dorothea (Dee) Dawkins-Haigler dedicates her life to public service through her role as an ordained minister and pastor, college educator, community activist, and political strategist. Dee served 8 1/2 years as a Georgia State Representative from June 2008 – January 2017. During her tenure in the Georgia General Assembly she served as Chair of the Georgia Legislative Black Caucus and Chair of the Georgia Women's Legislative Caucus. Dee served as the Chaplain for the National Black Caucus of State Legislators (NBCSL) and the National Director of Regional Coordinators for the National Organization of Black Elected Legislative Women (NOBEL Women). She served as a State Director for both Women in Government and the National Council of State Legislators Women's Network.Dee is the Owner of DDH & Associates and Executive Director of TIME 1000—an organization dedicated to helping 1000 women and minorities get elected to public office or receive board appointments. She has trained women from Liberia, Nigeria, Ghana, Rwanda, Tanzania and the Democratic Republic of Congo on gender issues, health, entrepreneurship, education and running for office.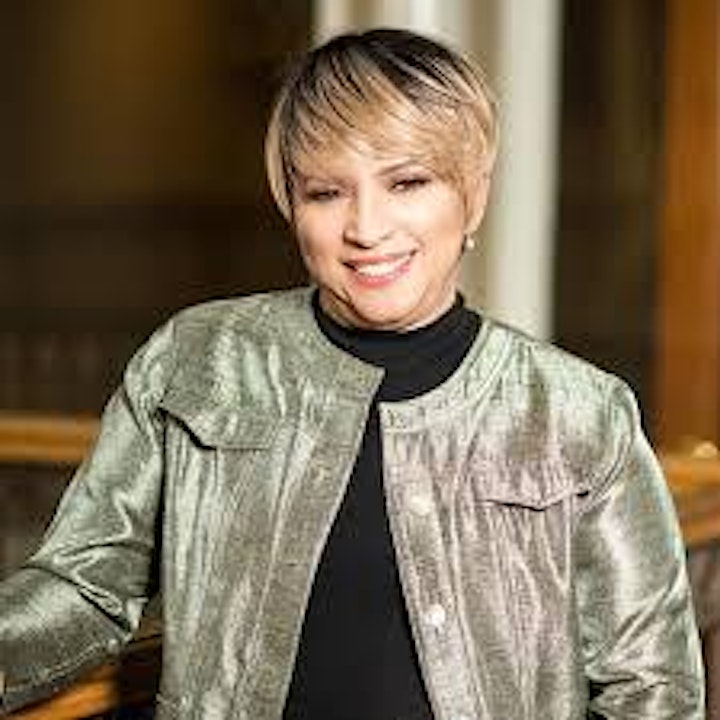 Meet Maxine Caine- NETWORKING IN BUSINESS CAREERS AND ENTREPRENEURSHIP SPEAKER
Maxine Cain is a Senior Human Resources leader and entrepreneurial personality known for innovative approaches to business, strategy, diversity, and inclusion and the Future of Work. Pronouns: She/Her/Hers . A strategic executive-level leader, possessing the ability and passion to influence with and without authority; to coach, counsel, mentor, and develop employees at all levels.To promote equity for women and girls in STEM, Maxine founded STEM Atlanta Women, Inc. A non-profit 501c(3) organization in April 2016, to Enlighten, Educate, and Empower women and girls to take advantage of the global career opportunities in Science, Technology, Engineering, and Math.
STEM Atlanta Women has reached 265,000 people indirectly and served nearly 6500 students across the Greater Metro Atlanta area.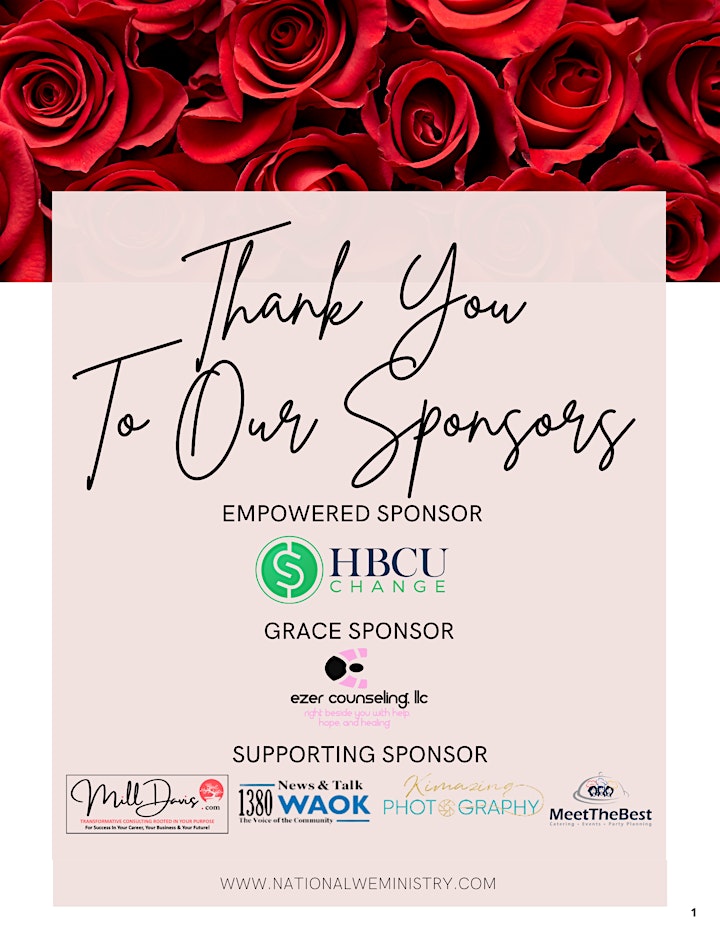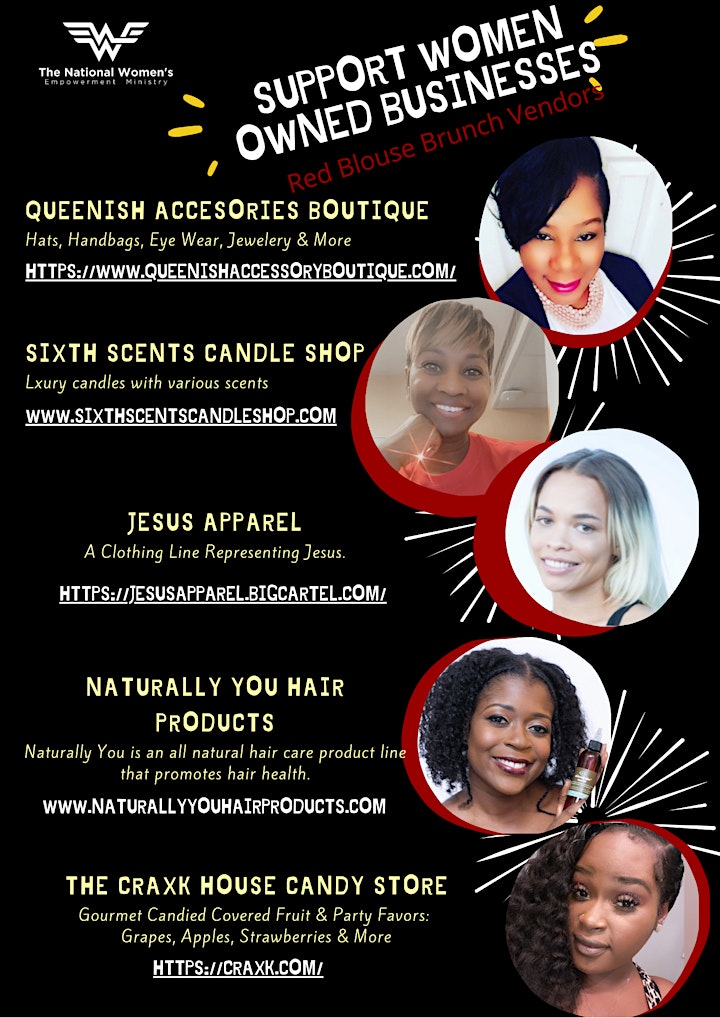 Organizer of The Red Blouse Brunch - A Virtual Edition
The National Women's Empowerment Ministry is a faith based outreach program of Eleshia V. Cash, Co Pastor of  Global Leadership Christian Center within the metro Atlanta area building bridges across multiple platforms known for empowering other women through community events, programs, and workshops. The National Women's Empowerment Ministry uses it's platform to promote women in ministry,  women owned businesses, women in leadership, women serving the community and to support the underrepresented or under privileged woman . In addition to being an outreach program, we are the #1 Faith Based Community For Networking.