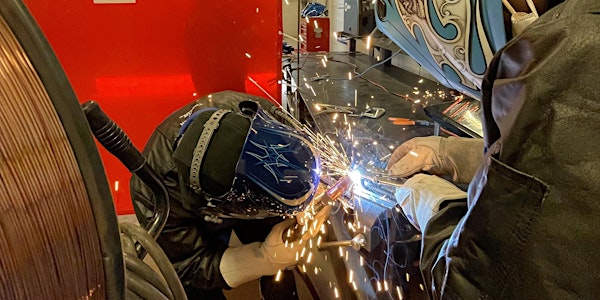 The Red Bench Welding Workshop: MIG Welding
Learn by doing at The Red Bench - practice your MIG welding skills by preparing your own joints, then welding them!
When and where
Location
Canwe Solutions Ltd. 10364 58 Avenue Northwest Edmonton, AB T6H 1B6 Canada
About this event
You've been trained how to use the MIG welder during your shop orientation (or during one of our group DIY projects). Otherwise known as GMAW (gas metal arc welding), practice your MIG welding skills by preparing your own joints, then welding them!
This evening is for all those looking to develop their MIG welding skills in order to tack, run a bead, and build something that lasts. It will be a load of fun and good practice time to up your skill level and put you on the path to becoming a better welder.
---------------------------
Date: July 14, 2022
Time: 6 pm to 9 pm
Cost: $2 - $5 drop-in fee paid at the door or by e-transfer to hi@theredbench.ca (waived in extenuating circumstances)
Location: Canwe Solutions Ltd., 10364 58 Ave NW, Edmonton, AB T6H 1B6
Included in the welding workshop are:
* Materials and consumables
* Tools and equipment
* Personal protective equipment (PPE), with the exception of suitable footwear
We are looking forward to this fun night and hope to see you there!
---------------------------
Participants must be wearing:
* Closed-toed shoes or boots of a non-synthetic fiber (i.e. leather). We don't recommend wearing nice shoes or boots! They could get very dirty or damaged. Steel toed footwear is preferred.
* Long pants and long sleeved shirts made of non-synthetic, breathable material (no leggings!). We recommend wearing bootcut jeans, a shirt, and a flannel. Also – just like the shoes, don't wear nice clothes. You'll likely be getting dusty and dirty.
---------------------------
If you have any concerns about clothing or getting to the workshop, let us know and we can help!
---------------------------
We want to show participants that they can weld, work with metal, and build very cool, functional objects.
We hope that participants will grow strong connections with one another while developing their own self confidence and sense of empowerment in a safe, comfortable, and friendly environment ❤️