The Red Barn Stage Presents: David Boyd Janes featuring Brian Melo
About this event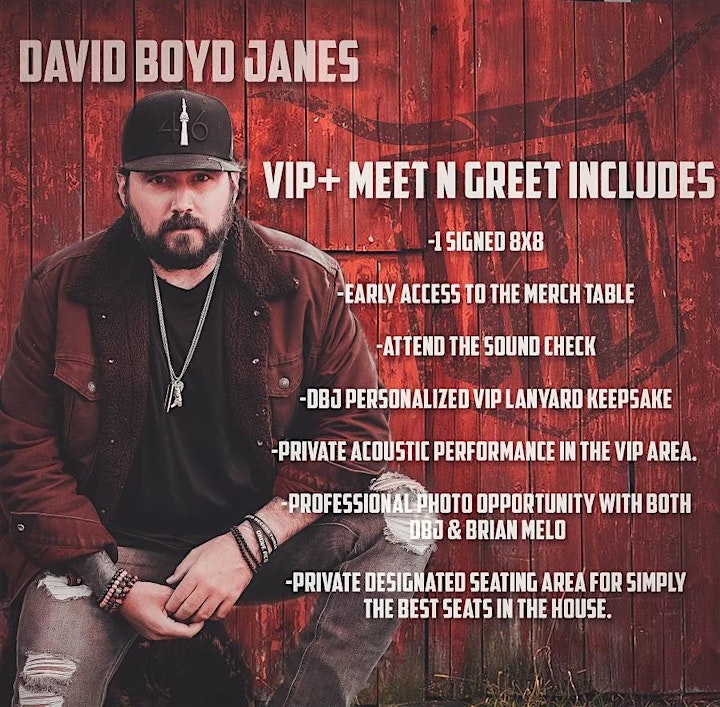 General Admission Tickets- $50* (100 tickets available)
VIP Meet & Greet Tickets- $85* (only 20 available)
Show START 6:30pm.
Doors AT 5:30pm.
*Plus applicable taxes and ticket service and processing fees.
---
Must be fully vaccinated to attend this event.
This is a 19+ SHOW
1) Tickets are ON-SALE November 22nd @ 12PM EST. General Admission tickets are first come, first served for seating/standing tables.
2) This is a Covid-19 fully vaccinated event. You must show your 2nd dose vaccination (no less than 14 days from proof of 2nd vaccination) upon entry or you will not be permitted into the building as per Ontario Re-Opening Act.
3) Please drink responsibly, don't drink and drive.
----
COVID RESTRICTIONS
-MASKS MUST BE WORN WHEN LEAVING THE TABLE TO USE THE WASHROOMS OR UPON ENTERING/LEAVING THE BARN
***Please follow all local and provincial Covid-19 guidelines***
*If you have any symptoms, have come in contact with someone with symptoms or have traveled recently, please stay home.
*Masks are required as per local CK bylaw while walking away from your to table to use the washrooms or to settle your bill while inside of the building.
*Outside alcohol is NOT permitted. Staff has the right to stop service/eject those deemed unfit or not respecting the rules.
*By reserving a seat o table you are adhering to the Covid-19 safety protocols: you have not been in close contact with someone with Covid-19 in the past 14 days, you have not travelled outside of the country in the past 14 days and you have no Covid-19 symptoms.
Family, Farm, and Beer – the three most important things in our life, in which we want to share with you!
ABOUT THE ARTISTS
DAVID BOYD JANES // Drove Me Country
Sometimes, clichés prove weirdly true. Take that one about dark clouds having silver linings. Turns out, that stuff can happen for real. Just ask David Boyd Janes.
Were it not for a brutal breakup in 2017, which tore up the floorboards of his life, the fast-rising country music singer/songwriter might still be living the contemporary urban dream, successfully selling heating and air conditioning units and living in a nice condo with a girlfriend beside him and a bunch of suits hanging in his closet.
Yet that breakup — precipitated in part by Janes' rekindled romance with music via, of all things, singing karaoke in bars — yanked the Toronto-based performer out of his comfort zone and into a suddenly dreary world where the only thing worth doing was making music.
All of which sounds like something you might hear in a country song. Enter Janes' dazzling debut, Drove Me Country, so named for his experience (as in, she drove him out of the condo and into country music) and delivered in a distinctive voice alternately conjuring honey and sandpaper.
Yet despite Janes' back story, the EP's eight original compositions are decidedly not sad-sack ballads steeped in gloom and swimming in whisky. Rather, Drove Me Country is an affirmation of what can happen when somebody who has been kicked to curb gets up, dusts himself off, says… well… screw it. Then follows his dream.
"My main objective as an artist is to inspire people to follow their own dreams," Janes says. "Four years ago, I was a broken man sitting alone in my condo thinking, 'Why did this happen to me?' Now I have this mindset where I can push past things and live my life. Turning my thoughts into reality is not schtick. It's how I live my life now."
Evidence of that transformation is scribbled all over the vivid and diverse Drove Me Country, often in surprising ways. Take lead single "Behind Bars," a gargantuan roadhouse corker propelled by wailing pedal steel, B3 organ, and Janes' breathtakingly candid (and frankly amusing) lyrics about the aftermath of his split as surveyed from a barstool.
At the other end of the spectrum but no less compelling is the super-melodic, soaring, and anthemic ballad "Fools Gold," in which our man takes stock of what really matters in this life as an ace group of players garland the background with gleaming steel and guitars.
"The song 'Fools Gold' is who I am," Janes says, adding it's one of his favourites on the album. "If you want to get to know me in three minutes, listen to that song. As for 'Behind Bars,' I'm not a big drinker and this song isn't about blowing off steam in a bar; it's about playing in bars, getting back into music and brushing off the bad news. Sometimes you just have to move on."
He continues: "I went through a lot when that girl up and left. I don't mean to sound overly dramatic, but it took me four years to rebuild my confidence. I finally realized I couldn't hold myself down any longer."
Ironically, had it not been for the abovementioned girlfriend, Janes might still be wearing neckties and slinging HVACs. Though Janes "had been doing music his whole life" and grew up immersed in country music courtesy his mom and dad — smalltown Newfoundland transplants to Toronto — he started out playing rock and roll. When that experience soured, "I turned my back on music for, like 10 years.
"Years later, my girlfriend and I, just for kicks, went to a karaoke bar. I sang a few songs and the reaction I got was amazing. People asked if I was in a band. This happened a bunch of times, and soon enough I was entering karaoke competitions. This was around 2016.
"One night, I said to my girlfriend, 'I think I should get back into music.' She looked at me and said, 'That is not what I signed up for.' I agreed it sounded ludicrous, but I sensed it was what I should be doing. I just wasn't happy as this suit-and-tie guy. And for the record, we had a happy relationship; we just lost the spark. She made a plan to move out and left."
If proof were needed that Janes' instincts were spot-on, it came two years later in 2019 when, in short order, he won the Next Country Music Star contest hosted by the Havelock Country Jamboree, was named Artist of the Year at the Mississauga Music Awards, won the Country Wild Music Festival in Cobourg, earning a trip to Nashville to record with Grammy-winning producer Jamie Tate and — the crowning achievement — won the Boots & Hearts Emerging Artist Showcase.
In the course of all that, Janes met renowned producer, songwriter, and multi-instrumentalist Jeff Dalziel (see Washboard Union, Jim Cuddy, Thornley) at the CMA Ontario Awards in London; the two hit it off. "I had no idea how decorated he was," Janes recalls. "Fast-forward eight months, and I sent him some songs. He ended up producing 'On Tonight' and that started the relationship. Next, we cut 'Couldn't Hurt' (from 2020 and included on the new EP) and that song racked up over three million streams."
When time came to produce Drove Me Country, Dalziel was the obvious choice as key collaborator. The pair worked alongside a crack team of musicians at Dalziel's home recording studio in Oshawa, ON. "Everyone on this album is just incredible, and the experience with Jeff was great.
"This record is a perfect reflection of where I am in my life and I'm just so excited to release it," Janes says. "And I will know it's a success when someone says they decided to take a swing at something they had been sitting on the fence about, and it brought them to a better place in their life.
"I want everyone to know that nothing is impossible. If some random dude who sold furnaces for a living can chase his dream," he laughs, "anyone can. That to me is the most important message."
BRIAN MELO
Hamilton's singer-songwriter Brian Melo became a household name in 2007 after winning Canadian Idol. His desire was to be more than just your average rock star; Brian wanted to write music that would excite, entertain and inspire his newly loyal fans, while remaining true to himself.
Brian's debut album "Livin' It" revealed his fast emerging songwriting instincts. The album achieved Gold Status and his first single "All I Ever Wanted" hit #1 on the charts, and became the unofficial anthem for the 2008 Canadian Summer Olympics Team. Brian charted two additional singles, "Shine" and "Summertime" from his debut and "Summertime" was also covered by Australian Idol Shannon Noll and was a Top 20 hit down under.
In 2010 Brian released his 2nd album "The Truth" which was a collection of songs that showcased Brian emerging as a world class singer-songwriter. He possesses an uncanny ability to combine classic rock energy with contemporary nuance and unforgettable melodies. He has, in a word become "prolific", having written hundreds of songs over the last several years, with many cut for other artists', TV and film. Brian also had two singles from "The Truth," "Soundproof" & "Anywhere But Here" that both charted on Canadian Radio. "Soundproof" peaked at #4 on the MuchMusic Video Countdown and since then Brian has done numerous shows all over Canada.
Over the last several years Melo had the opportunity to share the stage with some great artists such as Queen, Maroon 5, Rihanna, Bon Jovi, Alanis Morissette, Chicago and fellow American Idol Kelly Clarkson. His national tours saw him rock some of our country's most legendary venues and partner with other rising stars like Faber Drive for whom he also guested on their "Sleepless Nights" single and video.
After the success of his two solo records, Brian started writing and working on his upcoming third album. Until of course one show would send his career on a new path he was never expecting. Brian was invited to perform a rendition of "Eye Of The Tiger" for Sylvester Stallone at a Gala in Brian's hometown of Hamilton, ON where Stallone would be the guest of honour. Wanting to gather the best talent possible for his performance he invited (Vocalist) Victoria Boland and (Guitarist) Andrew Rudd to share the stage with him. Shortly after that Apollo's Crown was born!
Brian and Apollo's Crown recorded their debut album "Providence" with Grammy nominated producer Dave Brainard at The Legendary Grand Victor RCA studios in Nashville, Tennessee where he lived for 5 years. Although he had a truly unforgettable experience with AC, Melo was ready to bring his new found knowledge and expertise back home, where he could focus all of his energy on his solo career.
His passion for music and people is always apparent. He is constantly growing, staying creative and giving back to his community. Brian is currently working on new material for his next solo project while making a tremendous impact through his music mentoring programs.
Organizer of The Red Barn Stage Presents: David Boyd Janes featuring Brian Melo