The Recovery Room for Women in Leadership & Business
Description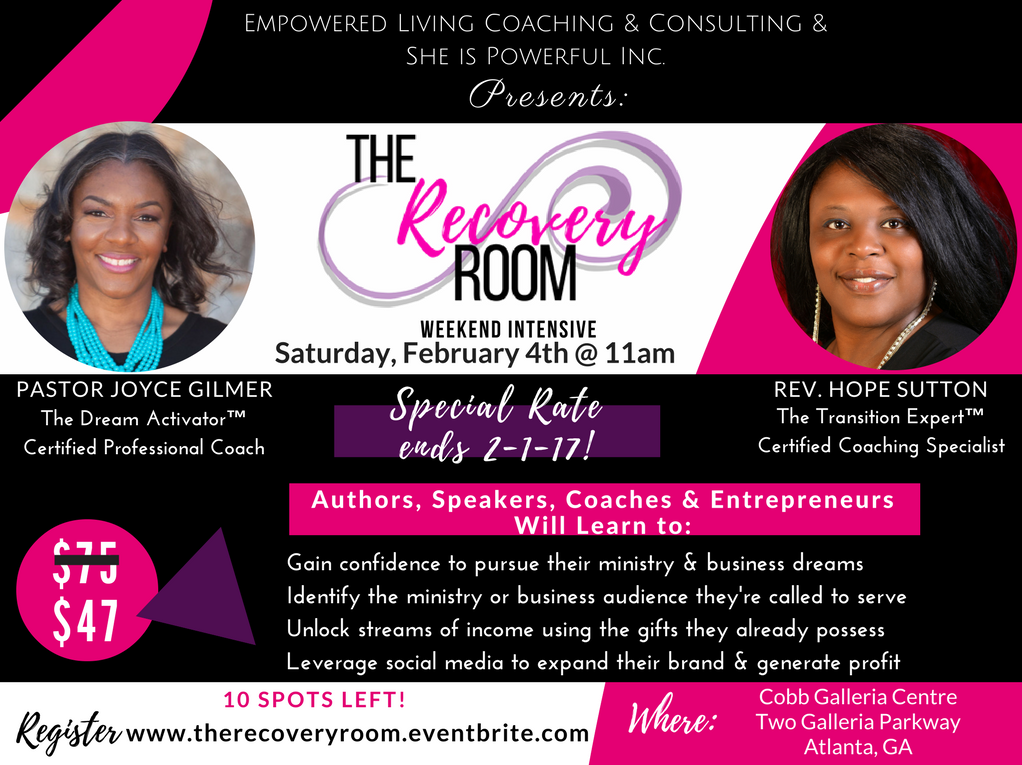 Meet Us Here! https://youtu.be/pjHEy85TLOA
It's Your Time To RECOVER it All!
RECOVER: means to return to a normal state of health, mind, or strength. To regain possession of something that has been lost or stolen, to regain control of a physical or mental state and to make up for loss in position or time.
On February 4th, two powerhouse speakers and coaches are joining forces to facilitate a weekend intensive designed to help attendees who have experienced loss on varying levels, get repositioned to RECOVER all, inside the Recovery Room.
WHO IT'S FOR:
Women in business and ministry leadership who have experienced emotional, spiritual or financial setbacks, but are also ready to be healed, gain a new mindset and pursue their dreams in business and ministry.
ATTENDEES CAN EXPECT TO:
Get confidence to boldly pursue their ministry and business dreams
Identify the business and ministry audience they are uniquely called to serve
Identify and tap into streams of income by unleashing skills & gifts they already possess
Levereage the power of social media to expand their brand and message & produce profit.
AS A RESULT: Attendees will be able to determine their next move in business and ministry, receive inspiriational and practical tools to refuel their faith and wealth strategies to move forward in their purpose.

YOUR SPEAKERS & FACILITATORS are women of faith in ministry and business, traveling as licensed and ordained ministers of the gospel, but are also avid business women and CEO's of their own companies and organizations.
Rev. Hope Sutton is a Transition Expert and certified coaching specialist and CEO of She is Powerful, Inc.
Pastor Joyce Gilmer A.K.A. "The Dream Activator™" is a certified professional coach and CEO of Empowered Living Coaching & Consulting, LLC.
More Info:
Rev. Hope Sutton: www.sheispowerful.com | Pastor Joyce Gilmer: www.joycegilmer.com